For Senator Collins, 'Winter Is Coming' In Blue New England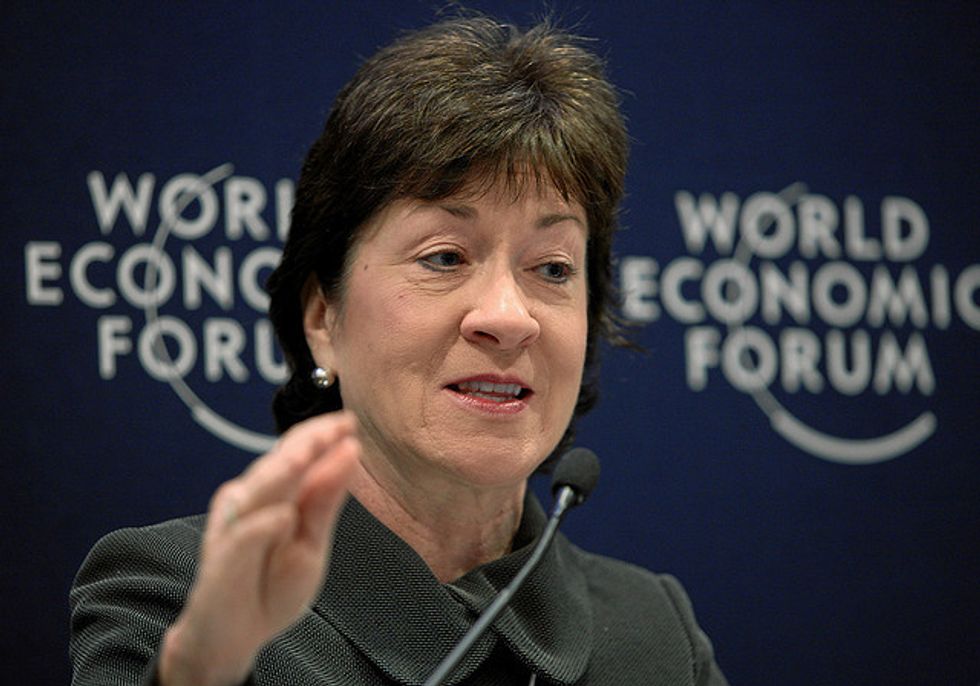 Reprinted with permission from Shareblue.
Democrats decimated Republicans from coast to coast in the 2018 midterms, and left all of New England with just one lone Republican in Congress: Maine Sen. Susan Collins.
And there will be zero New England Republicans in the House, now that Democrat Jared Golden has defeated Rep. Bruce Poliquin in Maine's 2nd Congressional District.
Collins is up for re-election in 2020. And after seeing the tidal wave of Democratic energy earlier this month, she "knows winter is coming," as the New York Times' Mark Leibovich put it.
As Democrats set their sights on regaining the Senate majority, they know it will be essential to turn New England a solid blue by ousting the vulnerable, faux-moderate Collins.
Collins earned the ire of millions of Americans after she gave a Trump-like speech defending alleged sexual predator Brett Kavanaugh's nomination to the Supreme Court.
Despite Trump's pledge to only nominate Supreme Court justices committed to overturning a woman's constitutional right to obtain an abortion, the pro-choice-in-name-only Collins gave the very anti-choice Kavanaugh her blessing and vote.
In the lead-up to that vote, thousands of average Americans signed on to a crowdfunding campaign pledging to support Collins' eventual challenger if she decided to vote for Kavanaugh.
The effort raised more than $3.7 million, which will give any Democrat challenging Collins a significant boost in Maine's relatively inexpensive media market.
In yet another show of allegiance to Trump, Collins is now refusing to take any concrete steps to protect special counsel Robert Mueller's investigation into the Trump campaign's alleged ties to Russia.
The investigation has yielded dozens of indictments and guilty pleas, including felony pleas from Trump's campaign chair (Paul Manafort), deputy campaign chair (Rick Gates), and longtime personal attorney (Michael Cohen).
Yet after Senate Majority Leader Mitch McConnell blocked efforts to even hold a vote on a bipartisan bill protecting the Mueller investigation, Collins essentially threw her hands in the air.
What's more, Collins's leadership PAC is supporting far-right fringe Mississippi Sen. Cindy Hyde-Smith. Hyde-Smith has come under criticism for speaking longingly about lynchings and laughing about efforts to suppress the votes of liberals.
Despite years of pretending to be a moderate, Collins has shown her true colors in the Trump era. And as New England turns even more blue, it will have very little room for the deep red Trump-Collins agenda.
Published with permission of The American Independent.