Former Florida Governor Charlie Christ Says Bigots A 'Big Reason' He Left GOP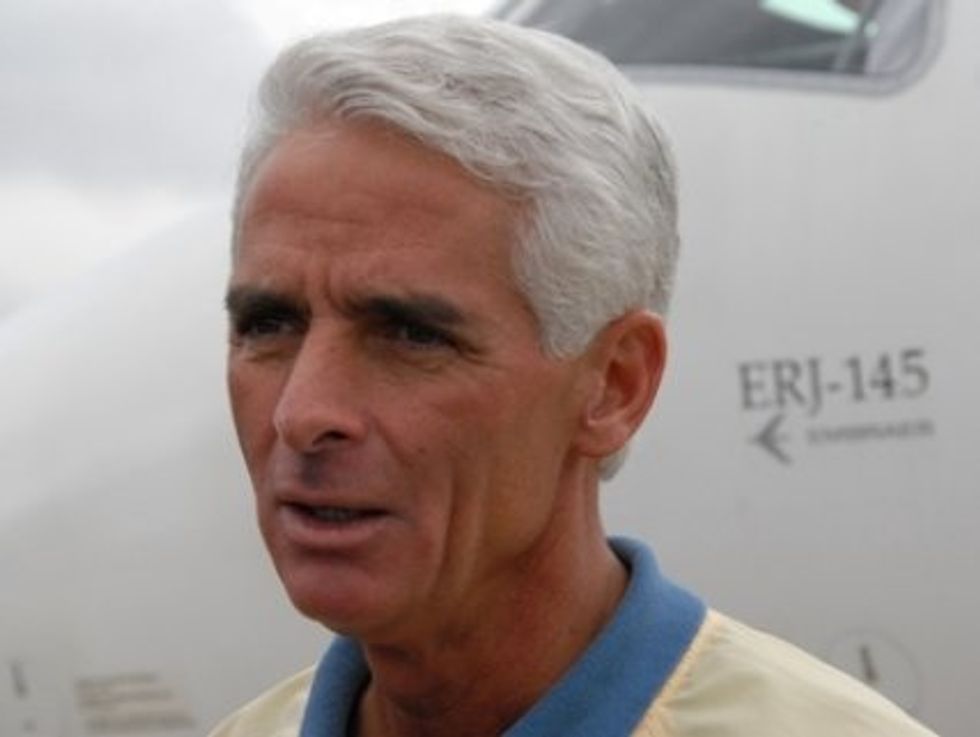 By Marc Caputo, The Miami Herald
Democrat Charlie Crist is offering up a new and inflammatory reason he left the GOP: Too many Republicans oppose President Barack Obama because he's black.
Crist made the remarks Tuesday in an interview with Fusion's Jorge Ramos that instantly drew rebukes from Republicans who said the party-switching former governor was playing the race card.
But Crist said the bigotry against Obama was a "big reason" for his decision to leave the party.
"I couldn't be consistent with myself and my core beliefs, and stay with a party that was so unfriendly toward the African-American president, I'll just go there," Crist said. "I was a Republican and I saw the activists and what they were doing, it was intolerable to me."
Ramos said Crist left the GOP to run as an independent because he was losing the 2010 Senate Republican primary to Marco Rubio. But Crist denied it.
Crist has made race an on-again and off-again theme as he campaigns for his old job back as a Democrat, his third party affiliation. When he left the GOP four years ago, he didn't mention race.
"Being a flip-flopper is bad enough, but playing the race card to win over voters is pitiful," said Izzy Santa, Republican National Committee spokeswoman.
Crist, saying he was "liberated as a Democrat," also bashed the GOP for being too inflexible and for appearing to be "anti-women, anti-immigrant, anti-minority, (and) anti-gay."
Black voters are particularly important to Crist. They comprise 28 percent of the 4.1 million active registered Democrats in Florida, and he still has to beat former state Sen. Nan Rich in a party primary before facing Gov. Rick Scott.
In a general election, black voters are key for Democrats. Along with Hispanics, African-American voters have disproportionately stayed home during midterm elections, allowing more Republican-leaning white voters to dominate and elect GOP office holders. Black and Hispanic voters each account for about 14 percent of all active registered voters.
Crist has generally good relationships with black voters and leaders. He probably had the highest proportion of African-American support of any Republican when he won the governor's office in 2006 as a Republican. As governor, Crist championed civil rights causes, opposed racial language in the official state song and was called Florida's "first black governor" by some African-American lawmakers.
In standing with Obama to support the stimulus package in 2009, Crist won a measure of support from black voters but also earned the enmity of the GOP. In 2012, Crist campaign for Obama and boosted his profile further with black voters.
But Crist's decision to run as an independent, which cost Democrat Kendrick Meek votes in the 2010 Senate race, left some African-American leaders upset with the former governor.
Crist's comments to Fusion weren't the first time he used racial imagery.
In February, while plugging his new book The Party's Over on Comedy Central's Colbert Report, Crist said some Republicans opposed Obama's stimulus act in 2009 because he was "not just a Democrat, an African-American."
"Oh, you're not going to play the race card," host Stephen Colbert replied.
"I'm not going to play it, no," Crist responded.
"You just did," Colbert said. "Would you like to pick it up again and put it in your pocket? Because you just played the race card."
Photo via Wikimedia Commons