Former Joint Chiefs Chair Denounces Trump's 'Enemies List'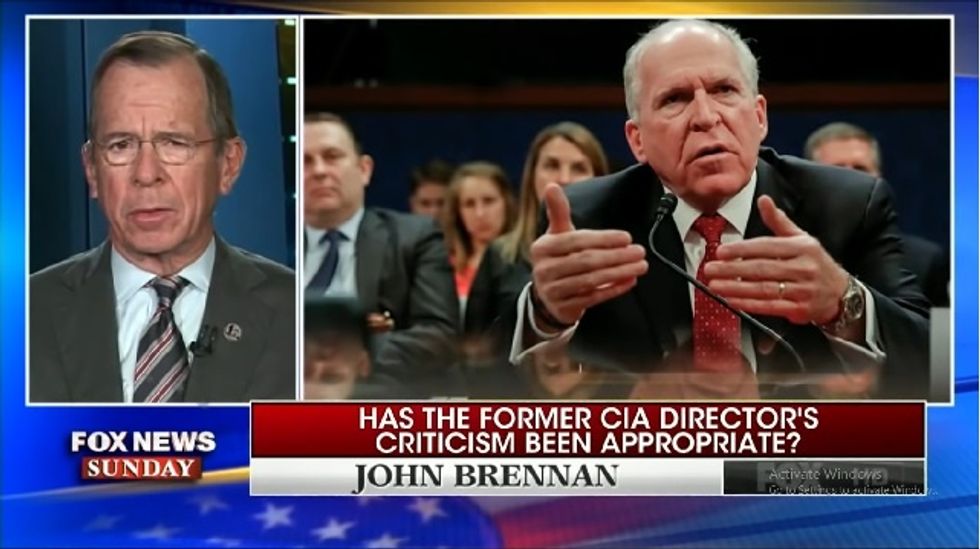 Reprinted with permission from AlterNet.
Admiral Mike Mullen, the former chairman of the Joint Chiefs of Staff under Presidents Bush and Obama, on Sunday told Fox News' Chris Wallace that Donald Trump's decision to revoke the security clearance of former CIA Director John Brennan—and his threat to remove clearances for several other personal critics—recalls Richard Nixon's "enemies list" and the Joseph McCarthy era.
Asked by Mullen if it's "appropriate" for a former CIA director to criticize the president as Wallace has, the former chairman said he doesn't agree with what Brennan says, but he agrees with his right to say it.
"John Brennan knows based on the job he was doing before, an awful lot about what happened with respect to Russia," Wallace said. "That said, he's no longer in the job per se and they worry that what he's saying now puts him in a much more politicized position."
"I think I am concerned about the whole issue of free speech and as long as John is not revealing classified information that he shouldn't, then I certainly think he has a right to speak," Mullen continued. "As far as the Russian investigation is concerned, I think Bob Mueller will get through that, complete it and we should rely on him for what actually happened."
Mullen later explained why Trump's decision is reminiscent of past administrations.
"One of the things for somebody of my age immediately brings back the whole concept of the enemies list under president Nixon and even before that in the early '50s, the Mccarthy era, where the administration starts putting together lists of individuals that don't agree with them and that historically obviously has proven incredibly problematic for the country," Mullen explained. "So it's creating a list of political enemies, in particular those who have worked in a government and some very specifically who spent their life in government and I think hearing from Bill Webster and Bob Gates is a pretty strong signal that doing this would really be off-base."
Watch below, via Fox News:
Elizabeth Preza is the Managing Editor of AlterNet. Follow her on Twitter @lizacisms.