Former NFL Star Jailed For Life For Murder
@AFP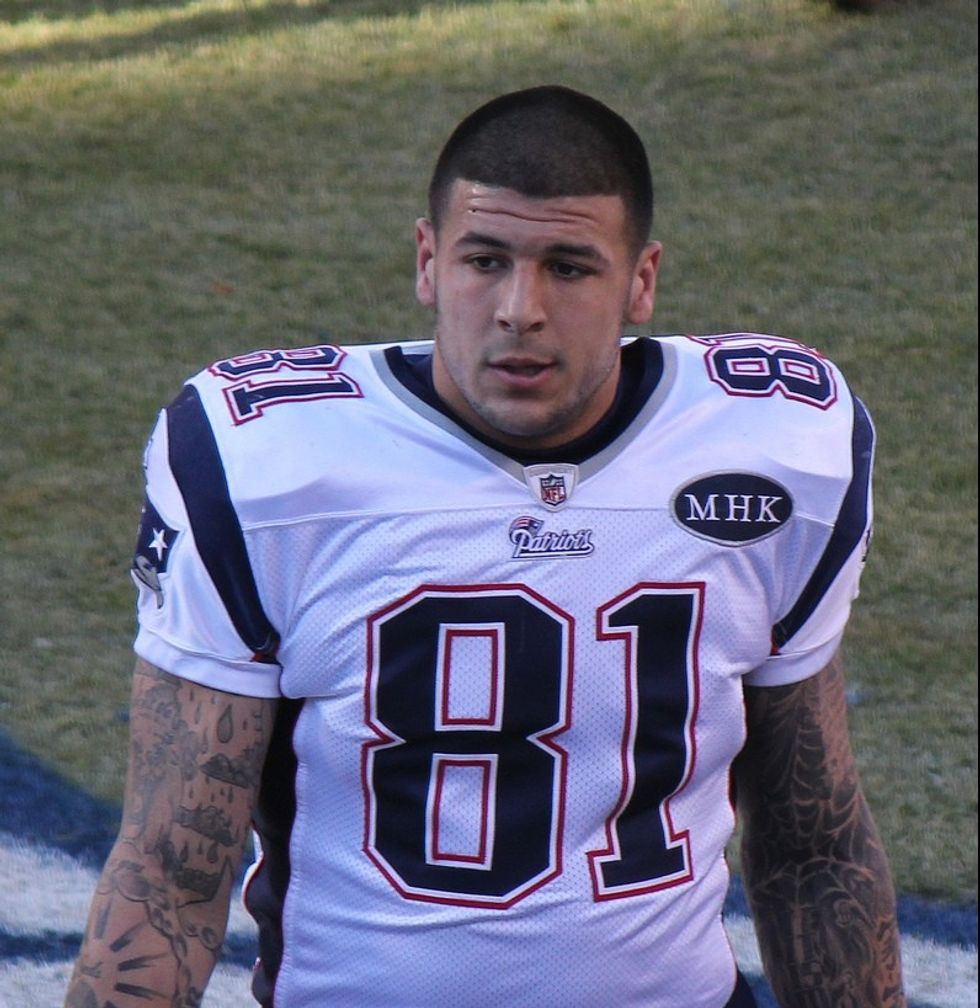 New York (AFP) — Former NFL star Aaron Hernandez was sentenced to life in prison without parole Wednesday for the first-degree murder of a semi-pro football player two years ago.
The sentencing in a Massachusetts court after a four-month trial cements a spectacular fall from grace for Hernandez, who once had a $40 million, five-year contract with the New England Patriots.
The victim, Odin Lloyd, was a 27-year-old semi-pro football player whose bloodied body was found in North Attleboro, Massachusetts on June 17, 2013, less than a mile from Hernandez's luxury home.
Lloyd had been dating the sister of Hernandez's fiancee.
Hernandez, 25, glanced to the side and pursed his lips after the jury pronounced the first-degree murder conviction. His mother and fiancee sobbed in the gallery.
Dressed in a sharp suit and tie, he sat down as the jury convicted him on two separate gun and ammunition charges.
The 12-person jury took seven days to reach the unanimous verdict. The murder charge carried a mandatory life sentence, imposed shortly after his conviction.
Two co-defendants, friends of Hernandez, will go on trial separately for Lloyd's murder. The former NFL star also faces murder charges for the shooting of two men in Boston in 2012.
Lloyd's tearful mother Ursula Ward told the court that she felt her heart "stop beating for a moment" when she laid her son to rest, but that she had managed to forgive his murderers.
"I miss my baby boy Odin so much but I know I'm going to see him someday again and that is giving me the strength to go on," she said, choking back tears.
"I pray and hope that someday everyone out there will forgive them," she said of her son's killers.
The Patriots dropped Hernandez just hours after his arrest on June 26, 2013, nine days after Lloyd was found dead.
Prosecutors welcomed the verdict.
"The jury found that he was just a man who committed a brutal murder. The fact that he was a professional athlete meant nothing in the end," district attorney Thomas Quinn said.
The murder weapon was never discovered, but analysts said the evidence against Hernandez was overwhelming.
Prosecutors called more than 130 witnesses in an effort to prove Hernandez pulled the trigger on the handgun that killed Lloyd.
He and friends Ernest Wallace and Carlos Ortiz drove with Lloyd to an industrial park in North Attleboro, where Lloyd was shot multiple times and left for dead.
In his closing statement, defense attorney James Sultan acknowledged for the first time that Hernandez witnessed the killing, but claimed either Wallace or Ortiz pulled the trigger.
Wallace and Ortiz are to be tried separately on murder charges.
"He was a 23-year-old kid who witnessed something," Sultan told the court last week. "A shocking killing. Committed by someone he knew. He didn't know what to do."
Hernandez has the right to appeal the conviction.