Former US Attorney Says Trump Self-Pardon Would Spur Impeachment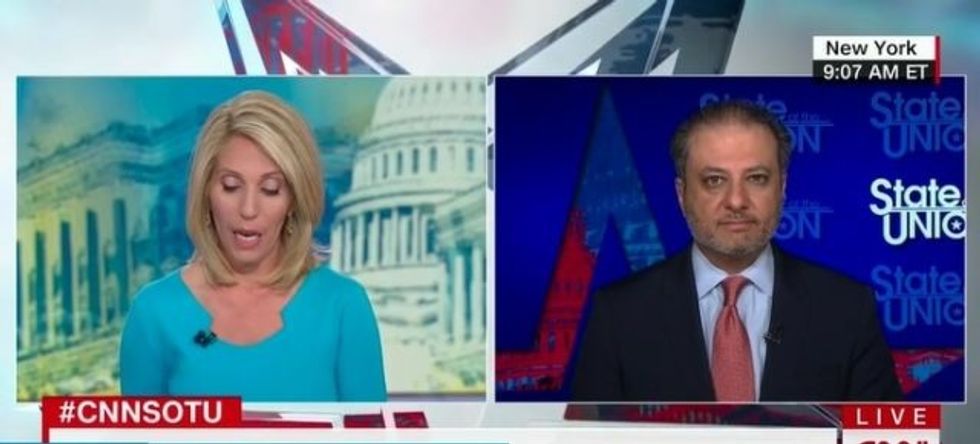 Reprinted with permission from Shareblue.com
Former U.S. attorney Preet Bharara had some strong words when asked about Rudy Giuliani's insistence that Trump can pardon himself.
On CNN's "State of the Union" Sunday morning, host Dana Bash asked Bharara — who was himself fired by Trump in yet another act of potential obstruction —  about Giuliani's statement.
"He also just said moments ago that he agrees that the president probably does have the power to pardon himself, though he added he doesn't think the president will do that. What is your take?" Bash asked.
"I think it would be outrageous for a sitting president of the United States to pardon —" Bharara began. "I think if the president decided he was going to pardon himself, I think it is almost self-executing impeachment."
He went on to note that, "Whether or not there's a minor legal argument some law professor somewhere in a legal journal to make that the president can pardon, that's not what the framers could have intended. That's not what the American people, I think, would be able to stand for."
And he pointed out that Giuliani "keeps coming up with things that end up being false. So when he says the president is not contemplating something, I have no faith in that whatsoever."
Bharara is right to question Giuliani's assertion that Trump isn't considering a self-pardon. Trump's own former communications director Anthony Scaramucci confirmed that Trump talked about pardoning himself nearly a year ago. And Jay Sekulow, another member of Trump's legal team, has also been caught lying about the subject of pardons.
Trump's power to pardon is not unlimited. Experts note that while the Constitution doesn't prohibit a self-pardon, such an act would be vulnerable to legal challenge. Aside from that, the pardon power explicitly only applies to federal crimes, not state crimes, and cannot be used to shield Trump from impeachment.
Trump has demonstrated his desperation to escape the Mueller investigation in the past. Thus there's no reason to believe he wouldn't try this last-ditch gambit.
The only real question is whether Republicans in Congress will finally stand up to him when he does.