Fox Business Invites On A Deplorable Hate Group Leader To Defend The "Basket Of Deplorables"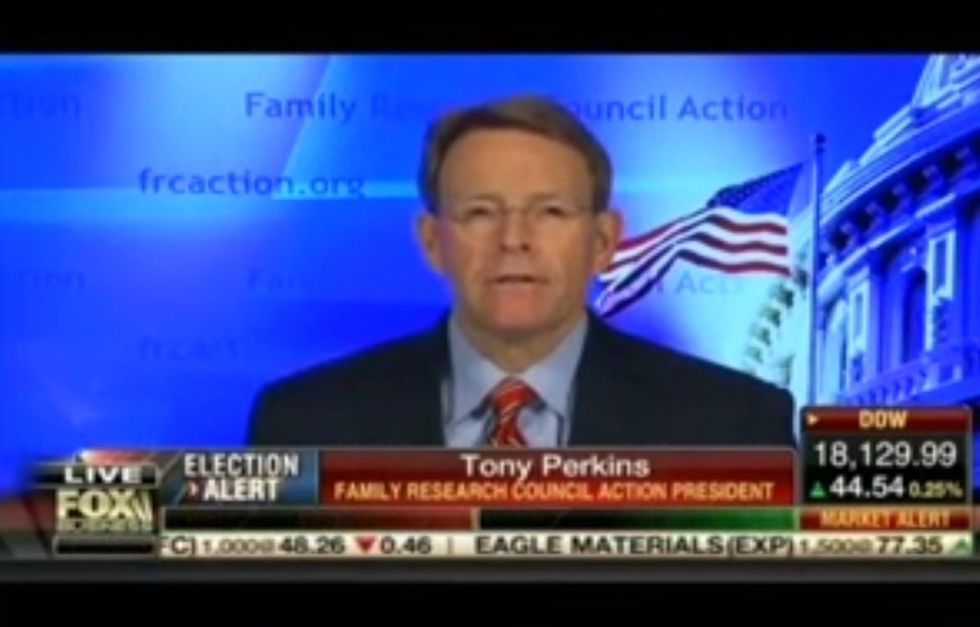 Published with permission from Media Matters for America
Fox Business' Stuart Varney hosted Tony Perkins, a leader of a hate group who tried to make homosexuality punishable by death, on the September 12 episode of his show, Varney & Co., to discuss Democratic presidential nominee Hillary Clinton's comment that half of her Republican counterpart's supporters can be put "into what I call the basket of deplorables."
Perkins is the leader of the Family Research Council (FRC), an organization the Southern Poverty Law Center (SPLC) has designated an anti-LGBT "hate group" due to its known propagation of extreme falsehoods about LGBT people. Over the last year, Perkins and Republican nominee Donald Trump have developed a cozy relationship, which ultimately led to Perkins' official endorsement of Trump in June. Perkins has been outspoken about his belief that he can shape and mold Trump's ideologies to become more in line with FRC's extremism. FRC also plans and hosts the Values Voter Summit, a gathering of anti-LGBT, anti-choice evangelical extremists where Trump spoke over the weekend.
Perkins used his platform on Varney's show to try to flip the "deplorables" point — in which Clinton was noting the racist, sexist, homophobic, xenophobic, Islamophobic" views of many Trump supporters — and attack the Clinton Foundation for receiving donations from countries where "those that are considered deplorable" can receive the death penalty. But Varney failed to note that Perkins is himself one of the driving forces behind such laws; he and his group have lobbied to criminalize homosexuality internationally, and they supported a bill in Uganda that would have made same-sex relations punishable by life in prison or death. The Fox Business interview also omits any mention of the millions Trump made from conducting business in Saudi Arabia — one of the countries to which Perkins was alluding — despite Trump's attempts to smear the Clinton Foundation for accepting Saudi donations.
From the September 12 edition of Fox Business' Varney & Co.:
STUART VARNEY (HOST): Tony Perkins is with us — he's the Family Research Council president. You just heard Donald Trump say that that could have been a huge political mistake. What say you, Tony?

TONY PERKINS: Well, I think he's right. I mean, I think this shows that the Hillary Clinton campaign is really kind of almost a political basket case. Look, look at the contrast here. Donald Trump has actually been appealing to Bernie Sanders' voters, inviting those who voted in the Democratic ticket to come over and support him. She's insulting those who were on the right by calling them "deplorables." Look, this is also, I think, very insightful, Stuart, cause I think when you look at the countries that have provided money to the Clinton Foundation, when you use the term "deplorable," I think that's an interesting term. When you look at deplorable, many of those countries actually imprison and execute those those that are considered deplorable. I mean, is this some kind of subtle message she's sending?

VARNEY: Well, I have to admit, Tony, that earlier this morning I had a leading Democrat on the program, and I almost lost my temper — frankly, I think I did. I made it almost personal, because in my family there are three races, five nationalities and two religions. That's all my family. And I don't like being called a xenophobe, a racist, whatever. I don't like that. I really object to that, and I think a lot of people feel the same way that I do. I don't like this, and I'm not going to have it.

PERKINS: No, I think you're absolutely right. But I think it shows how narrow-minded, isolated the liberal-progressive wing of the Democratic Party has become where they feel like they can insult anyone, silence anyone who does not agree with their progressive agenda. But, again, I think people need to take note, and I think people are taking note that may not be a Donald Trump supporter, may not even be a typical Republican voter: But when she starts talking about people she disagrees with as a basket of deplorables, and considering, again, the people she's been associated with through the Clinton Foundation, how they treat people who are considered deplorables, this could speak volumes about what she has in mind for those she disagrees with.
Photo and video via Media Matters