Fox Hosts Urged Pardons For War Crimes — And Trump Granted Them
@existentialfish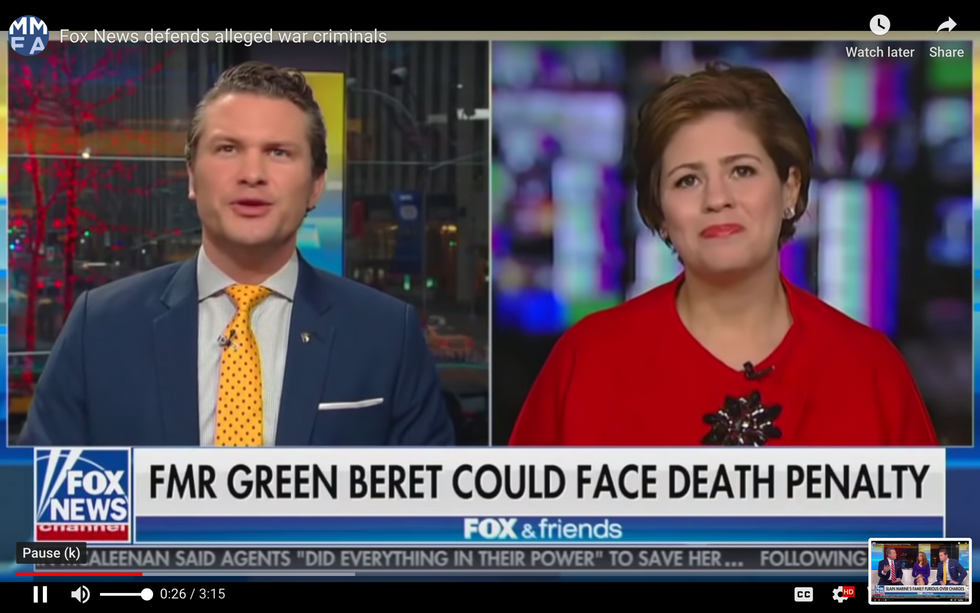 Reprinted with permission from MediaMatters
After being repeatedly urged on air by Fox News hosts, President Donald Trump has reportedly given pardons to Army Maj. Mathew L. Golsteyn, operator chief Edward Gallagher, and former Army 1st Lt. Clint Lorance.
This is yet another example of the Fox News pardon pipeline, as pardons in all three cases were heavily pushed on Fox & Friends, largely by Fox News host and former Guantanamo Bay guard Pete Hegseth.
Media Matters examined the cases recently:
Trump is reportedly considering the criminal cases of U.S. soldiers Clint Lorance and Mathew Golsteyn, each accused or convicted of war crimes, following the advice of Fox News host Pete Hegseth. Hegseth has also called for action in the case of Navy SEAL Eddie Gallagher, who was acquitted of premeditated murder in July but was found guilty of posing for a photo with the dead body, causing a reduction in his rank. Hegseth and other Fox personalities have consistently defended these three figures.

…

Lorance, who was a first lieutenant in the Army, was found guilty in 2013 of second-degree murder of two civilians in Afghanistan. The New York Times reported that nine members of his platoon testified against Lorance at his trial, and several of them contradicted his testimony in their interviews. One of his subordinates told the Times, "One of the first things [Lorance] said to us was, we are going to go in Gestapo-style with night raids, pull people out of houses, make them afraid of us." It was also reported in Task & Purpose that Lorance ordered his soldiers to shoot a child who attempted to recover the bodies.

Golsteyn, a major in Army Special Forces, is charged with the murder of an alleged Taliban bomb-maker in Afghanistan in 2010. The Army Times reported that "Golsteyn allegedly told CIA interviewers [in 2011] that he and another soldier took the alleged bomb-maker off base, shot him and buried his remains. He also allegedly told the interviewers that on the night of the killing, he and two other soldiers dug up the body and burned it in a trash pit on base." Golsteyn was "cleared of a law of armed conflict violation," but an Army board found his conduct unbecoming of an officer. The Army then reopened the case in 2016 after Golsteyn told Fox News anchor Bret Baier that he killed the man.
In May, an Iraq War veteran warned against pardons for war crimes, saying, "It's bad for our national security. It's bad for our troops, it's bad for our global standing."
Hegseth has also said the possibility of pardons is "very heartening for guys like me," that it "could've been me" on trial for war crimes, and that if Golsteyn's actions counted as a war crime, then "put us all in jail":
IMAGE: Fox News host, Army veteran, and former Guantanamo Bay prison guard Pete Hegseth.