Fox News Is Trapped In Its Own Bizarre Coverage Of Trump's Coup Plot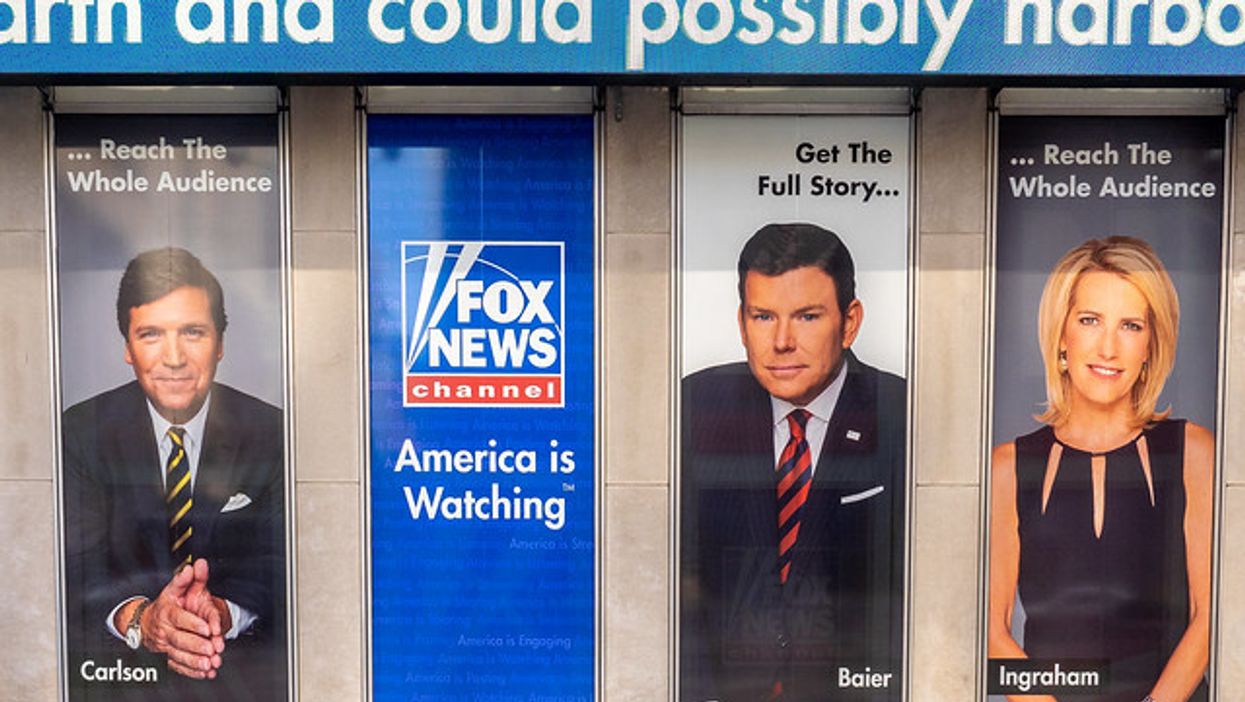 Two major stories broke last week that emphasize the extremism of the modern Republican Party, and neither of them have garnered substantial coverage on Fox News, the party's main propaganda organ.
First, the Republican National Committee censured Reps. Liz Cheney (R-WY) and Adam Kinzinger (R-IL) on Thursday for their roles on the committee investigating the violent riots that consumed the U.S. Capitol on January 6, 2021, and in doing so, appeared to describe those events as "legitimate political discourse." Former President Donald Trump had summoned those rioters to Washington, D.C., as he sought to pressure congressional allies and his vice president, Mike Pence, to stop the certification of the 2020 election. Then on Friday, Pence said in a speech at a Federalist Society conference that "Trump is wrong" to say that Pence had the right to overturn the election when he tallied the electoral votes showing President Joe Biden's victory.
Fox was at the heart of Trump's attempt to steal the 2020 election, and its propagandists altered the GOP's trajectory by spending the last year trying to normalize the January 6 insurrection and defend its perpetrators. But the network's most prominent figures have ignored last week's developments, and that silence speaks volumes about how Fox is currently wedged between its viewers, advertisers, and Trump.
Prime-time stars Tucker Carlson, Sean Hannity, and Laura Ingraham, and popular right-wing hosts like Jesse Watters, Dan Bongino, and the panels of Fox & Friends, Outnumbered, and The Five have not mentioned either Pence's speech or the "legitimate political discourse" debacle. None of these GOP stalwarts is coming to the defense of Trump or Pence, or championing or condemning the RNC for its support for insurrectionists. Instead, they are busy standing up for anti-vax Canadian truckers and the rights of white men to use the N-word without repercussions.
On the network's "news" side, a handful of programs have covered Pence's speech, while only three (the flagship broadcast Special Report and the weekend programs Media Buzz and Fox News Sunday) discussed the RNC mess.
Fox is something of a black box, and divining the meaning of what the network does or doesn't run is difficult. But two things seem to be happening.
First, Fox is trying to avoid reputational damage at a particularly vulnerable time. Fox Corp. is scheduled to convene marketers on the Fox lot in Los Angeles next month as the company launches its annual upfronts push to sell the bulk of its ads for the next year. In the past, Fox executives have proved more willing to take steps to tamp down on negative headlines during such periods, even issuing a rare public condemnation of a Fox host before the 2019 presentation.
The last thing the Fox brass needs right now is for its stars to declare that the January 6 rioters really were engaging in "legitimate political discourse" or that Pence should have overturned the election that day. That would remind advertisers that the network is a loaded gun aimed at American democracy that suffered weeks of terrible news coverage late last year for its online special Patriot Purge, which portrayed the Capitol rioters as righteous patriots who have been victimized by nefarious forces. It would also prompt advertisers to recall that the network remains embroiled in lawsuits over its coverage of bogus election fraud claims after the 2020 election.
Second, Fox appears to be trying to develop its own version of the "Trumpism without Trump" that pundits have often struggled to define. While Fox has stocked its halls with familiar faces from Trump's orbit, its coverage of the former president has plummeted throughout the last year. At the same time, the network remains fixated on the culture war fights Trump relishes, the issues he favors (crime and immigration), the enemies he rails against ("elites," Democrats, tech companies, journalists, and anti-Trump Republicans), all welded together with his trademark bigotry, demagoguery, and conspiracy theories. At the same time, Fox followed Trump in discarding traditional conservative talking points about federal debt, deficits, and entitlement spending.
Fox hosts attacking Pence for refusing to help overthrow the election on Trump's behalf would conflict with that strategy. As former Trump economic adviser-turned-Fox Business host Larry Kudlow suggested on Monday, "Let's move on — the election is over — and talk about Trumpian populism."
At the same time, Fox is terrified of its viewers and of the possibility that any public break with Trump could lead them to change the channel. The biggest threat Fox has seen in years came after the 2020 election, when Trump started publicly attacking the network on Twitter and urging his supporters to switch to its competitors. They listened to him rather than sticking with Fox, devastating the network's ratings. Fox has since recovered its audience — in part because social media platforms banned Trump over his encouragement of the January 6 insurrection, removing his ability to instantly reach tens of millions of supporters with anti-Fox messages. But as Trump has warned, "That behemoth can evaporate very quickly if they're not careful."
This delicate balance between Fox's advertisers and its Trumpist viewers encourages Fox hosts who spent the Trump administration furiously defending his every move to keep their mouths shut when an event like the Pence speech or the "legitimate political discourse" fiasco happens. These are no-win scenarios for Fox hosts — either they take sides against Trump and the rioters and risk a backlash from the former president and his supporters, or they side with them and revive stories about the network's role in trying to steal the 2020 election that could threaten ad revenue.
It's better for them to stay silent. They're not gutless — they're afraid of Trump supporters.
Reprinted with permission from Media Matters