Fox News Anchor Compares Trump To Nixon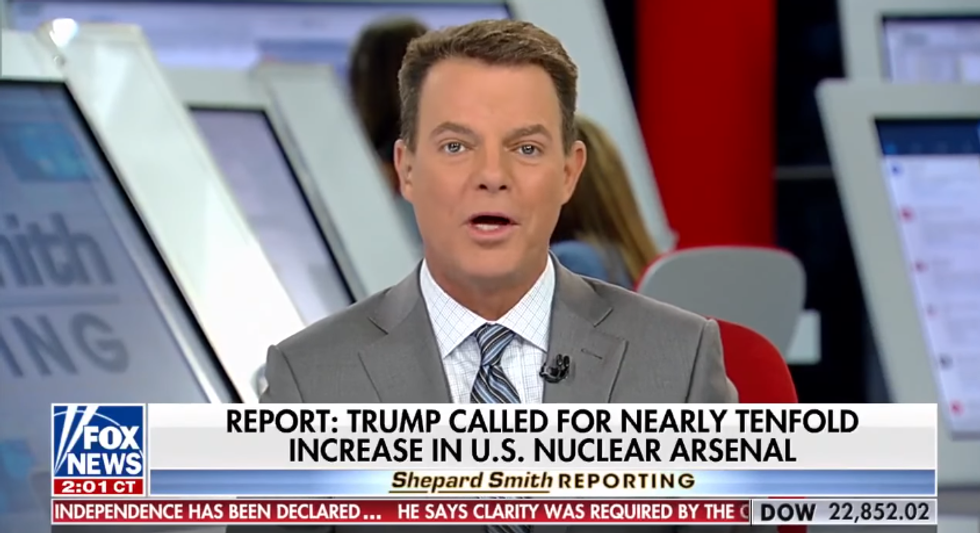 Reprinted with permission from AlterNet.
President Trump may be treated well on the opinion shows at Fox News, but news anchor Shep Smith is holding nothing back about the president's similarities to President Richard Nixon.
A scandal involving journalists toppled Nixon's presidency, and Smith believes Trump may be next.
After Trump attacked the free press on-air and on Twitter, going so far as to suggest revoking NBC's licenses to broadcast, Smith reminded his audience that Nixon wasn't all that different.
When journalists began putting the heat on Nixon, he tried to strong-arm news networks both through in-person meetings and by threatening them with his press secretary.
"[Nixon] targeted the Washington Post, its television stations and more. His prosecutors drafted legislation to impede journalism," Smith explained. "In the end, journalism ended his political career. The First Amendment stood firm and almost 50 years later, it does today."
Watch the segment below.
Chris Sosa is an associate editor at AlterNet. His work has appeared in Mic, Salon, Care2, Huffington Post and other publications. Previously, he was a campaign specialist and media spokesperson for People for the Ethical Treatment of Animals. Follow him on Twitter @ChrisSosa.