Fox News Completely Ignored The Release Of Police Footage Showing Philando Castile's Fatal Shooting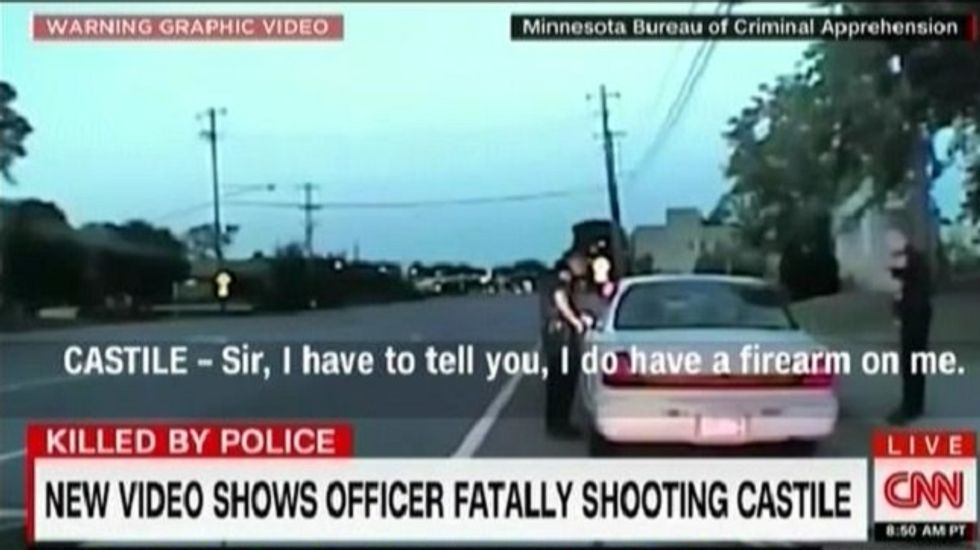 Reprinted with permission from MediaMatters.
By NINA MAST & BOBBY LEWIS
Dashcam footage showing the fatal shooting of Philando Castile by Officer Jeronimo Yanez was released on June 20, giving the public new insight into the encounter that ended Castile's life. But, if you watch only Fox News, you wouldn't know it existed. The footage, which was released just days after Yanez was acquitted of manslaughter, drew the attention of CNN and MSNBC, but Fox News shows spent no time airing the video or covering its release.
On July 6, 2016, Philando Castile, a black man, was fatally shot in Falcon Heights, MN, after being stopped by police for a routine traffic stop. Castile had a valid permit to carry a concealed weapon, and the newly released footage makes clear that Castile had alerted the officer that he was armed. The footage shows Officer Yanez telling Castile not to reach for his gun, and Castile can be heard responding, "I'm not pulling it out" right before Yanez fired seven shots, fatally wounding Castile.
Between the release of the footage on June 20 and noon on June 21, the three major cable news networks — CNN, Fox News, and MSNBC — spent 44 minutes covering the release of the footage. CNN spent 36 minutes and seven seconds on it, and MSNBC spent 7 minutes and 12 seconds detailing the new information from the video, while Fox News ignored the video's release entirely. CNN's seven segments on the video and MSNBC's three all showed the newly released footage.
Fox News contributor Eboni Williams made a passing comment on The Fox News Specialists about the "lack of empathy seen in the wake of the tragic death of Philando Castile" in a discussion about Otto Warmbier — the American college student who recently died after having been detained in North Korea for over a year — but none of her colleagues responded to the mention, and there was never a discussion of the video footage showing his fatal shooting. Fox's glaring lack of coverage with regards to the video of Castile's death is strikingly similar to the network's lack of coverage following the fatal shooting of Alton Sterling, also a black man.
Fox News' coverage, or lack thereof, is also indicative of a larger problem: how right-wing media figures discuss (or don't discuss) the deaths of people of color at the hands of police. In the aftermath of Castile's shooting, Fox News host Sean Hannity and then-Fox News host Megyn Kelly both discussed Castile's shooting only to criticize his girlfriend for not having done more to help him, and Fox News contributor Kevin Jackson used the case to blame Obama for violence against police officers. National Rifle Association (NRA) board member Ted Nugent smeared Castile and used his death to claim former President Barack Obama wanted to start a race war.
Additionally, the shooting of Castile, a law-abiding gun owner, who, from the evidence available was following the officer's requests, has prompted outrage from NRA members. The association, however, has made no statement on the verdict or video in Castile's case, despite having defended other gun owners whose stories made national news.
Methodology:Media Matters searched SnapStream for mentions of "Philando" and "Castile" between 5 p.m. June 20 and noon June 21, 2017. Time counts began when the segment was introduced and ended when the individual finished speaking. Teasers were not included.