Fox News Confused Over Trump G-7 Doral Scheme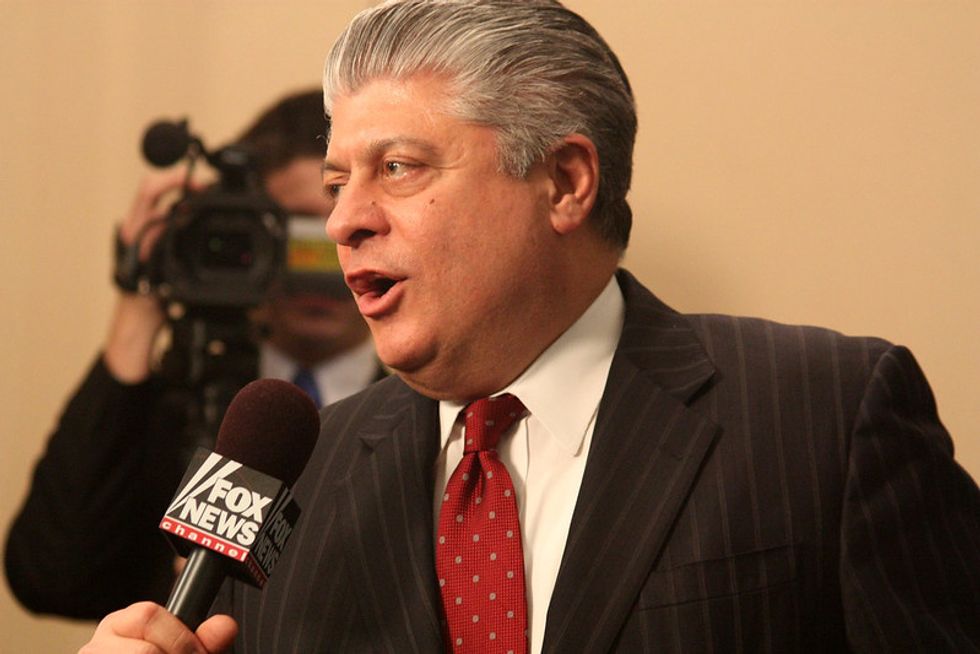 Reprinted with permission from MediaMatters
Yesterday, in one of the most blatant promotions of the president's personal properties, the Trump administration announced that next year's G-7 summit will be hosted at Trump National Doral golf resort in Miami.
The FoxNews.com homepage actually claimed a "Home Field Advantage" for the president — and for a time, positioned the language next to a series of ethics accusations against Democratic presidential candidate Joe Biden's son Hunter.
On Fox, various "news"-side and "opinion"-side personalities gave mixed reactions to the news. Some jokingly claimed that the decision would needle Trump's critics over ethics concerns, while others counseled in earnest that it really is a bad idea politically.
Fox News legal analyst Andrew Napolitano was quick out of the gate with some very sharp criticism, declaring outright that this move is a violation of the Constitution, saying, "This is about as direct and profound a violation of the Emoluments Clause as one could create."
The next morning, Fox News correspondent-at-large Geraldo Rivera proposed his own "solution" to the problem during an appearance on the Friday edition of Fox & Friends.
"The president can comp those rooms. Let them pay for their food, and their booze, and tips — the attendees at the G-7 summit at his resort. But he comps the rooms," Rivera said. "He could do it. He gives back his salary. I think it would be a good gesture. And it would remove one of the Democrats' talking points."
Later in the morning, Fox Business host Stuart Varney hosted presidential daughter-in-law Lara Trump for a fun little interview. (Her husband Eric Trump appeared on Fox just this week to lie that the family is purportedly not profiting in international deals from Trump's presidency.)
"Was it an impulsive decision by your father-in-law?" Varney asked, humorously imagining what Trump's thought process might have been: "'I'll get them, I've got the best place in town. I'm going to hold it right here.'"
"You know, he knows how to get them, doesn't he?" Lara Trump responded. "You'd have to ask him that. But I'm sure that it he knew it would rile a couple feathers on the Democrat side, all the better."
Varney then asked: "He does get a great deal of free advertising all around the world, does he not?"
"Yeah, he does. But you know what, I mean, the Trump properties have been known throughout the world, anyway," Lara continued. "Everybody knew Donald Trump before he got into politics. He does have some of the best hotels in the entire world. And this is just another way to utilize them for a purpose that I think is going to benefit a lot of people. It'll be a great G-7."
On America's Newsroom, co-anchors Bill Hemmer and Sandra Smith hosted a panel discussion that was generally favorable to the decision. Hemmer started the discussion by framing the topic: "Is this an issue, or is this the president poking the bear again?"
"Oh, he's poking the bear," chief national correspondent Ed Henry said. "He knows Democrats are going to jump all over this. They knew beforehand he was a businessman. He's put all that on the table."
"The president says each country will have their own villa," Hemmer added later. "How do you beat that?"
"I'll tell you how you beat that, an emoluments clause that says the president should not be benefiting from federal dollars like this," answered Juan Williams, the single critic in the discussion, decrying that "basically the president is making the federal government into a subsidiary of the Trump company, and that he's using them as a P.R. and marketing firm" for a resort that has "had failing finances over the last few years."
"How are we normalizing aberrant behavior on the part of the president?" Williams asked. "Any other president, this would be a massive scandal. This week, it's like a pimple."
The Wall Street Journal opinion editor James Freeman, who was also on the same panel, furthered the idea that the event will be held at cost, adding that hosting the summit might actually be a risky move for Trump.
"If that's true, then the subsidy is actually going from Trump to the taxpayer. Now, as far as the marketing benefit of Doral, you know, there is some downside here. Because if these G-7 guys show up and they like it, and say this is the best ever, it's fantastic — and in fact many people tell me it is the greatest — then it's a win for the president. But what if they say, 'That's a dump, I'm not going to stay there again'?"
Fox host Chris Wallace also appeared on America's Newsroom and was remarkably critical of the claims that the event would be done "at cost" by the Doral resort.
"You have to ask yourself, why would President Trump decide to award this? And he's the one who decided to award it to his own resort. You're talking about thousands of people coming, staying, eating, whatever. There are also questions about will there have to be upgrades? Who pays for those? Will upgrades to Doral be paid for by the American government, the American taxpayers?"
And in response to Smith repeating the administration's line that the event would be hosted without a profit for the resort, Wallace also pointed out that June is one of the lowest booked months for Doral (as is generally the case in Florida) and so even running the place at cost would be a step upward from a business standpoint.
And even Fox News contributor Andy McCarthy — a man with blatant double standards on whether to impeach Republican or Democratic presidents — admitted that this was a bad idea in political terms.
"It seems to me like it's a real unforced error on the part of the administration," McCarthy said. "They know the case that the Congress, the Democrats in Congress, are trying to make on the president at this point. So to give them this kind of grist to continue the investigations they're doing, and to push courts for things like, you know, they're demanding the president's business records and tax records and all that stuff. It just seems to me he's given them a gift. And, you know, whether or not it actually violates the Emoluments Clause, which has a lot to do with — is he really getting any value out of this, and you'd have to weigh all the, you know, financial consequences of it — it just seems to me that it's asking to be investigated under circumstances where you know he's being investigated left, right, and center."