Fox News Jittery After Advertisers Drop Racist Carlson
@FAWFULFAN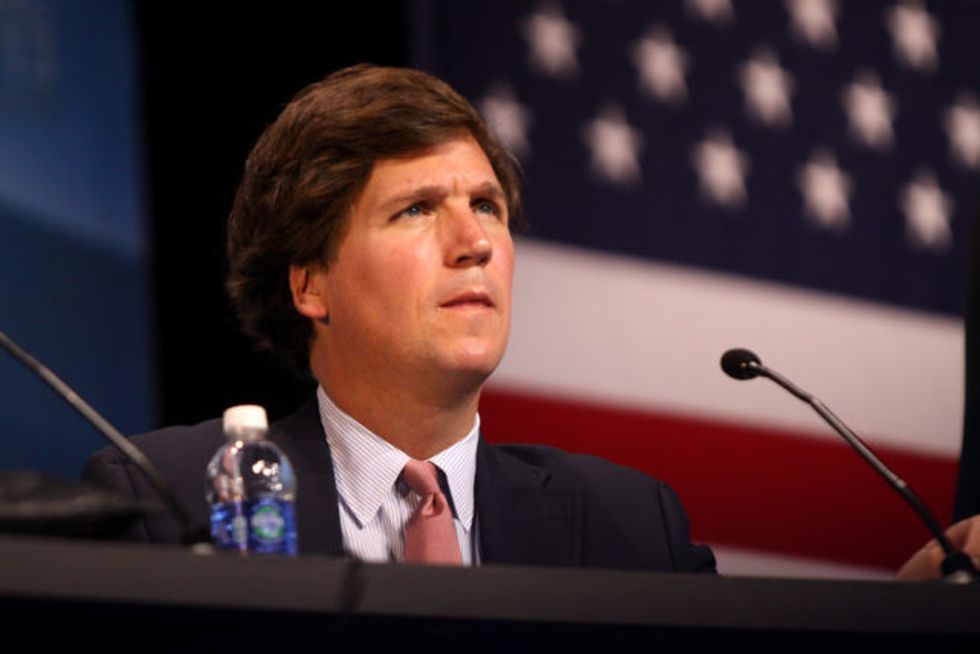 Reprinted with permission from AlterNet.
Fox News host Tucker Carlson is facing an advertiser boycott in response to his racist attacks on immigrants. As of Tuesday afternoon, 11 companies have pulled advertising from Carlson's program, including Pacific Life, Indeed, SmileDirectClub, Minted, IHOP, Ancestry.com, ScotteVest, Nerdwallet, Zenni, TD Ameritrade, and Nautilus.
But the response from Fox News is not to take any responsibility for his hateful rhetoric. Rather, they are attacking Sleeping Giants and Media Matters for America, two of the groups spearheading the boycott on social media:
Fox News hitting @slpng_giants and @mmfa in a new statement equating their boycott against his show to the demonstration outside his home last month pic.twitter.com/ct7iumgXrC

— Jon Levine (@LevineJonathan) December 18, 2018
Fox News is referring to an incident in November in which protestors surrounded Carlson's house, called him a racist, and spray-painted his driveway. The event drew condemnation from both sides of the aisle, although some reports now suggest the unruliness of the demonstrators was somewhat exaggerated. Ironically, given they now claim they "do not advocate boycotts," Fox News responded to that incident by boycotting Twitter.
In recent months, Carlson has been engaging in increasingly racist bile on his show, with his rhetoric sometimes bordering on outright white nationalism to the point where neo-Nazi Richard Spencer and KKK grand wizard David Duke have praised him for mainstreaming their beliefs. Carlson has claimed that white people aren't "designed" to live around immigrants, that the original motto of the United States proves diversity is bad, and promoted a white nationalist conspiracy theory that South Africa is trying to push white farmers off their land and kill them (which President Donald Trump then tweeted about and caused an international incident).
But the remark that prompted the advertiser boycott was a segment on Thursday in which Carlson openly disdained immigrants as unclean. "Our leaders demand that you shut up and accept this. We have a moral obligation to admit the world's poor, they tell us, even if it makes our country poorer and dirtier and more divided," he said. On Monday, he doubled down on this attack.
Fox News has reason to be jittery about advertiser boycotts. In April 2017, Bill O'Reilly, the longtime right-wing host who previously held Carlson's time slot, was forced out after revelations about his multimillion-dollar settlements to female colleagues he sexually harassed prompted advertisers to flee. Another boycott this March targeted Fox News commentator Laura Ingraham after she mocked Parkland shooting survivor David Hogg for not getting into his top choice of college, although she managed to weather the firestorm.
If Fox News wants to prevent advertiser boycotts, they should stop giving legitimacy on air to morally reprehensible people.
Matthew Chapman is a video game designer, science fiction author, and political reporter from Austin, TX. Follow him on Twitter @fawfulfan.