Gaza Cease Fire Begins; Egypt To Mediate Talks On Longer Truce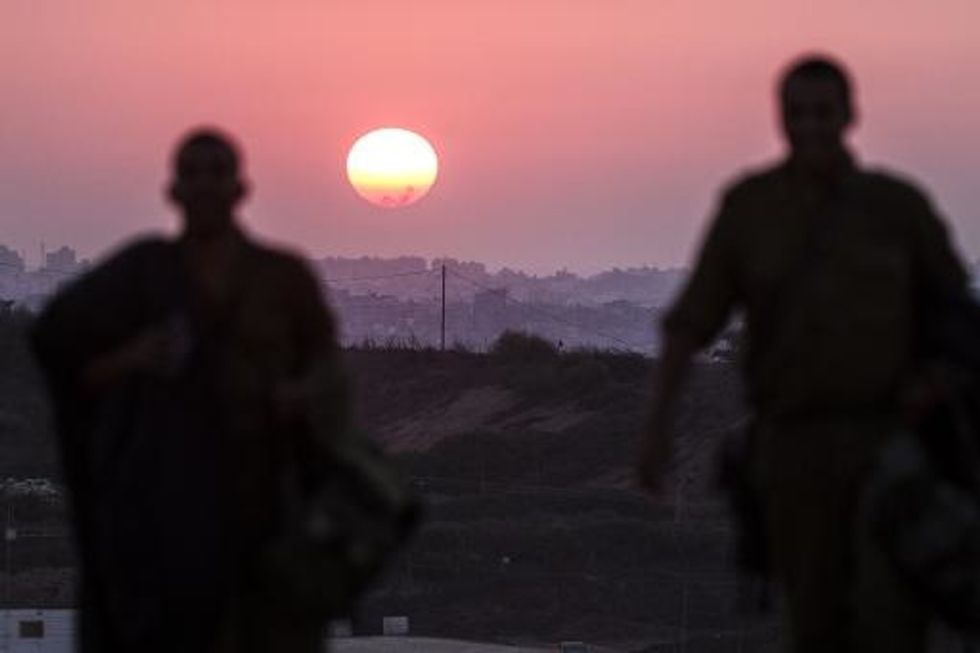 By Joel Greenberg, McClatchy Foreign Staff
JERUSALEM — A planned 72-hour cease-fire between Israel and Hamas began Tuesday as Israeli forces completed their withdrawal from the Gaza Strip and both sides prepared for indirect talks in Egypt on a longer truce to end a nearly monthlong war.
The Israeli withdrawal made it more likely that the cease-fire would hold. A planned three-day cease-fire last week collapsed in less than two hours when Hamas gunmen attacked Israeli forces in Gaza.
The Israeli army said it had completed its task of destroying or putting out of commission 32 networks of Hamas tunnels it had uncovered, some of which led across the border into Israel.
The military said it remained in "defensive positions around the Gaza Strip" and would respond to any attack. The United Nations said the army had declared a 500-yard "no-go zone" on the Gaza side of the border.
An Israeli delegation arrived in Cairo to participate in indirect truce talks with Hamas, mediated by Egypt, according to Israeli news reports. Hamas has demanded the lifting of border closings imposed on Gaza by Israel and Egypt, while Israel has called for demilitarizing the Gaza Strip, ridding it of Hamas rocket stocks and preventing further construction of tunnels.
International efforts began to raise money to rebuild homes and other buildings that were damaged in the hostilities. More than 500,000 Palestinians fled their homes during the fighting — nearly 30 percent of the Gaza Strip's population — and the homes of 65,000 people were destroyed or damaged beyond repair, according to U.N. figures. The Israelis also severely damaged Gaza's sole power plant.
Mohammed Mustafa, deputy prime minister of the Palestinian Authority government, which is based in the West Bank, told the Associated Press that efforts had begin to arrange a pledging conference of donor countries in Norway at the beginning of September. Tony Blair, the envoy of the so-called quartet of Middle East mediators — the United States, the United Nations, the European Union and Russia — is helping to arrange the conference, his office said.
Hamas and other Palestinian factions represented in Cairo are demanding that internationally funded reconstruction be overseen by the Palestinian unity government, which is backed by Hamas and the mainstream Fatah movement.
Israeli Prime Minister Benjamin Netanyahu said Israel had delivered a major setback to Hamas by destroying the tunnel network.
"The operation struck at a strategic network that Hamas had invested a tremendous effort in for years," Netanyahu said. "There is no guarantee of 100 percent success, but we did everything to achieve the maximum."
Maj. Gen. Sami Turgeman, chief of the army's southern command, said the offensive, which began with air and artillery strikes and was followed by a ground push, had produced "a significant potential for deterrence" that could prevent further rocket firing at Israel by militants in the Gaza Strip.
The halt to the fighting enabled Palestinians in Gaza to return to devastated neighborhoods, taking in scenes of vast destruction left by weeks of Israeli shelling and bombardments.
People stocked up on supplies and retrieved belongings from the ruins of their homes.
The U.N. said that more than 1,800 Palestinians had been killed in the Israeli campaign launched July 8, more than 85 percent of them civilians, including more than 400 children. The Israeli military says it killed about 900 militants in ground fighting.
The army said it lost 64 soldiers and that rocket strikes had killed two Israeli civilians and a Thai laborer in Israel.
AFP Photo/Jack Guez
Interested in world news? Sign up for our daily email newsletter!