Georgia Indicts GOP Candidate Who Rode 'Deportation Bus' In Fraud Scheme
@FAWFULFAN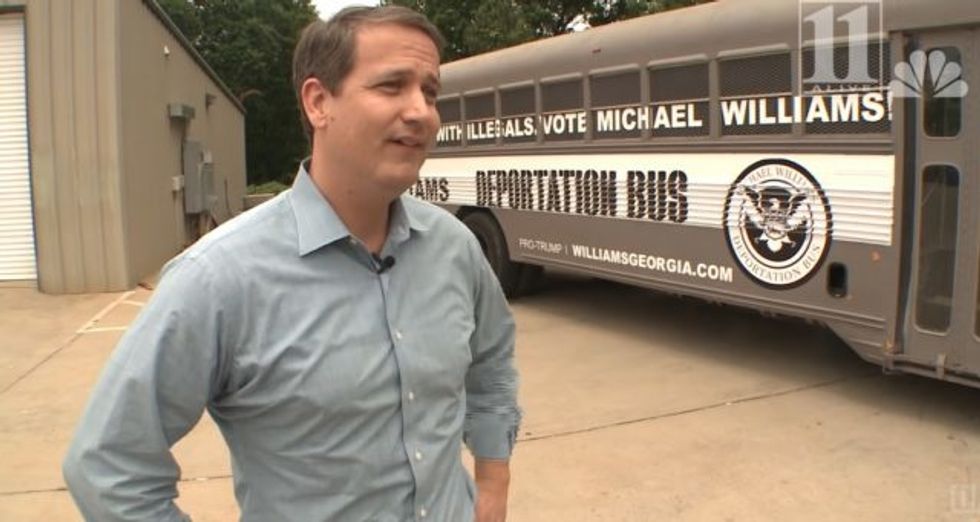 Reprinted with permission from AlterNet.
During the Republican gubernatorial primary in Georgia, one candidate, state Sen. Michael Williams, exploded into national prominence with a racist stunt. He unveiled a "deportation bus" covered with messages like "FILL THIS BUS WITH ILLEGALS," "FOLLOW ME TO MEXICO," and "DANGER! MURDERERS, RAPISTS, KIDNAPPERS, CHILD MOLESTORS [sic] AND OTHER CRIMINALS ON BOARD." He then proceeded to drive this bus all over the state, which prompted extensive media coverage, widespread protests, and a ban from Cracker Barrel.
In the end, Williams' campaign flamed out spectacularly, with him taking less than 5 percent of the vote. But he may well get something out of his candidacy after all: criminal prosecution for insurance fraud. On Thursday, the Atlanta Journal-Constitution reported that Williams is now under indictment:
The charges issued Tuesday by Hall County authorities relate to a May incident where Williams reported that his Gainesville office was burglarized. At the time, Weathers said $300,000 worth of computers servers were taken from the building.

Williams is accused of lying to a Georgia Bureau of Investigation agent when he said he was at home in Forsyth County, not in the Gainesville area at the time of the purported burglary. The indictment, which doesn't say what allegedly actually happened to the servers, accuses him of making a false insurance claim related to the servers.
At the time of Williams reported the "theft," campaign spokesman Seth Weathers told reporters that the servers were not part of the campaign and were being used to mine cryptocurrency for a side venture, but that they were set up in Williams' campaign office.
Asked for comment, Weathers denies the allegations against Williams. "I guess it's the price you pay for being a fearless conservative. Like they say, a grand jury can indict a ham sandwich."
The winner of the GOP primary was Georgia Secretary of State Brian Kemp, who also threatened to fill his truck with undocumented immigrants and ship them across the border in a campaign ad. Kemp, who continued to perform election oversight in the race he himself was running in, defeated Democratic former Senate Minority Leader Stacey Abrams in an extremely close and nationally publicized election, under a cloud of suspicion that his policies administering the election suppressed the votes of his opponent.
Matthew Chapman is a video game designer, science fiction author, and political reporter from Austin, TX. Follow him on Twitter @fawfulfan.