Germany Needs To Limit Refugee Influx, Close Borders: Merkel Allies
@reuters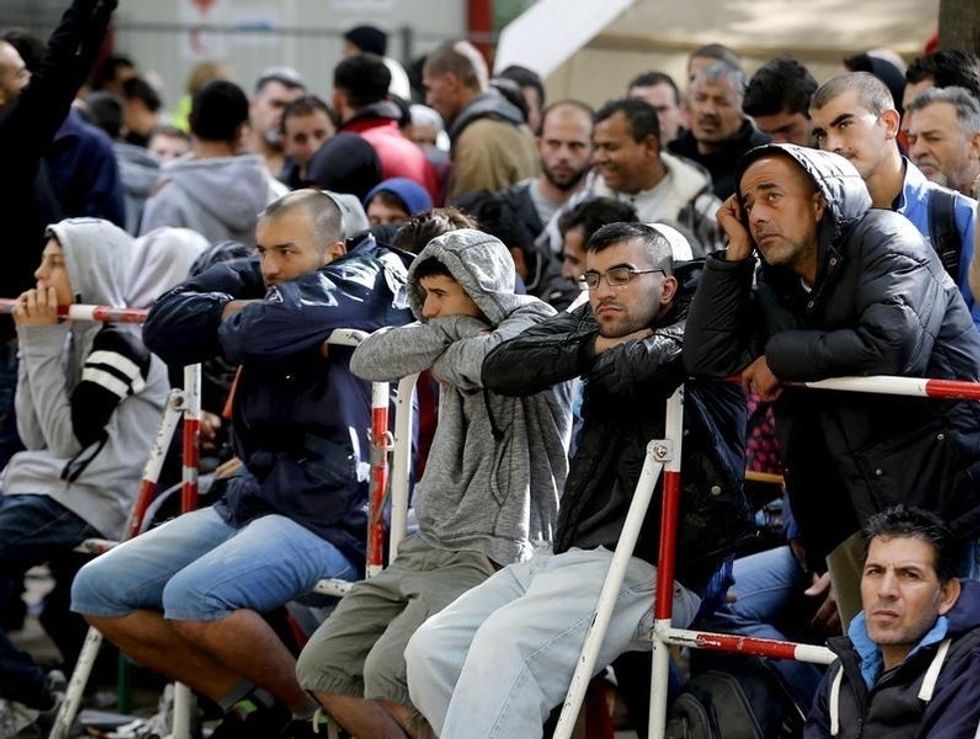 By Michelle Martin
BERLIN (Reuters) – Germany needs to limit the number of refugees it takes in or even close its borders, conservative allies of German Chancellor Angela Merkel said at the weekend, as the country deals with record inflows of people fleeing from war and poverty.
Around 800,000 migrants are expected to arrive in Germany, Europe's largest and richest economy, this year and complaints from politicians, the federal states and the municipalities that they cannot cope are growing.
German Finance Minister Wolfgang Schaeuble said Europe needed to restrict the refugee intake, and members of the Christian Social Union (CSU), the sister party to Merkel's conservatives in Bavaria, said Germany should shut its borders. Bavaria shares a border with Austria and has borne the brunt of the influx.
"If as many asylum seekers continue to come to Germany as in recent weeks, we won't have any choice but to temporarily stop taking people in and to close the borders to them," CSU politician Stephan Mayer told newspaper Frankfurter Allgemeine Sonntagszeitung (FAS).
Thousands of people are streaming into Germany every day, attracted by relatively liberal asylum laws and generous benefits. Some 6,750 people arrived in Bavaria alone on Friday and another 6,000 piled in on Saturday, a police spokesman said.
But Merkel told German broadcaster Deutschlandfunk that Germany must tackle the crisis head-on rather than trying to get rid of the problem. Building fences along borders was "pointless", she said, and refugees would find another way of entering Europe.
While the refugee crisis was a "very big task", Germany could cope, she said. It needed to speed up its asylum procedure, better protect its borders, deal with the reasons people were fleeing at source and ensure refugees are fairly distributed around Europe.
Merkel's popularity has slumped to its lowest level in nearly four years on concerns about migrants but support for the conservatives, made up of Merkel's Christian Democrats (CDU) and the CSU, remains high at 40 percent, according to the latest opinion polls.
Pressure on Merkel is mounting though. Some politicians urged her to introduce upper limits for migrant intake.
"We can't save the whole world," Bavarian Finance Minister and CSU member Markus Soeder told Passauer Neue Presse.
CDU politician Lorenz Caffier told newspaper Welt am Sonntag that as many as 1.5 million refugees could arrive in Germany this year but many of the federal states "are at their limit".
Members of the Social Democrats (SPD), Merkel's junior coalition partner, also stressed that Germany had exhausted its ability to deal with the crisis.
The SPD's Malu Dreyer, premier of Rhineland-Palatinate, told Welt am Sonntag volunteers were working "at breaking point" while senior SPD member Thomas Oppermann said a million refugees would take Germany to the limit of its ability to provide accommodation.
(Reporting by Michelle Martin; editing by Susan Thomas)
Migrants queue at the compound outside the Berlin Office of Health and Social Affairs (LaGeSo) as they wait for their registration in Berlin, Germany September 21, 2015. REUTERS/Fabrizio Bensch