Glenn Beck: War Used To Be Awesome, But Now It's Just <i>So</i> Progressive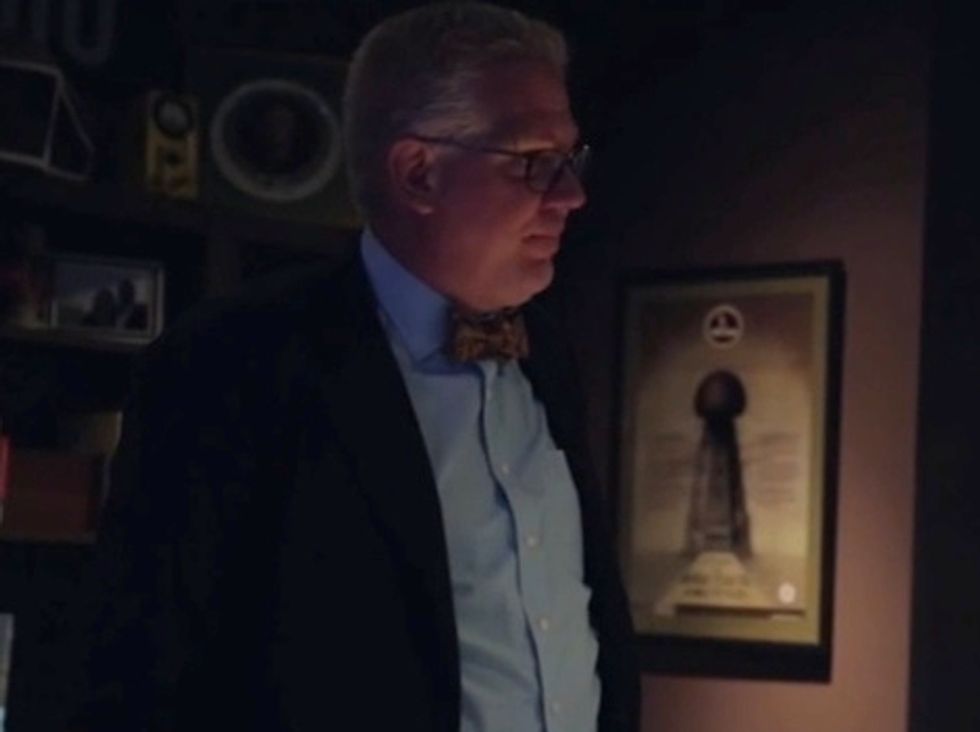 Professional nutjob and perennially war-glorifying "patriot" Glenn Beck has done an abrupt about-face on the subject of "toppling dictators" and "spreading democracy." After careful thought–and a big ol' helping of his trademark mental and logistical gymnastics—the sniffling internet clown has decided that war is "a progressive idea."
Beck — looking ever so dapper in a bowtie — explained on his badly lit web video show (with a straight face and not a hint of irony) that he's against a possible war in Syria because it would be all about oil. And in a typically wacky and convoluted column on his website, he dramatically chided everyone for supposedly believing exactly what he himself wholeheartedly believed and loudly, chest-poundingly endorsed… when it came to the Iraq War. However, rather than take the "don't make the same mistakes I and everyone else on the right side of the aisle made on Iraq" position, which would have been uncharacteristically honest, he chose instead to rewrite history:
The time for politics and party loyalty is over. Do your own homework. If you just take the administration's word for it (or John McCain or John Boehner or Lindsey Graham's for that matter) that it's 'slam dunk' case, I believe you are part of the problem.
Smart people shouldn't be hoodwinked into supporting a phony war (especially when the administration says it's a "slam dunk" case)! War, you see, is something progressives like. And heaven only knows that progressives — those warmongers –are the root of all evil on the planet. Not only that, but nation building is also a favorite progressive hobby that those on the right are simply not in favor of.
Now, you might well be thinking, "Wait a second here. Have we been plopped straight into the middle of Opposite World? Or is this just yet another episode in the continuing saga of 'If Obama's For It, I'm Against It'?" And you also might find yourself wondering how "it's all about oil" squares with what we're about to tell you (then again, this is Glenn Beck). But here goes:
THIS IS ALL A PROGRESSIVE PLOT TO HAND OVER U.S. POWER TO THE UNITED NATIONS, SO THEY CAN ESTABLISH A ONE-WORLD GOVERNMENT!!
Deep down, you already knew it was something like that. But still, prepare to laugh your nether regions off, watching The Beckster melodramatically tie himself up in knots to explain this insane conspiracy theory — one of his greatest and most enduring hits, and one that makes him such a darling of the tinfoil-hat set. Video courtesy of our friends at Right Wing Watch.