Virginia Republicans Mail 'Revenge Porn' Leaflets In State Senate Race
@LauraClawson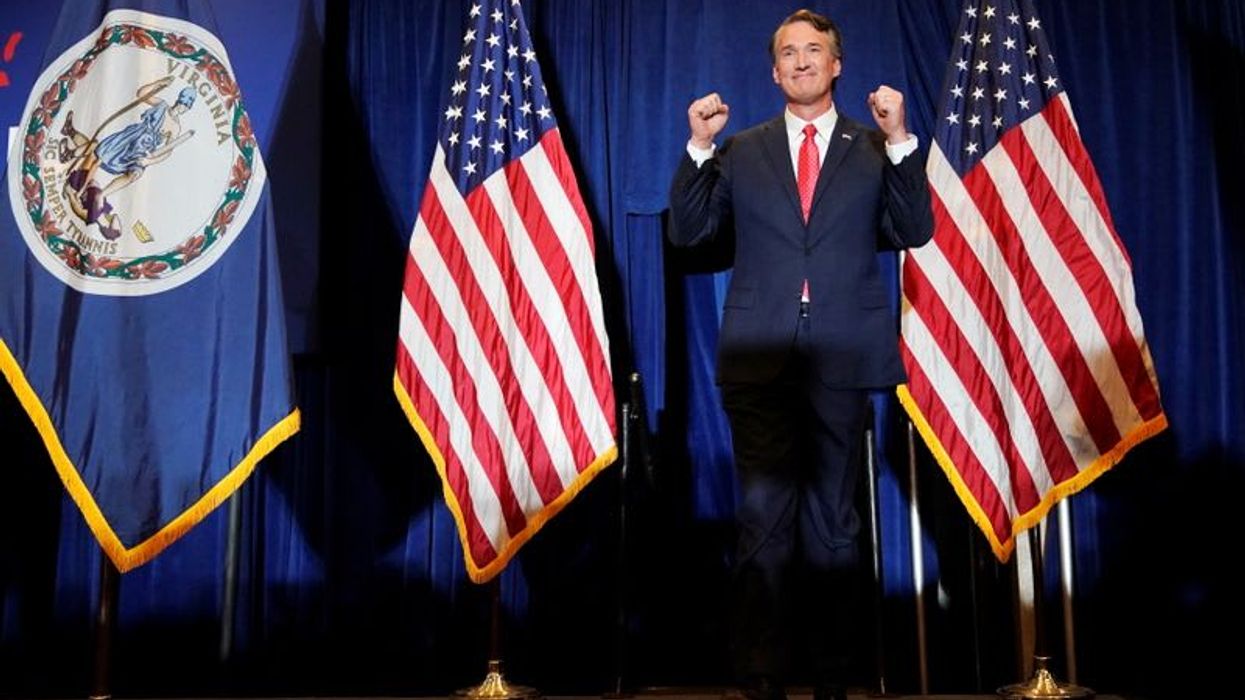 The Republican Party of Virginia is exploring how low a political party can go with a new set of campaign mailers targeting Democratic state House candidate Susanna Gibson. Last month, the Washington Postreported that Gibson and her husband had performed sex acts for tips on the platform Chaturbate. At the time, Gibson's Republican opponent, David Owen, ostentatiously took the high road, telling the Post, "I'm sure this is a difficult time for Susanna and her family, and I'm remaining focused on my campaign." Now, the state Republican Party is using screenshotted images from those livestreams in a campaign mailer.
"Do not open if you are under the age of 18," the outside of the mailer reads, and, "Warning: Explicit material enclosed." Inside, "voters found two pieces of paper with censored quotes and screenshots from Gibson's public porn livestream," NBC12 reported.
"Glenn Youngkin wants to ban pornhub but had his party campaign committee mail out nude photos of a candidate. He's a man of privilege that doesn't understand CONSENT and that should petrify every voter in Virginia. Revenge porn is a crime and that includes in politics," state Sen. Louise Lucas tweeted in response to the mailer.
That does raise an important question. When Gibson's Chaturbate streams were first reported, her lawyer suggested to the Post that their preservation and sharing on other sites could constitute revenge porn, citing a Virginia court's ruling that there is a "stark distinction between an image existing only in someone's memory … [and] a permanent file that may be shared or re-viewed indefinitely."
However, the Republican Party's lawyers were on the case. Virginia does have a statute on "Unlawful dissemination or sale of images of another," which prohibits the malicious dissemination of "any videographic or still image created by any means whatsoever that depicts another person who is totally nude, or in a state of undress so as to expose the genitals, pubic area, buttocks, or female breast." However, images of the inside of the mailer aired on local news show that the warnings on the outside about explicit content refer more to quotes from Gibson's livestream than to the images used, which are not explicit. The spirit of revenge porn is absolutely there, but the letter of the law doesn't appear to have been violated.
According to the same local news report, Youngkin claimed he didn't know anything about the mailers—but he was happy to take the opportunity to attack Gibson and talk up Owen. That's Glenn Youngkin for you. He markets himself as the nice-guy Republican antidote to Trump, but he's the leader of a state party that's sending out mailers carefully tiptoeing around the edges of revenge porn laws, and he'll happily use the controversy around those mailers for political advantage. A total sleazebag, in other words.
Virginia elections expert Larry Sabato suggested that this might be a desperation move by Republicans. "They have decided that this will benefit their candidate. You wonder whether perhaps a private survey indicated that Susanna Gibson was doing better than they expected her to because that is a very competitive district," he told NBC12.
According to a statement from Gibson's campaign, "David Owen and the Virginia GOP are trying to distract voters from their extreme agenda to ban abortion, defund schools, and allow violent criminals to access weapons of war. Voters are tired of these desperate attacks, and they will not be fooled by them. From day one, Susanna has been focused on protecting reproductive freedom, fully funding our schools, and keeping our communities safe. Nothing will ever deter her commitment to our community."
This isn't the only recent Republican foray into revenge porn, of course, with Rep. Marjorie Taylor Greene showing nonconsensual nude photos of Hunter Biden in a House hearing. When people—or political parties—show you who they are, believe them.
Reprinted with permission from Daily Kos.