Good Company: 5 CEOs Who Support A Higher Minimum Wage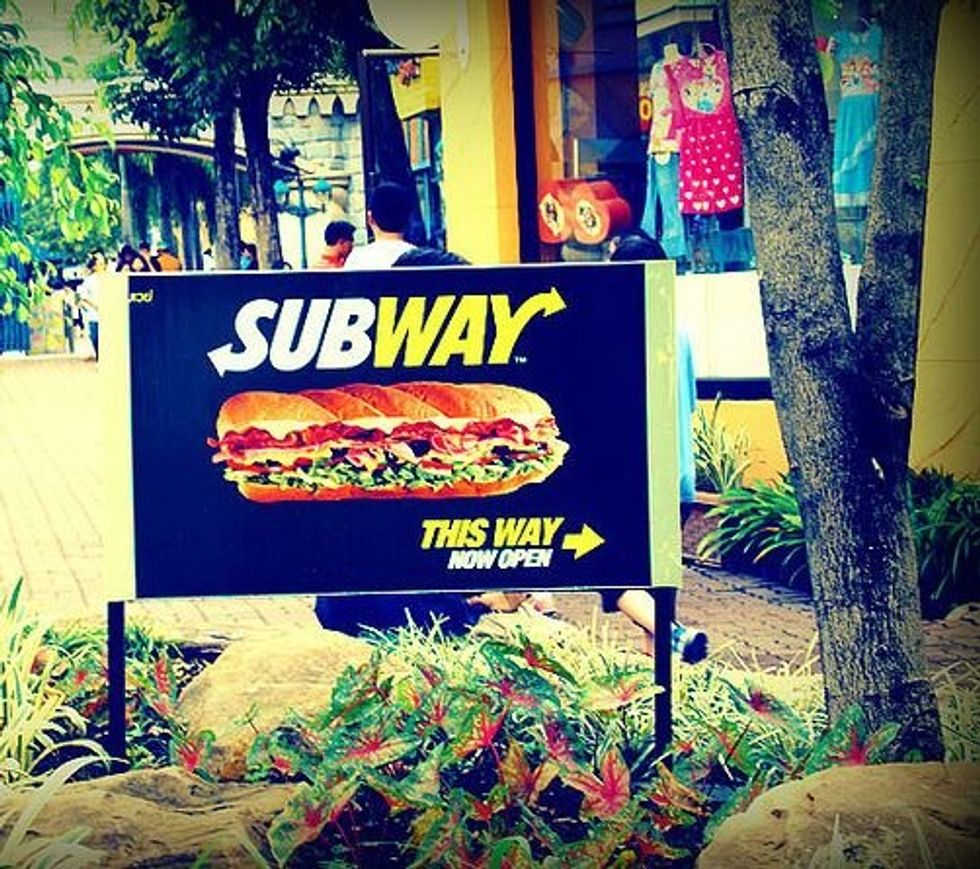 Subway CEO Fred DeLuca offered a common sense answer on Wednesday when asked about a possible increase to the minimum wage.
"Over the years, I've seen so many of these wage increases. I think it's normal," DeLuca told CNBC, adding: "It won't have a negative impact hopefully, and that's what I tell my workers."
But DeLuca went further than just saying he would welcome a wage increase. If it was up to him, he explained, wages would be increased automatically to account for inflation. "I personally think that if I were in charge of the government, I would index the minimum wage to inflation so that way everybody knows what they can count on," Deluca said. "The employees know they're going to get increases on a regular basis. The management knows that they're going to have to pay a little bit more with inflation."
DeLuca is not the first CEO to hold this position. Here's a look at five notable CEOs who share DeLuca's call for the a higher federal minimum wage:
Photo: Candy Girl via Flickr 
Gap CEO Glenn Murphy 
Similar to Fred DeLuca, Glenn Murphy sees a wage increase consistent with inflation rise as a no-brainer. Unlike DeLuca, Murphy just went ahead and guaranteed the increase for his workers.
In February of this year, he announced he would increase to $9.00 the minimum hourly rate paid to his workers. By next year, that rate will increase to $10 an hour.
Murphy said in a statement when announcing this plan: "To us, this is not a political issue. Our decision to invest in frontline employees will directly support our business, and is one that we expect to deliver a return many times over."
In his role as CEO, Murphy oversees Gap, Old Navy, Banana Republic, and Athleta stores. A total of 136,000 workers are employed by the company, with 90,000 employees in the United States.
Photo: FuFuWolf via Flickr
Starbucks CEO Howard Schultz
Howard Schultz has a good record when it comes to treating his workers fairly. He offers health benefits to all of his employees, for example. Starbucks also started the Create Jobs for USA initiative, which sought to collect donations for small businesses.
Schultz also backed a small minimum-wage increase when the issue was being debated early last year. Schultz told MSNBC in March 2013: "On balance, I am a supporter of the minimum wage going up," he said. "We've got to be very careful what we wish for because some employers — and there could be a lot of them — will be scared away from hiring new people or creating incremental hours for part-time people as a result of that wage going up."
But Schultz's timid support of a wage increase was not enough for him to back Seattle's — Starbucks' home city — $15-an-hour minimum wage increase. He told the Puget Sound Business Journal that it would have "unintended consequences."
Ben & Jerry's Ben Cohen And Jerry Greenfield
Ben Cohen and Jerry Greenfield are noted philanthropists, not just through their work with the Ben & Jerry's Foundation, but with the way all workers at the company are treated in the workplace.
According to Ben & Jerry's website, the decision to pay workers nearly twice the national minimum wage does not stem from a desire for profits, but from a commitment to economic justice.
They write:
Ben & Jerry's commitment to economic justice starts with our employees. That's why we're committed to paying all of our Ben & Jerry's Vermont full time workers a livable wage – enough to allow for a quality of life that includes decent housing, health care, transportation, food, recreation, savings, and miscellaneous expenses.

Every year, we recalculate the livable wage to make sure it's keeping up with the actual cost of living in Vermont. In recent years, Ben & Jerry's livable wage has been nearly twice the national minimum wage, landing at $16.13 in 2013.
Photo: Scott Lynch via Flickr
Costco CEO Craig Jelinek
For Craig Jelinek, support for a minimum-wage hike is just common sense, good business.
When Democrats and President Obama were pushing for the Fair Minimum Wage Act of 2013, Jelinek threw his support behind them, touting business expansion as reason to increase the wage. "Instead of minimizing wages, we know it's a lot more profitable in the long term to minimize employee turnover and maximize employee productivity, commitment and loyalty. We support efforts to increase the federal minimum wage," Jelinek said in a statement on March 5, 2013.
"At Costco, we know that paying employees good wages makes good sense for business," Jelinek continued. "We pay a starting hourly wage of $11.50 in all states where we do business, and we are still able to keep our overhead costs low. An important reason for the success of Costco's business model is the attraction and retention of great employees. "
Photo: DHJung via Flickr 

Fashion Designer Eileen Fisher
Finally, fashion designer Eileen Fisher has, for years, used her company as a means to further her message of sustainability and social justice.
Around 70 percent of Fisher's clothing, for example, is made with organic cotton. Her website explains: "Farmers are not exposed to chemical sprays. Instead of using herbicides and pesticides, they pull weeds, trap bugs, rotate crops and use companion plantings such as corn to attract beneficial bugs and lure away pests."
Fisher's commitment to social justice extends to support for a living wage.
Fisher wrote in a May 2012 statement: "Since I started the company in 1984, we've manufactured some of our most core fabrics in New York City factories. We honor the enormous contribution of the women and men who produce our clothes. Raising New York's minimum wage to $8.50 an hour would be a step on the path to acknowledging the positive difference they make in the success of our company and all brands who engage local labor in their supply chains."