GOP House Leaders Kowtow To Far Right Over McCarthy Leaks
@next2godwin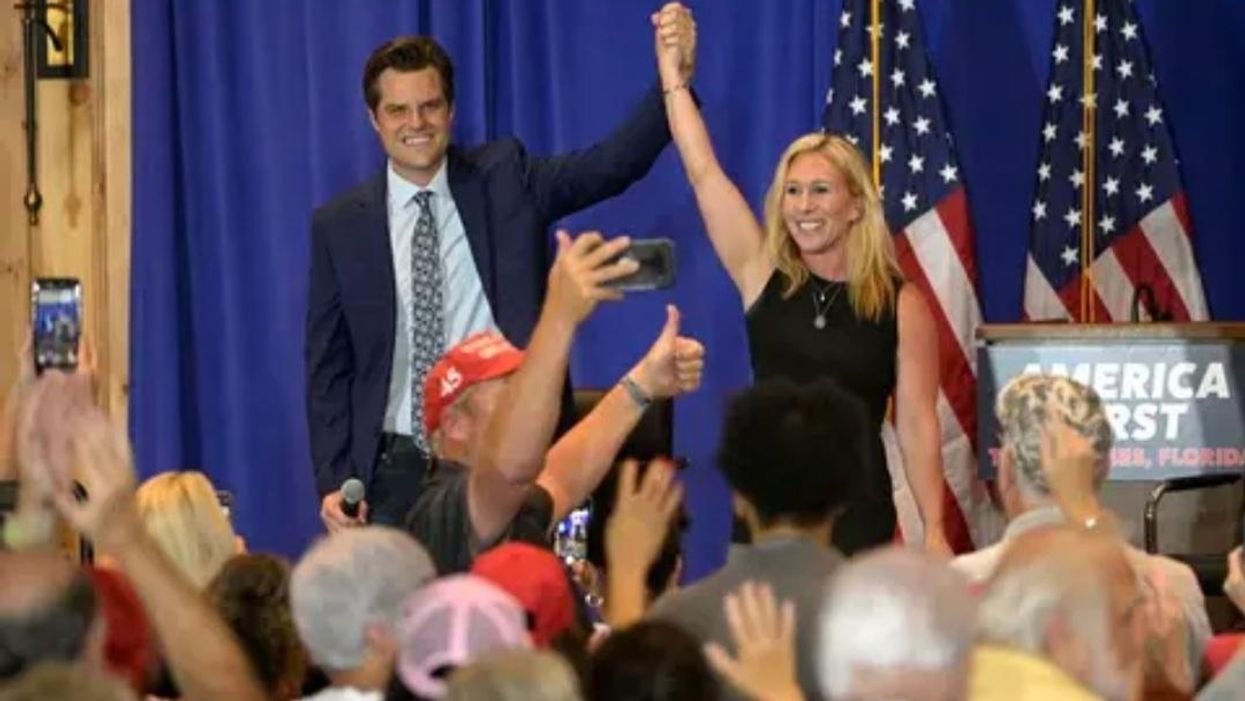 House Republican leader Kevin McCarthy (R-CA) and Minority whip Steve Scalise (R-LA) clashed with top Trump allies in a private meeting over leaked audio of the two leaders blasting far-right GOP members of Congress for their role in inciting the violent mob that attacked the Capitol on January 6, endangering other lawmakers.
Rep. Matt Gaetz (R-FL) tore into both leaders, describing them as "weak men" for their "sniveling calls" with Rep. Liz Cheney (R-WY), which took place before the House GOP leadership booted Cheney from its leadership.
The New York Timespublished new audio clips on Tuesday in which McCarthy, on a conference call with Scalise, Cheney, Rep. Tim Emmer (R-MN), and congressional aides, voiced his worries that the statements of a far-right minority of the House GOP could incite violence.
McCarthy and other leaders discussed Gaetz, Rep. Mo Brooks (R-AL), and other Republican lawmakers they believed posed threats to their colleagues.
McCarthy accused the congressman from Florida, Gaetz, of "putting people in danger" for calling some Republican lawmakers "anti-Trump" days after the January 6 Capitol attack. "He's putting people in jeopardy. And he doesn't need to be doing this. We saw what people would do in the Capitol, you know, and these people came prepared with rope, with everything else," McCarthy said.
Scalise chimed in. "It's potentially illegal what he's doing," he said, speaking of Gaetz.
Gaetz fired back in a statement on Tuesday night, saying, "This is the behavior of weak men, not leaders."
"While I was protecting President Trump from impeachment, they were protecting Liz Cheney from criticism. They deemed it incendiary or illegal to call Cheney and [GOP Rep. Adam Kinzinger] 'Anti-Trump,' a label both proudly advertise today," Gaetz added.
Gaetz also challenged Scalise in the private meeting to state which of his comments were "illegal," according to NBC News.
Scalise didn't specify any comments as Gaetz had requested. Instead, he blamed the excess information "flying around" after the insurrection for the confusion and said he was reacting to a Cheney aide who accused Gaetz of endangering her safety.
Both leaders were also challenged by another Trump loyalist, Rep. Marjorie Taylor Greene (R-GA), who is battling a group of her constituents in court over her alleged role in the insurrection. Greene demanded that both leaders apologize for discussing GOP lawmakers on a private call, but neither leader apologized, per NBC.
After the meeting, Gaetz assailed Scalise again on Fox News' Tucker Carlson Tonight.
"If you accuse someone of breaking the law, you have to say what law you think they broke and you have to present what evidence you think you have," Gaetz fumed. "If there is no evidence, you need to acknowledge that."
Scalise caved and met Gaetz privately after the meeting to apologize. Speaking to NBC News of the meeting afterward, Scalise said he told Gaetz that he wanted to "ratchet down the rhetoric" because members of Congress on both sides had received death threats.
"Now, clearly, those didn't ultimately come to fruition because there were no charges that were brought, but what we were being told were some pretty alarming things — some from law enforcement, some from other members," Scalise told NBC News.
"And so I shared that with Matt. I'm sorry that those comments caused him problems because it was things that [were] conveyed to me from a number of places."