GOP Panic Over Roy Moore's Candidacy In Alabama Senate Primary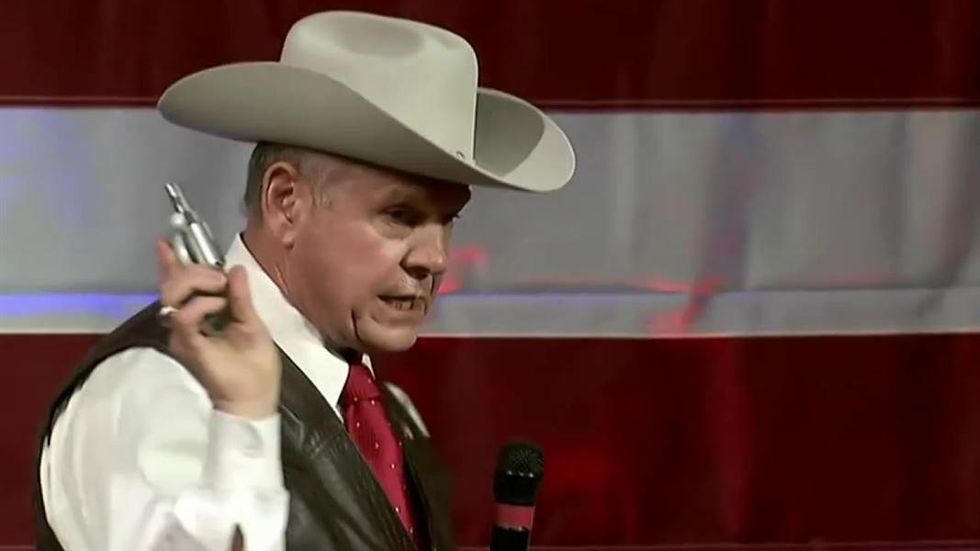 Republicans are panicking after alleged pedophile Roy Moore announced on Thursday that he is jumping into the U.S. Senate race in Alabama.
"We'll be opposing Roy Moore vigorously," said Senate Majority Leader Mitch McConnell. That was not true in Moore's first Senate campaign in 2017, when McConnell said he hoped Moore would withdraw his candidacy but never vigorously opposed him or endorsed his Democratic opponent.
"This place has enough creepy old men," said Sen. Martha McSally (R-AZ).
Sen. Cory Gardner (R-CO) said "the people of Alabama are smarter than that," referring to Moore's candidacy.
"I can assure everyone that by running, Roy Moore is going against my father and he's doing a disservice to all conservatives across the country in the process," wrote Donald Trump Jr., lashing out at his fellow Republican.
Republicans are clearly concerned that Moore's candidacy could keep the seat in the hands of Democratic Sen. Doug Jones, who defeated Moore in a special election in 2017. Moore is the most visible and well-known figure (for all the wrong reasons) running in the crowded Republican primary.
Politico reported that South Carolina Sen. Tim Scott has talked to Jeff Sessions, who vacated that Senate seat to become Trump's attorney general, about running for his old seat now that Sessions is out of a job, having been fired by Trump.
Sen. John Cornyn (R-TX) said Republicans would "probably lose the seat" unless Trump "came out forcefully against him."
Trump said last month that he didn't want Moore to run again, for fear he would lose, but he added that he has "nothing against" Moore.
Jones' victory over Moore in 2017 was a black eye for the Republican Party after they gave up a Senate seat in one of the most Republican states in the country.
The loss came after it was revealed that Moore, when he was 32, groped a 14-year-old girl he was dating at the time.
The disgusting episode immediately came to mind as Moore promised at his campaign kickoff Thursday to "make more personal contact with people."
Embarrassingly, Trump won Alabama by 28 points just a year before Moore's loss. The campaign flop was an early harbinger of the blue wave that washed away the Republican majority in the House in the 2018 midterms.
Republicans are already on edge about the upcoming election, and Moore's candidacy puts them on the defense in territory that has historically favored Republicans.
Pedophilia is once again a problem for the Republican Party, and they are on full alert.
Published with permission of The American Independent.
IMAGE: Roy Moore, brandishing a pistol at a campaign event.