GOP Primetime Debate Is What Republicans Deserve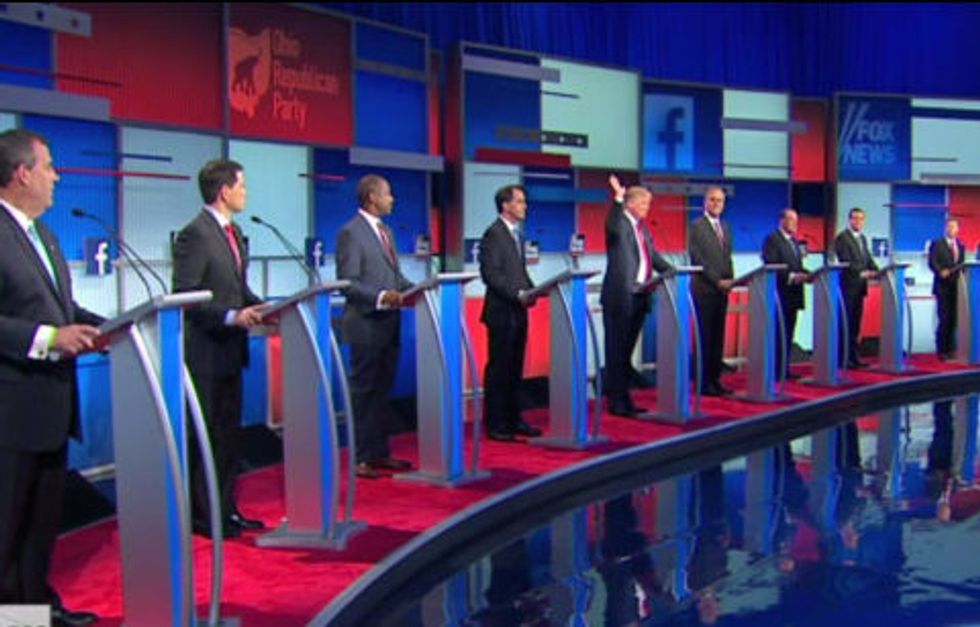 If the GOPeeWee debate was a chamber piece, the main stage show was arena rock: loud, soaring, inspiring for some, and occasionally incoherent.
It drummed up a few kernels of highly anticipated Donald Trump drama, but Fox News carefully choreographed the event so that there were no significant implosions that could put a dent in conservatives' efforts to expand their base. Questions about gay marriage were directed to moderates; erst-Democratic supporter Donald Trump was not pressed on his belief in God; and the issue of whether or not to shut down the government did not take center stage. And yet, unlike the tamer late-afternoon debate, the candidates were not shy about being combative with each other.
Of the 17 GOP candidates, 10 were elevated to the primetime stage before a boisterous crowd at the Quicken Loans Arena in downtown Cleveland Thursday night: Ohio governor John Kasich, business tycoon Donald Trump, Dr. Ben Carson, Florida senator Marco Rubio, New Jersey governor Chris Christie, Texas senator Ted Cruz, Wisconsin governor Scott Walker, former Florida governor Jeb Bush, Kentucky senator Rand Paul, and former Arkansas governor Mike Huckabee.
Rand Paul, in particular, seemed eager to carve out a niche for himself as a (in his words) "different kind of Republican" who explicitly rejected the party line on a number of fronts: regarding domestic spying programs, he said "I don't trust President Obama with our records," and rather than take a hard line on gay marriage, he clung to his libertarian outlook: "I don't want my marriage or my guns registered in Washington," he said.
Moderators Bret Baier, Megyn Kelly, and Chris Wallace kicked off the circus by demanding that each candidate on stage swear that he (they were all men) would support the eventual Republican nominee, and not try to mount an independent campaign. Trump raised his hand, indicating his refusal to swear to that, which was met with loud boos.
Donald Trump pledged he would not run as an independent on the condition that he respected the eventual GOP nominee. "I want to run as the Republican nominee," he said, but would not concede that he would bow out gracefully in the event that he lost.
"Maybe he supports Clinton," Paul interjected — to which Trump snapped back: "I've given him [Paul] plenty of money."
This exchange set the combative tone for the evening, in which candidates squared off against each other in split-screen tête-à-têtes rather than respond directly to moderators' questions.
To take just one example: When Christie argued that Paul's efforts to curtail domestic spying programs were naive and dangerous because they enabled domestic terrorism, Paul accused Christie of fundamentally misunderstanding the Bill of Rights, and — even worse — mentioned the incident where Christie put his arm around President Obama after Hurricane Sandy.
Dr. Ben Carson, the retired neurosurgeon, spoke of his belief in the human capacity to learn and innovate, mainly as a way of deflecting attention from his own glaring political inexperience. When asked about the ethical problems posed by waterboarding, he said simply that it should not be public knowledge that waterboarding is even inAmerica's arsenal. "How we get the information we need," he said, "is our business."
Florida senator Marco Rubio was challenged on his lack of experience in executive leadership, to which he responded that the election "cannot be a résumé competition" because if it were, then Hillary Clinton would be the next president.
Bush, in a defensive role, angling to preserve his tentative position as the frontrunner whose name is not Trump, distanced himself from his dynastic surname by affirming that he was his "own man," that indeed the bar was higher for him because he had to work even harder to establish his own credibility as a candidate, separate from his family's record. He responded to criticism over his support of Common Core by saying that there had to be standards in education, whether they were set at the state or federal level, and seemed to finally come around on the question of the Iraq War — "knowing what we know now," of course
Trump had to confront his past life as a Democratic supporter when he faced criticisms that he may be a liberal in disguise: "I am pro-life," he said. He claimed that he hated the concept of abortion, a subject on which he had "very much evolved." When moderator Megyn Kelly raked him over the coals for his habit of misogynistic remarks, criticizing women for their appearance, he responded: "Only Rosie O'Donnell," which was met with loud applause.
If anyone "won" the evening, it was Ohio governor John Kasich, the late entrant into the field who edged out Rick Perry for the #10 spot and enjoyed a home-court advantage. Kasich touted his résumé as a fiscal hawk (which included a stint chairing the House Budget Committee), defended his decision to expand Medicaid in his state as a moral imperative, and came across as relatively level headed on the issue of marriage equality, saying that the Supreme Court had issued its decision, and he would accept it.
Cruz firmly established his credentials as a conservative on all fronts, calling himself a "consistent conservative" — fiscally, socially, on domestic and foreign policy. Although the moderators knew better than to give him a platform to express his feelings about gay marriage. "I believe the American people are looking for someone to speak the truth," he said. "I will always tell the truth." He vowed to rescind Obama's "illegal" executive actions, persecute Planned Parenthood, and cancel the deal with Iran.
Huckabee — perhaps sensing he was in danger of losing ground on the social conservative front — vowed to extend the protections of the 5th and 14th amendments to the Constitution to extend to fertilized embryos. Promises to defund Planned Parenthood did not go far enough, he said, and he vowed to extend personhood rights to unborn fetuses. Moreover, he asserted that social programs like welfare exist only for the benefit of, among others, "pimps and drug dealers feeding off the system."
The first (well, the second) of many, many debates, it was a symphony of controlled chaos, of choreographed outrage, of antics that, however crass, fall well within the boundaries of what passes for political discourse these days.
Each of the candidates delivered more of the same, but Republican voters looking outside the realm of the controlled and the choreographed may turn to Kasich, the black sheep who quietly stole the stage one moment at a time, and Rubio, the son of immigrants who glibly denied ever taking a cent from Trump and whose campaign has emphasized the theme of a "new American century."
It was not the Republican debate we need right now, but it may be the one Republicans deserve.