GOP Senators Demand Prosecution Of Spy Who Uncovered Trump's Dirty Russia Past
@EricBoehlert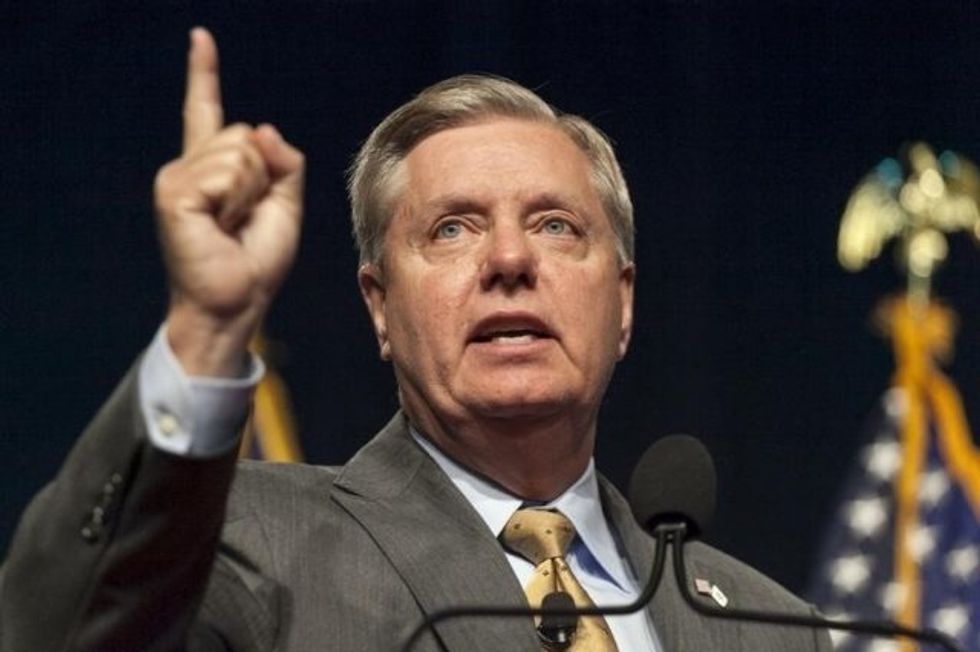 Reprinted with permission from Shareblue.com
Five days into 2018 "and the "bombshell keeping falling," CNN's Brooke Baldwin announced Friday afternoon as she detailed the latest revelations about a Trump White House that seems to be careening out of control.
Between the new tell-all book where Trump aides depict the president as a childish fool completely incapable of fulfilling his duties, to stunning revelations about how Trump tried to force the United States attorney general to protect him from prosecutors, the Republican Party appears to be in panic mode.
And one way that complete panic manifests itself is the extraordinary efforts Republicans are taking in hopes of derailing ongoing Trump investigations, or creating news diversions by demanding probes into Trump's foes.
Friday brought another shocking, authoritarian move: Sen. Chuck Grassley (R-IA) and Sen. Lindsey Graham (R-SC) urged the Department of Justice to investigate British spy Christopher Steele to see if he lied to federal authorities about his contacts with reporters regarding information in the so-called Russian dossier.
Steele was hired in 2016, first by Republicans and then by Democrats, to assemble the widely confirmedintelligence document that detailed Trump's many shocking connections with Russian business operatives over the years, as well as the Kremlin's attempt to get him elected president.
In other words, Republicans are now actively going after a key player who tried to expose the wrongdoing of Russian collusion in the first place. Indeed, Republicans are waging an all-out war against those connected to the truth-telling dossier.
The latest GOP turn would basically be like if Republican senators in 1973 had demanded the FBI investigate Bob Woodward and Carl Bernstein as they uncovered the Watergate scandal.
As for Friday's criminal referral, which Democrats were not notified beforehand, the whole thing seems like a publicity stunt, albeit one designed to send a chilling message to people with uncompromising information about Trump.
One reason the move appears to be so hollow is that Steele has never been under investigation by the FBI nor has he ever been formally interviewed by the bureau, so how could he have broken the law by supposedly lying to the FBI about his contacts with journalists? (Steele had previous, long-standing contacts within the FBI and spoke to some agents about the dossier.)
Also, the information that Grassley and Graham forwarded to the FBI about Steele is information the bureau already had. Meaning, if the FBI thought there was any wrongdoing, it would have acted on that long ago.
The larger picture here is that Trump's allies in the FBI-hating right-wing media will now be able to harp on the fact that Republican senators issued a criminal referral regarding Steele, which in this case sounds much more serious than it is.
The brazen GOP move comes four days after Glenn Simpson and Peter Fritsch, who founded Fusion GPS, the research company behind the dossier, published a defense of their work.
"Mr. Steele's sources in Russia (who were not paid) reported on an extensive — and now confirmed — effort by the Kremlin to help elect Mr. Trump president. Mr. Steele saw this as a crime in progress and decided he needed to report it to the F.B.I," they wrote.
Today, Steele's reward is be attacked and smeared by Trump's minions in the GOP.