GOP Whip Scalise Refuses To Disown Death Threats Against Schiff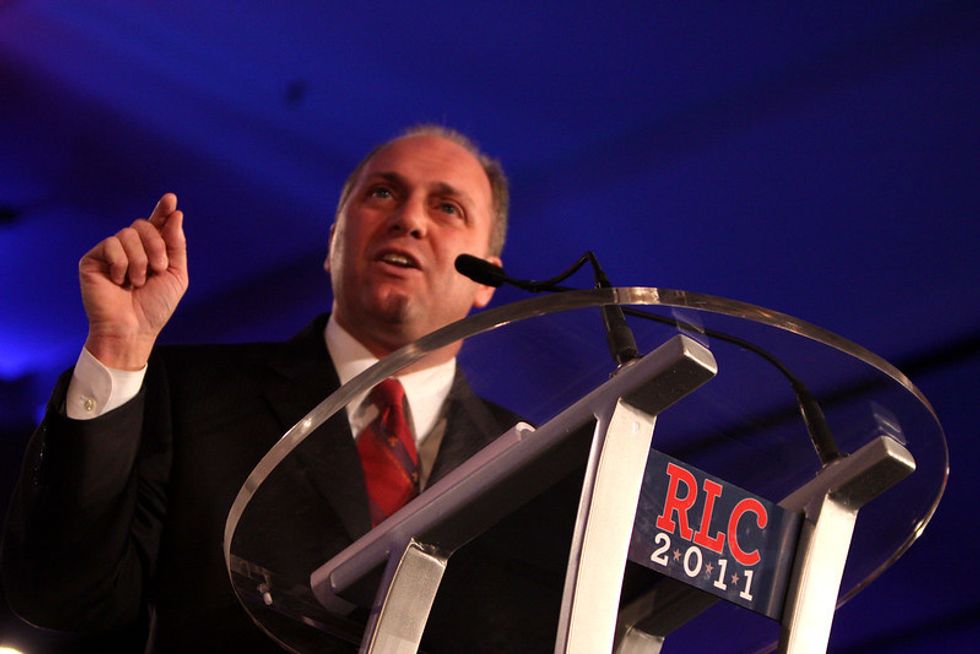 Rep. Steve Scalise (R-LA), the House minority whip, refuses to condemn violent attacks against House Intelligence Committee Chair Adam Schiff, despite a previous pledge to do so.
Schiff (D-CA) has been on the receiving end of politically motivated death threats, spurred on by comments made by Donald Trump and Scalise, the Washington Post reported Monday.
Trump attacked Schiff, who is a leading voice in the House impeachment inquiry, but saying Schiff committed "treason," leading many on social media to call for Schiff to be executed. Scalise called Schiff a "proven liar" who needs to be "held accountable," resulting in many on the right calling for Schiff to be thrown in prison or be executed.
One person responded to Scalise by writing on Twitter about the "good old days when traitors like Schiff would be hanged by the neck until dead," according to the Post.
When asked by the Post about his language possibly inciting political violence, a Scalise spokesperson refused to condemn the threats of violence. Rather than call out potential  violence, the spokesperson reiterated attacks on Schiff, seeming to indicate that it was Schiff who was responsible for the calls for his execution.
"As someone who was targeted by a leftist motivated by violent rhetoric towards Republicans, Whip Scalise is well aware of the dangers of that kind of rhetoric," Lauren Fine, the Scalise's spokesperson, told the Post. "Adam Schiff has a detailed history of using irresponsible, false and accusatory rhetoric throughout Trump's presidency, which is what this tweet simply documents in Schiff's own words."
Scalise was shot in 2017 on a softball field while practicing for the annual congressional softball game by a man who once supported Sen. Bernie Sanders (I-VT) for president.
While Scalise's spokesperson said he was "aware" of the dangers posed by violent political rhetoric, he refused to condemn these threats against Schiff.
This refusal is a significant departure from Scalise's previous stance on the issue. In October 2018, Scalise penned an op-ed for Fox News where he vowed to speak out against political violence at all times.
Scalise wrote that if Americans want to "stem the tide of violence and violent rhetoric, then it is crucial we all do our part to break down the divisions in our country and reach out to those with different beliefs than our own."
He went on, saying that "violence and terror have no place in our politics or anywhere else in our society. Having experienced the effects of political violence firsthand, I am committed to speaking out against it every time it rears its ugly head."
Yet, as Schiff is faced with graphic death threats spurred on by Scalise's words, Scalise refused to speak out.
The Scalise press office did not respond to a request to clarify the comments to the Post in light of his previous statements.
Scalise is an outspoken defender of Trump throughout the impeachment inquiry, repeatedly attacking Democrats like Schiff and House Speaker Nancy Pelosi. But when heated rhetoric by both Scalise and Trump lead to fantasies of political violence, Scalise is merely aware of the danger but will not condemn it.
Published with permission of The American Independent.