GOP's Claim That Obamacare Leaves More Uninsured Than Covered Is Still Not True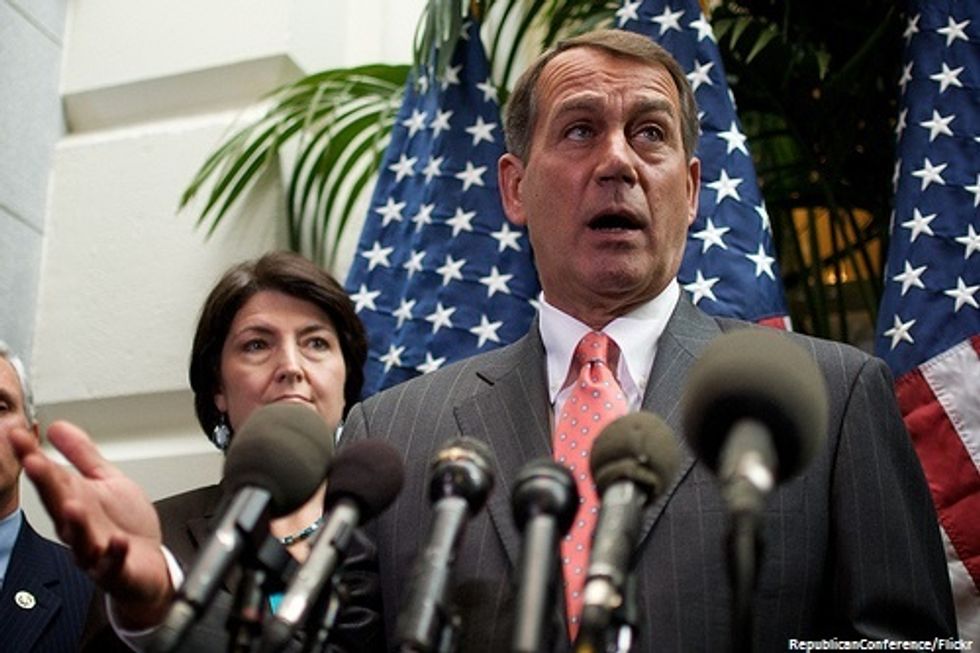 "It's official: #Obamacare debuts with more canceled plans than enrollments" http://t.co/hc216YJ6qW via @DailyCaller

— Speaker John Boehner (@SpeakerBoehner) January 2, 2014
As part of its ongoing strategy of attacking the Affordable Care Act, the Republican Party continues to present claims that just do not hold up.
The latest attack: Under Obamacare, more Americans have lost health insurance than gained it.
In November, when numerous reports that peopl were receiving cancelation letters in the mail surfaced, the GOP immediately asserted that under the new health care reform, more people would lose coverage than gain it.
By the end of December, Republicans claimed that approximately five million people would lose coverage in 2014 because of Obamacare.
That same month, Senator John Barrasso (R-WY) claimed that "thousands and thousands" in his state "have had their insurance canceled under the law."
And the following day, Senator Marco Rubio (R-FL) stated, "The administration is recognizing the grim reality that more Americans have lost health insurance than gained it under Obamacare."
More recently, House Speaker John Boehner (R-OH) tweeted a link to a Daily Caller article that wrongly declared the ACA "left more Americans without coverage than before the law was passed."
A fact check conducted by the Washington Post's Glenn Kessler, however, shows a reality very different from the one being presented by the GOP.
As Kessler points out, the Daily Caller article linked to by Boehner neglects the Medicaid expansion included in the new law that has since added 3.9 million Americans to its rolls. Additionally, "the article also incorrectly assumes that everyone whose plan did not meet Affordable Care Act standards but who did not sign up for a plan via the exchanges has been left without coverage."
Ultimately, the article – as well as the GOP – neglects to make a distinction between canceled plans and lost coverage: Many Americans who received cancelation notices were later enrolled into another plan by the same insurance company, and others were able to find new plans through the exchanges. This means that not everyone who received a cancelation letter is now no longer covered by a new plan with either their former insurance company or a new one.
Also important to note is that under an administrative fix ordered by the White House, approximately 2.3 million Americans with canceled plans will now be allowed to stay on their former plan for at least another year.
Boehner's spokesman Brendan Buck has since cleared up the  Speaker's intentions, saying that the tweet was meant to assert only that there were "more private plans canceled than private plans enrolled in Obamacare," but the original tweet that quoted the Daily Caller, "Obamacare debuts with more canceled plans than enrollments," conveys a different message – one that the Republican Party so desperately wants to be true, but just is not.
Photo by RepublicanConference/Flickr