Guess Who Will Get Paid During The Coming Government Shutdown?
@LucianKTruscott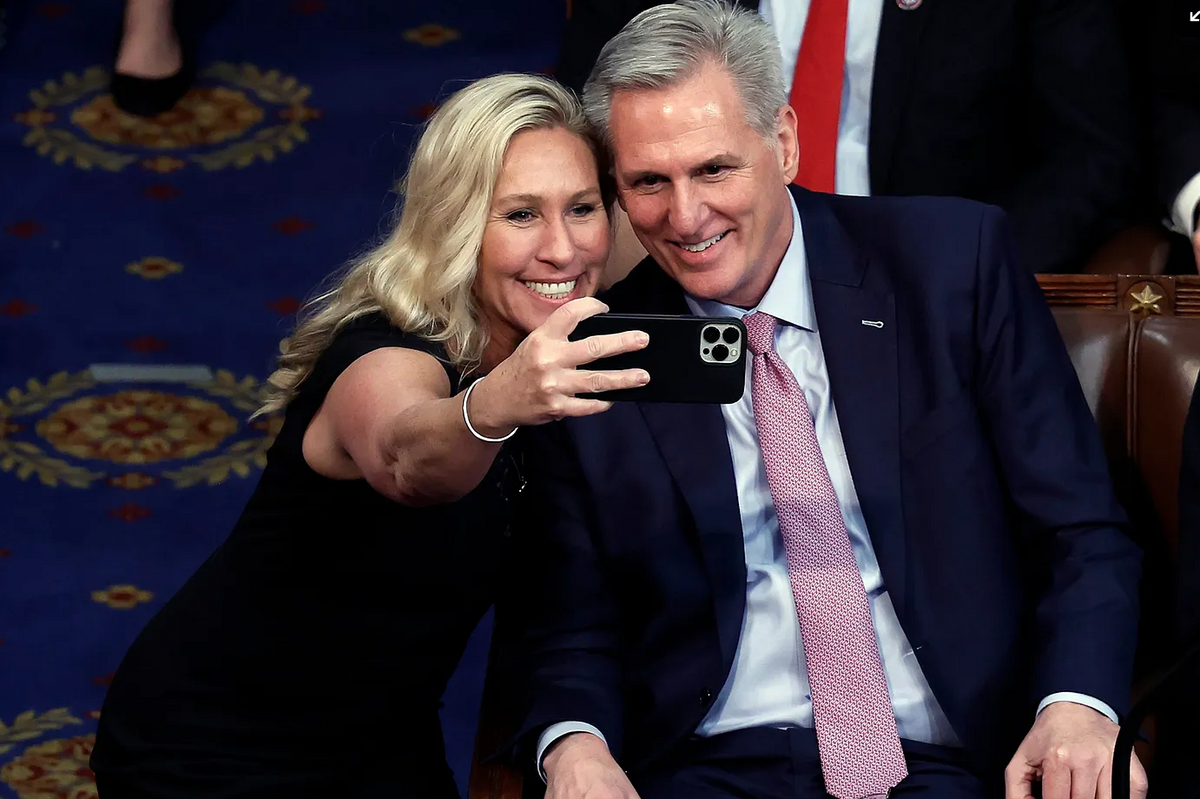 As the looming shutdown goes, it's a minor thing, especially when you factor in how many members of today's Congress are millionaires, but of course their paychecks are protected. The Constitution does it for both the Congress and the President. Article I, Section 6 states, "The Senators and Representatives shall receive a compensation for their services, to be ascertained by law, and paid out of the treasury of the United States." Article II, Section 1, similarly guarantees that the President will be paid: "The President shall, at stated Times, receive for his Services, a Compensation, which shall neither be increased nor diminished during the Period for which he shall have been elected."
Everybody else who gets a federal paycheck is shit out of luck.
That means that the approximately 150,000 Virginians who work for the federal government will lose their paychecks, too, and you have to wonder why Congressional Republicans, especially Speaker Kevin McCarthy, don't appear to have factored that into their calculations over whether to turn off the federal spigot at the end of this week. Every elective state office in Virginia comes up for election next month, and if past is prologue, that does not auger well for Republicans. After the shutdown in 2013, Governor Terry McAuliffe and other Democrats won their races when Republicans were blamed for that debacle. The current Virginia governor, Glenn "Check Out My Monogrammed Fleece Vest" Youngkin, has promised to pass limitations on abortion if he is reelected and Republicans take the state house and senate. That promise alone is going to hurt Republicans next month, and a government shutdown might just bury them.
But Virginia politics isn't all that's on the chopping block for Republicans if the radical Freedom Caucus goes through with its threat to close down the government over spending demands that include cutting out U.S. funding for Ukraine's war of survival against Vladimir Putin's Russia. Goldman Sachs has said that a shutdown of the government similar to the 35-day shutdown under Trump that ran from late 2018 into 2019 would take a full percentage point off Gross Domestic Product. That may sound like a technical detail, but it would have dire effects on the national economy and lives of citizens, driving up costs of lending, forcing some small businesses to close, and once again, rattling credit markets around the world.
House conservatives have already blocked the defense spending bill twice. Now they have their hero, Donald Trump, egging them on. Trump has several things in mind in his backing of Republicans' shut down fever, and as ever, his own future is among them. Last week on Truth Social, Trump reminded them that "This is the last chance to defund these political prosecutions against me and other Patriots" (capitalization provided by himself).
On Sunday, Trump all-capped "UNLESS YOU GET EVERYTHING, SHUT IT DOWN!" Then he all-capped Mitch McConnell: "Close the border, stop the weaponization of 'Justice," and End Election Interference – WE MUST HAVE HONEST ELECTIONS. Are you listening, Mitch McConnell, the weakest, dumbest, and most conflicted "Leader" in U.S. Senate history? HE'S ALREADY GIVEN THE DEMOCRATS EVERYTHING, THEY CAN'T BELIEVE HOW LUCKY THEY GOT. WE NEED NEW, & REAL, REPUBLICAN LEADERSHIP IN THE UNITED STATES SENATE, NOT A CLONE OF MITCH, & WE NEED IT NOW!!!"
The Atlantic reports that Democrats and Republicans in Congress agree that the chances of a shutdown are 90 percent, and with Kevin McCarthy holding all the cards, I'd say they're off by 10 percent. The House is scheduled to hold votes on rules to advance four spending bills involving the Departments of State, Homeland Security, Defense, and Agriculture – funding the Republican Party has rubber stamped a zillion times over the years. Passage of these rules bills would open the door to a continuing resolution that would fund the government for a period of time, a month has been mentioned, for negotiations on the overall budget. But several far-right Republicans in the House have said they will vote against a continuing resolution, including Marjorie Taylor Greene, mentioned as something of a lieutenant in what's left of McCarthy's rule, because of funding in the continuing resolution for $300 million to help Ukraine.
Ukraine is fighting the first land war in Europe since World War II against an enemy that has announced aims to expand its sphere of influence back into countries it controlled as the Soviet Union. The war has cost Ukraine more than 100,000 of its citizens so far. Just to put that in perspective, it is more than this country lost in Vietnam, Iraq, and Afghanistan together. This fact seems to mean nothing to Greene and her buddies on the right.
All McCarthy would have to do to keep the government open is to strike a deal with Democrats, but passage of a bipartisan bill of any kind would spell the end of McCarthy's time as Speaker of the House.
They used to call this kind of thing brinksmanship. That's not what it is. It's insurrection-by-vote, and nobody knows this better than the man who fomented the insurrection at the Capitol on January 6, 2021, in an attempt to keep himself in the White House. Trump made it clear back then that he would take the whole thing down if he had to, and he's doing it again with the entire Republican Party behind him. Every single vote in the House and Senate, every single vote in Virginia in November, and every single vote in November of 2024 is a vote to defend our democracy. That's how we have to think about these elections. Every. Vote. Counts.
Lucian K. Truscott IV, a graduate of West Point, has had a 50-year career as a journalist, novelist, and screenwriter. He has covered Watergate, the Stonewall riots, and wars in Lebanon, Iraq, and Afghanistan. He is also the author of five bestselling novels. You can subscribe to his daily columns at luciantruscott.substack.com and follow him on Twitter @LucianKTruscott and on Facebook at Lucian K. Truscott IV.
Please consider subscribing to Lucian Truscott Newsletter, from which this is reprinted with permission.