Governor: Kentucky Will Appeal Ruling On Out-Of-State Same-Sex Marriages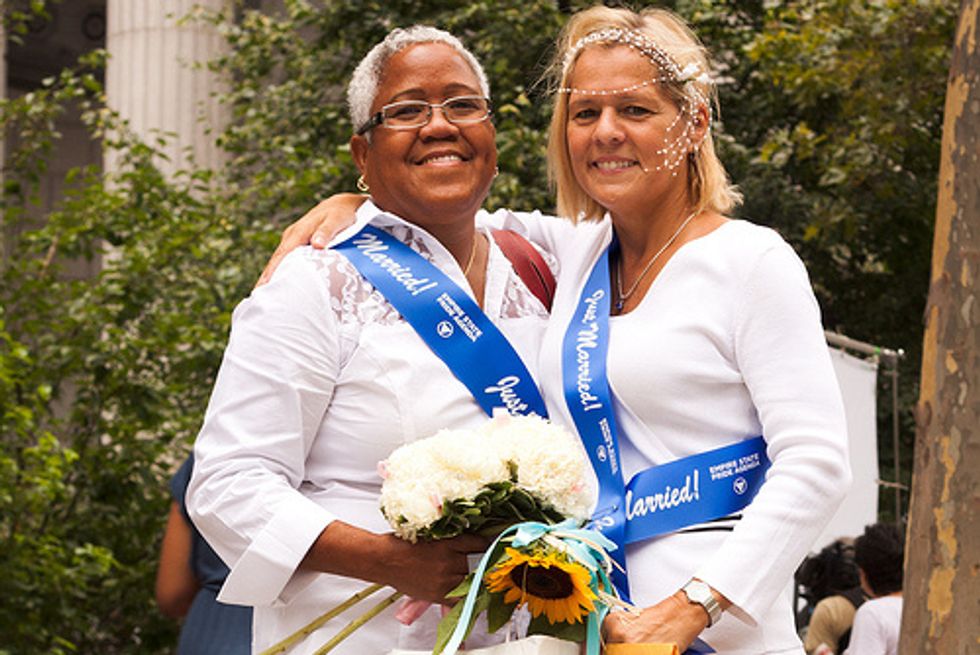 By John Cheves, Lexington Herald-Leader
FRANKFORT, Ky. — Democratic Governor Steve Beshear said Tuesday that he will appeal a federal judge's order requiring Kentucky to recognize same-sex marriages performed in other states.
The definition of marriage in Kentucky and other states "will be and should be ultimately decided by the U.S. Supreme Court in order to bring finality and certainty to this matter," Beshear said in a statement. "The people of this country need to know what the rules will be going forward. Kentucky should be a part of this process."
Beshear said he will ask for an indefinite stay, or delay, in the judge's order while Kentucky takes the case to the U.S. 6th Circuit Court of Appeals in Cincinnati. The order is on hold until March 20.
Beshear will have to hire outside lawyers to pursue the appeal because a tearful Attorney General Jack Conway, also a Democrat, announced minutes earlier that he will not appeal the judge's order.
Kentucky's ban on same-sex marriage is discriminatory and doomed, and the state shouldn't waste its limited resources in court trying to save it, Conway said.
U.S. District Judge John G. Heyburn II "got it right" last month when he struck down a 1998 state law and a 2004 state constitutional amendment defining marriage as between one man and one woman, and prohibiting recognition of same-sex marriages from outside the state, Conway said.
"The United States Constitution is designed to protect everyone's rights, both the majority and the minority groups," Conway said in a brief statement to reporters, after which he took no questions.
"Judge Heyburn's decision does not tell a minister or a congregation what they must do, but in government, 'equal justice under law' is a different matter," Conway said.
Conway began to cry as he continued: "For those who disagree, I can only say that I am doing what I think is right. In the final analysis, I had to make a decision that I could be proud of _ for me now, and my daughters' judgment in the future."
Religious conservative groups, who pressured Conway to appeal, quickly criticized his decision Tuesday, calling it "a dereliction of duty."
"Now that Colorado has legalized marijuana sales, how long will it be before Judge Heyburn legalizes marijuana in Kentucky, too, since it's legal in another state and we have to respect their laws? And of course, now we know that Jack Conway would not oppose it," said Paul Chitwood, executive director of the Kentucky Baptist Convention.
Beshear's appeal before the 6th Circuit could take a year to 18 months, said Dan Canon, one of the lawyers for the four same-sex married couples suing Kentucky.
"We're extremely disappointed," Canon said, "This is essentially a decision to waste taxpayer money defending statutes that are morally reprehensible and constitutionally doomed to fail. Every court to decide this case so far, reviewing state laws that ban recognition of same-sex marriage, has found them to be unconstitutional."
Simultaneously, Heyburn is considering a related argument from new plaintiffs suing Kentucky for the right to be issued same-sex marriage certificates inside the state. A decision in that case is expected by this summer. It was not clear Tuesday who will continue to argue for the state in that case.
Photo: Jose Antonio Navas via Flickr