'Growing Tension' Reported Between Sanders And Warren
@alexvhenderson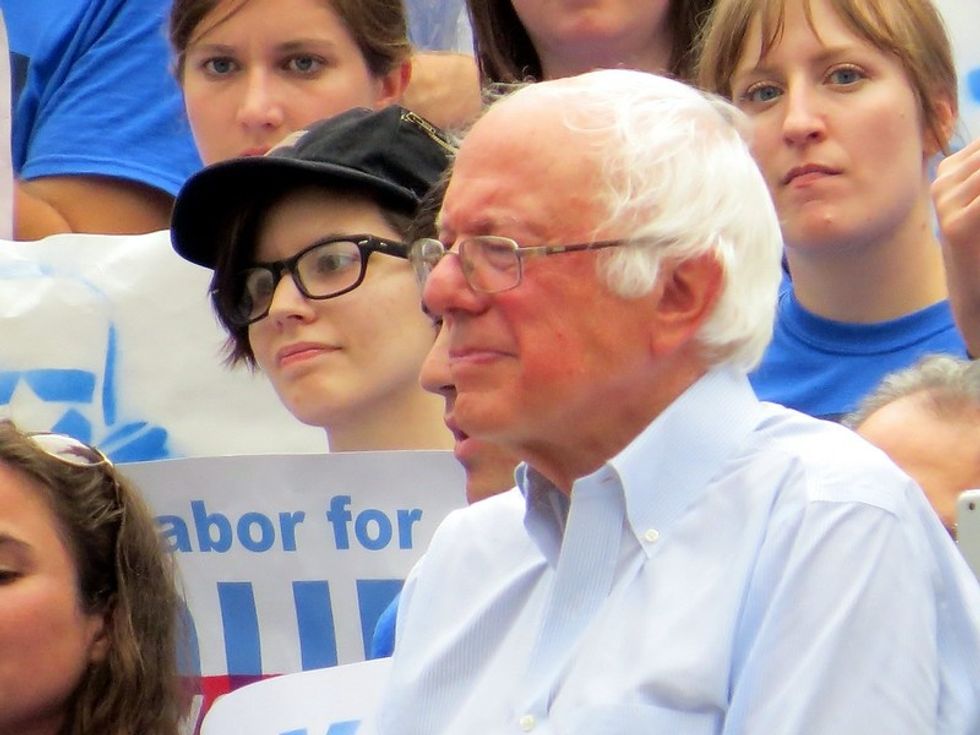 Reprinted with permission from Alternet
During the most recent Democratic presidential debate, held in Ohio on Oct. 15, many of the candidates went after Sen. Elizabeth Warren with a vengeance — from Sen. Amy Klobuchar to Sen. Kamala Harris to South Bend Mayor Pete Buttigieg. But Sen. Bernie Sanders, who was as fired up as ever despite recovering from a recent heart attack, pretty much left Warren alone and reserved his barbs for centrist Democrats and President Donald Trump. Much has been written about the Sanders and Warren campaigns having an unofficial truce, but in a report for Politico this week, journalists Holly Otterbein and Alex Thompson assert that there is a "growing tension between the two candidates below the surface."
Sanders and Warren have had a friendly relationship in the U.S. Senate, and both of them are quite popular in the liberal/progressive wing of the Democratic Party. But Otterbein and Thompson explain that even though the New England senators have "avoided direct conflict on the campaign trail," they are competing "to be recognized in the Democratic primary as the lead champion for progressives" — and that competition is asserting itself not with angry attacks on one another, but with policy proposals.
For example, Otterbein and Thompson note, "In August, Warren unveiled a plan calling for 40% of corporate board members to be elected by rank-and-file workers. Last week, Sanders raised her, saying it should be 45%."
Another example cited by Otterbein and Thompson: "After Warren unveiled her signature wealth tax for fortunes over $50 million and estimated it would raise $2.75 trillion over the next decade, Sanders, not to be outdone, proposed a wealth tax that he said would bring in $4.35 trillion partly by lowering the threshold to $32 million."
But in the centrist wing of the Democratic Party — the one represented by presidential candidates who include former Vice President Joe Biden and Sen. Amy Klobuchar of Minnesota — there are worries that the Warren/Sanders competition might scare middle-of-the-road voters. Biden spokesman Andrew Bates told Politico, "The stakes of defeating Donald Trump and the assaults on our values he commits daily are too great for our primary to devolve into who can sacrifice our policy advantages in a general election the fastest."
Both the Warren campaign and the Sanders campaign declined to be interviewed for Politico's article.
After losing all three presidential races to Republicans in the 1980s, the Democratic National Committee (DNC) concluded that centrist was the way to go in presidential races. President Bill Clinton ran as a centrist in 1992 and 1996, as did President Barack Obama in 2008 and 2012. But even though the Democratic Party is still a big tent, it is a big tent in which liberals and progressives are clearly getting a larger seat at the table. And Mike Konczal of the Roosevelt Institute told Politico he was glad to see liberal/progressive ideas receiving so much attention in the 2020 Democratic presidential primary.
In the last few years, Konczal told Politico, the prominence of liberal/progressive policies in the Democratic Party has "moved at such a rapid pace, it's hard to keep track of. It's sort of amazing."