Guantanamo Board Says Saudi Captive Can Go Home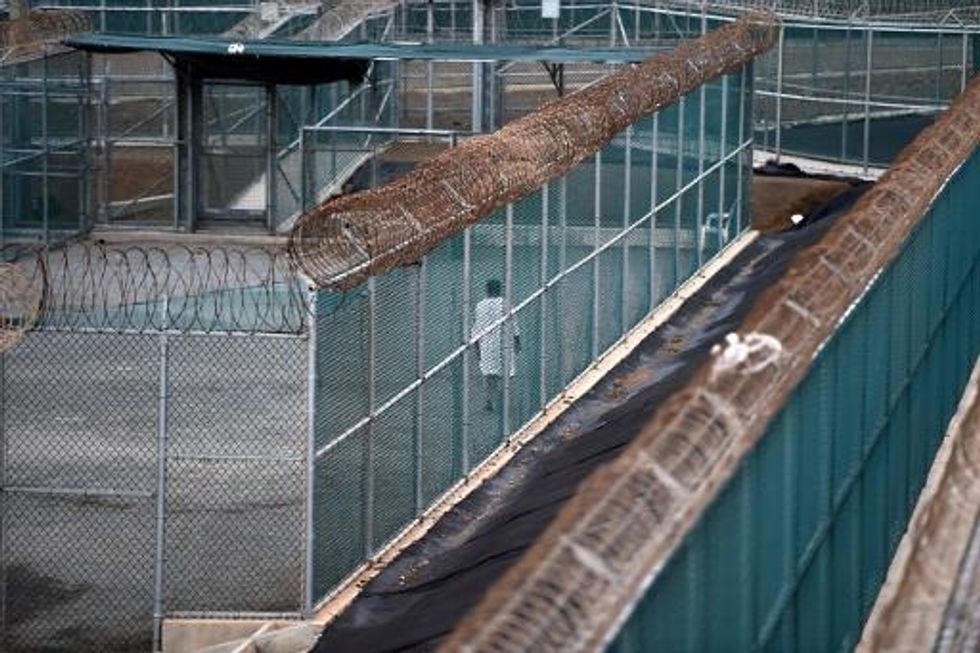 By Carol Rosenberg, Miami Herald
A U.S. national security panel has approved for release from Guantanamo a long-held prisoner whose advocates argued was less of a risk at-large than the five Taliban captives sent to Qatar in exchange for Army Sgt. Bowe Bergdahl in May.
Muhammed Zahrani, 45, got to Guantanamo in August 2002 and was until this month held as an indefinite detainee, without charge or eligible for release, a "forever prisoner." The Periodic Review Board announced Monday he was eligible for repatriation to his native Saudi Arabia, raising to 80 the number of men approved for transfer from the remote prison holding 149 detainees.
Separately, the panel upheld the indefinite detention status of Mohammed al-Shimrani, 39, who boycotted his May 5 parole hearing to protest military groin searches of captives going to and from appointments.
With these decisions, the parole board President Barack Obama ordered set up in 2011 has looked at nine forever prisoners files and approved five for release and retained the indefinite detention status of the other four.
Zahrani persuaded the board to make him eligible for release, according to a document released by the Pentagon, because of his "candor with the board about his presence on the battlefield, expressions of regret, and desires for a peaceful life after Guantanamo."
It's not possible to know what he said because, at Zahrani's request, his remarks and written submission to the board were under seal at the parole board website.
These were the board's first review of Saudi prisoners, and the members note in their unsigned recommendation that they gave consideration specifically to Zahrani because of the ongoing Saudi rehabilitation panel.
A panel of representatives of the Departments of Defense, Justice, State, Homeland Security, and National Intelligence Directorate heard his case June 19.
It was unclear why the decisions took so long.
A U.S. intelligence assessment, which was prepared in April, said Zahrani trained with al-Qaida in Afghanistan in the two years prior to the Sept. 11, 2001 terror attacks. It said he has "provided information of value" to U.S. intelligence but alternately "withheld details" and "possibly has exaggerated his role in and significance to al-Qaida, to which he remains devoted."
At his parole hearing, two unidentified U.S. military officers assigned to plead his case argued a history of misbehavior at the Pentagon prison did not mean he would be a risk to the United States, if released. Rather, an officer argued at the hearing, according to a transcript, that his behavior was "that of an inmate, rather than that of a terrorist.
"Such resistance and noncompliance with correctional staff is commonplace in penal systems, including in the U.S. … included by 12 years of detention, frustration, separation from family and boredom with no possible end in sight."
They called him "a middle-aged, ailing man who desperately wants to return to Saudi Arabia" to receive national healthcare, go through the country's detainee rehabilitation program and "start over."
The brief three-paragraph decision clearing Zahrani made no mention of the portion of the U.S. military officers' plea that called him less of a threat on paper than five Taliban prisoners sent to Qatar in May in exchange for release of Bergdahl, a long-held prisoner-of-war.
Instead, the panel declared itself impressed with his "mindset," family support and willingness to take part in the Saudi-run rehabilitation center for former jihadists.
The board declined to change Shimrani's status with an indirect mention of his boycott of the proceedings in protest of the groin searches.
It said it was not possible to evaluate his "mindset" because he didn't show up, would review his case in six more months and encouraged full participation. Its short decision also encouraged him to engage with any Saudi government representatives who visit Guantanamo.
AFP Photo/Mladen Antonov
Want more national news? Sign up for our daily email newsletter!