Guilty? Trump White House Musters Impeachment 'War Room'
@jeisrael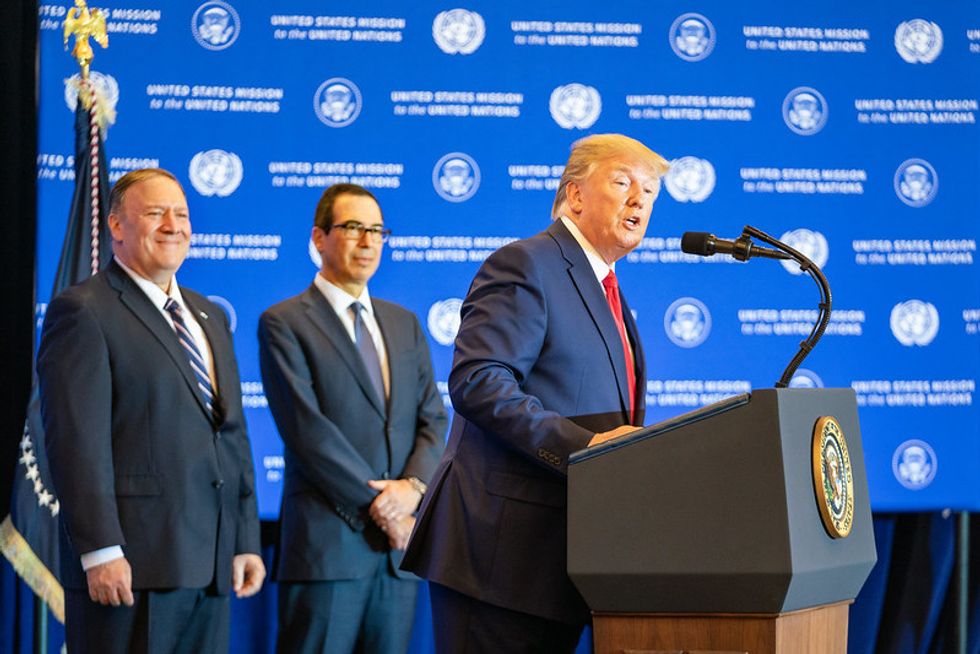 The Trump administration has set up what Axios termed this week a "de facto impeachment war room, with a chief goal of policing and solidifying Republican Senate support for acquittal" — despite claiming just days ago that such "war rooms" were only necessary for those who were guilty.
Amid criticism from Republicans for its ineffective response to the impeachment inquiry, Donald Trump's senior staffers are holding "a near-daily meeting focused on messaging — not the legal side of the impeachment fight, per three sources familiar with the situation."
According to the report, the war room meetings are held in the Situation Room or the Roosevelt Room and attended by a people from a number of offices, including the chief of staff's team. The meetings reportedly began several weeks ago.
The revelation flatly contradicts comments made by acting White House chief of staff Mick Mulvaney last Thursday.
In a now-infamous press briefing — the same one in which he announced Trump's intent to hold the G-7 summit at his own Miami resort before admitting that Trump had withheld aid to Ukraine to secure an investigation into a long-debunked conspiracy about Hillary Clinton's emails — Mulvaney brought up the idea of an impeachment war room on his own.
"This is one of the questions I don't understand from you folks that we get all the time, which is: Some of you have criticized us for having a war room — okay? — which we don't, by the way," he claimed. "You don't have a war room when you haven't done anything wrong."
"Clinton certainly had a war room. I think Nixon did," he continued. "But they actually did something wrong. We didn't. So we don't have a war room."
Mulvaney claimed the lack of messaging team didn't necessarily mean the White House was not taking the impeachment inquiry seriously.
The administration has spearheaded such "war room" strategies in the past. During last year's Supreme Court confirmation process, now-Justice Brett Kavanaugh was accused by multiple women of sexual assault. Though Kavanaugh angrily denied the claims, his defense was reportedly coordinated by a war room, built by then-White House Counsel Donald McGahn on the fourth floor of the Eisenhower Executive Office Building.
The House of Representatives is currently conducting an impeachment inquiry into Trump's actions with regards to Ukraine. Among other things, lawmakers are interested in a July 25 phone call between Trump and Ukrainian President Volodymyr Zelensky, in which Trump pressured Zelensky to investigate his 2020 rival, former Vice President Joe Biden.
Subsequently released text messages between several U.S. diplomats later supported the claim that Trump had conditioned military aid to Ukraine on its willingness to investigate Biden and a baseless conspiracy theory about DNC servers, which Trump believes may hold answers to questions about special counsel Robert Mueller's nearly two-year long probe into Russian interference in the 2016 election. Trump has repeatedly slammed that investigation as a partisan witch-hunt while claiming simultaneously that it exonerated him.
UPDATE: On Friday, Trump denied having a rapid response team or any other team at all. "I'm the team. I did nothing wrong," he told reporters.
Published with permission of The American Independent.