Hagel In India To Boost Defense Ties, Trade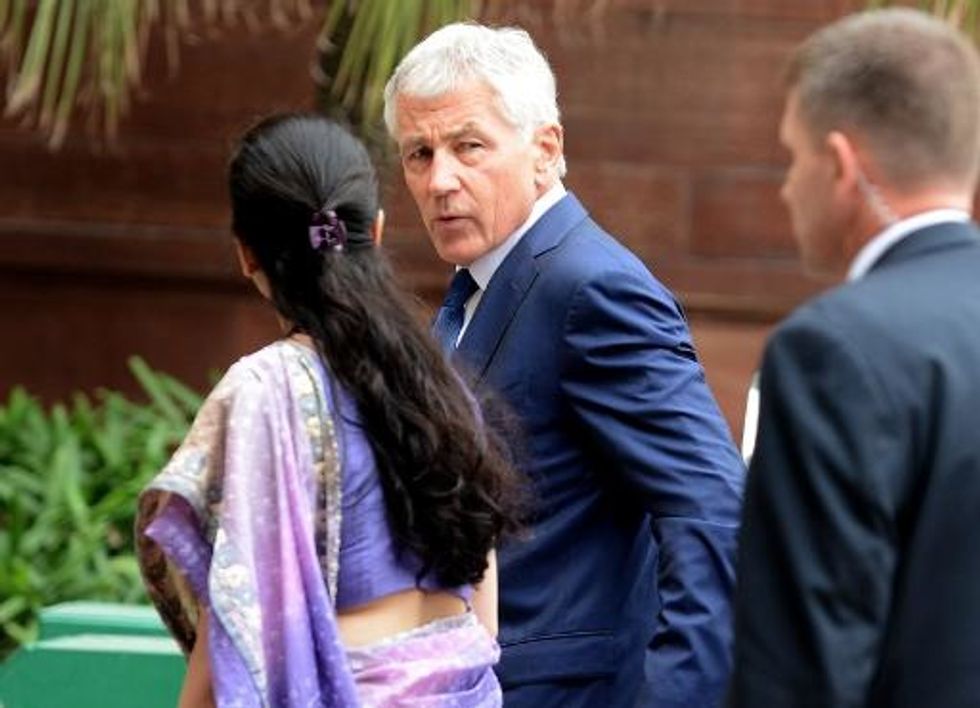 By Abhaya Srivastava
New Delhi (AFP) — U.S. Defense Secretary Chuck Hagel met India's prime minister in Delhi on Friday, seeking to boost weapons sales to a new government eager to modernize its military.
India is the world's biggest arms importer and military trade is high on the agenda for the three-day trip, which comes ahead of Prime Minister Narendra Modi's first official visit to Washington next month.
"The U.S. wants to be a partner in India's military modernization, and recognizes India's need to strengthen their defense-industrial base," Hagel said on his official Twitter account.
Indian officials say they are close to finalizing a $1.4 billion deal to buy at least 22 U.S. Apache and 15 Chinook helicopters.
The United States is also keen to secure greater military cooperation with India as its seeks to counter growing Chinese firepower in Asia.
During the meeting Modi and Hagel also discussed the situation in Afghanistan, as U.S. Secretary of State John Kerry visits Kabul to try to resolve disputed elections that have raised fears of civil war.
India has voiced concern about instability in Afghanistan as the United States prepares to withdraw its troops.
Modi told Hagel that a smooth transition of power in Afghanistan was essential for sustaining progress towards peace and stability, according to the Press Trust of India news agency.
– New defence push –
Hagel, who is also due to meet his Indian counterpart Arun Jaitley on Friday, is in Delhi ahead of Modi's first official visit to Washington in September.
The United States has been racing to make up for lost time in building ties with Modi, a Hindu nationalist leader who was denied a U.S. visa in 2005 over allegations he turned a blind eye to anti-Muslim riots as leader of the state of Gujarat.
On Wednesday, the Indian cabinet agreed to increase the limit on foreign direct investment in defence to 49 percent from 26 percent, in a move to attract international capital.
"India has made progress on its direct investment framework on percentage ownership, outside ownership in companies … And we'll talk about that," Hagel said.
New Delhi and Washington have rapidly expanded military ties in recent years despite disagreeing over issues such as the nuclear liability law.
The law says nuclear firms planning to build plants in India must pay large sums in the event of an accident.
But U.S. nuclear energy companies want exemption from the liability, leading to a deadlock since the two countries signed a 2008 agreement on nuclear cooperation.
Hagel conceded that the potential of the nuclear deal had not been realised as yet, but stressed the need to "be patient with the realities of internal governments and their people".
During his trip, Hagel will also seek to renew a 10-year defence framework agreement with India that is due to expire next year.
"The point of my trip here is to take advantage of the opportunity to meet with a new Indian government," he said ahead of his arrival in Delhi.
"We have a number of things, specific projects that we will discuss. One is the renewal of the 10-year defense framework agreement."
AFP Photo/Raveendran
Interested in world news? Sign up for our daily email newsletter!