Harris Asks For House Judiciary 'Task Force' To Probe Kavanaugh Charges
@alexvhenderson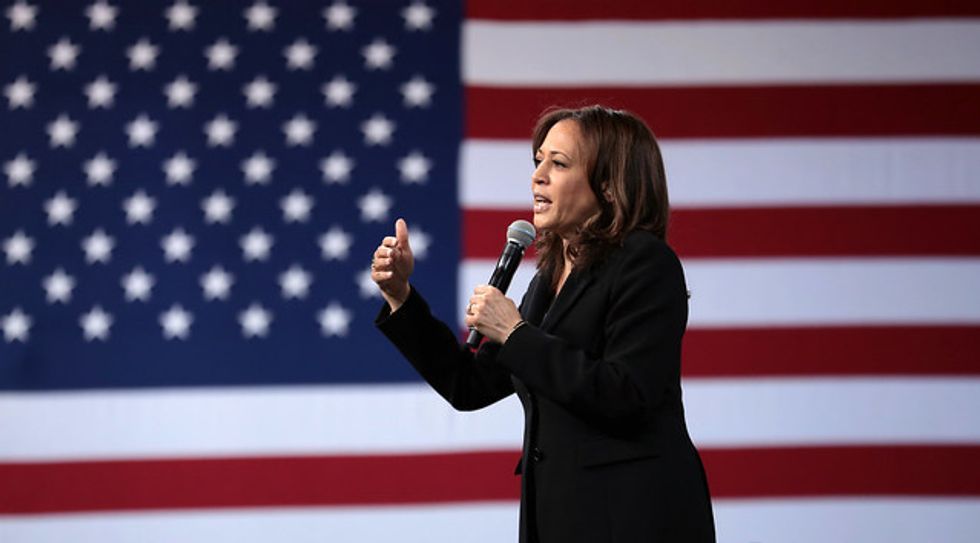 Reprinted with permission from Alternet
Sen. Kamala Harris of California is not only calling for the impeachment of Supreme Court Justice Brett Kavanaugh — the Democratic presidential hopeful is also asking House Judiciary Committee Chairman Jerry Nadler to form an outside task force to investigate Kavanaugh, according to Axios.
Axios has obtained a copy of a letter from Harris to Nadler dated September 17, 2019. In the letter, Harris tells Nadler, "Dear Chairman Nadler, I write to urge the House Judiciary Committee to take appropriate action to investigate recent reports about Associate Supreme Court Justice Brett Kavanaugh, and to hold Mr. Kavanaugh accountable for his prior conduct and testimony before the Senate Judiciary Committee."
Harris' call for Kavanaugh's impeachment and letter to Nadler follow a New York Times report that was published on September 15 and addresses allegations of sexual misconduct made against the Supreme Court justice. After former Justice Anthony Kennedy announced his retirement from the High Court last year and President Donald Trump nominated Kavanaugh for the seat, three women came forward with allegations of sexual misconduct on Kavanaugh's part: Dr. Christine Blasey Ford, Deborah Ramirez and Julie Swetnick.
Ford testified before the U.S. Senate during Kavanaugh's confirmation hearings, but Ramirez and Swetnick didn't. And according to the Times' article, Ramirez' allegations against Kavanaugh were not investigated by the FBI. Harris, in her letter to Nadler, asserts that Kavanaugh should have been subject to a more thorough investigation in 2018.
"During Mr. Kavanaugh's confirmation process, multiple women came forward with serious, corroborated allegations of sexual misconduct," Harris tells Nadler in her letter. "One of these women, Dr. Christine Blasey Ford, testified before the Senate Judiciary Committee on September 29. In response to her allegations — and at the demand of three senators who conditioned their votes on a supplemental review — the president opened an extremely limited, supplemental background investigation of Mr. Kavanaugh."
Harris added, "At the direction of the White House, the FBI interviewed only nine people in connection with that investigation. Throughout the confirmation process, several Democratic members of the Senate Judiciary Committee repeatedly called for a fulsome investigation into all of the relevant allegations against Mr. Kavanaugh."
Harris is asking the proposed outside task force to investigate whether or not Kavanaugh lied during the Senate confirmation process and to gather more information about the sexual misconduct allegations against him — including those made by Ramirez, who knew him when they were students at Yale University during the 1980s. Harris tells Nadler she would like to see the task force she has in mind investigate "the list of at least 25 individuals who may have had corroborating evidence of Ms. Ramirez' allegation."
"I understand that the House Judiciary Committee has limited resources and many other responsibilities," Harris tells Nadler in her letter. However, in the past, congressional committees have dedicated resources and established structures to pursue serious cases of misconduct — including by creating a task force and retaining outside counsel to help lead impeachment inquiries."