Trump Erupts In Aggressive Tirade Against Harris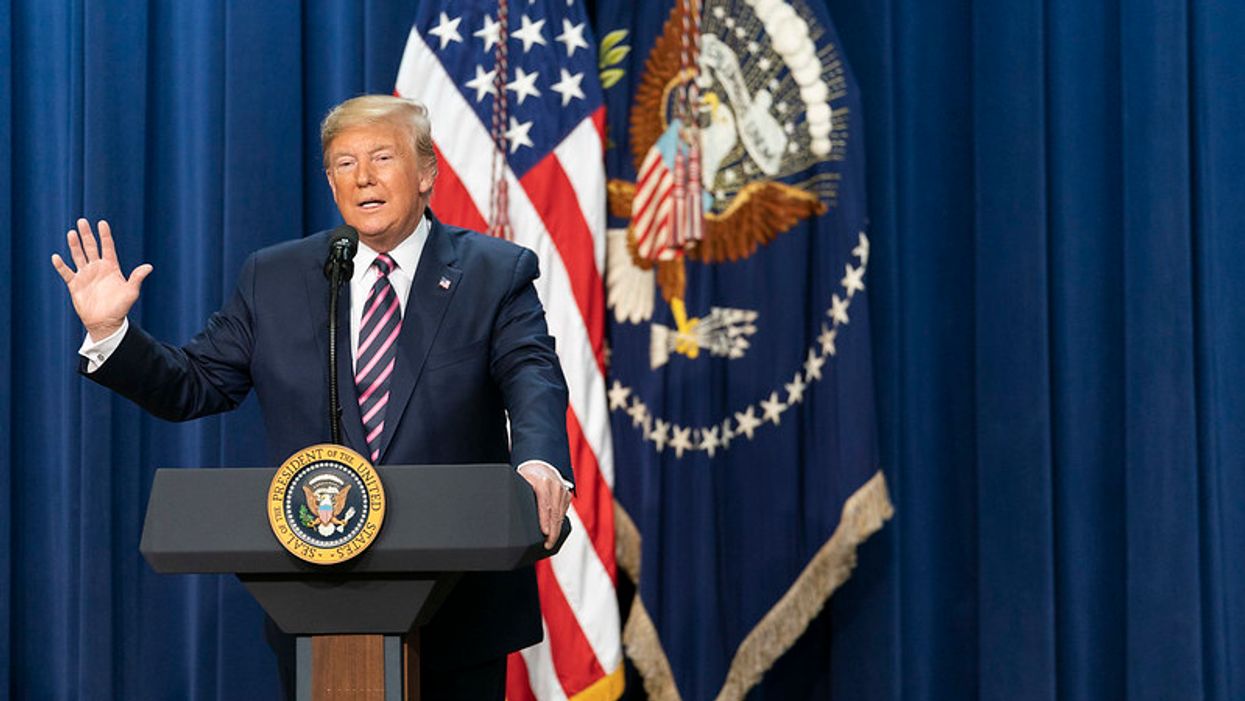 Reprinted with permission from Alternet
Well, that didn't take very long.
Former Vice President Joe Biden announced on Tuesday that Sen. Kamala Harris would be his running mate, and by early evening, President Donald Trump had already labeled her "nasty."
But before getting into what Trump said to attack Harris personally, it's worth recalling how former President Barack Obama reacted to Mitt Romney's choice of Paul Ryan as a running mate back in 2012:
---
Just yesterday, my opponent chose his running mate, the ideological leader of Republicans in Congress. Mr Paul Ryan. I want to congratulate Mr. Ryan. I know him, I welcome him to the race.
He is a decent man, he is a family man, he is an articulate spokesman for Governor Romney's vision but it is a vision that I fundamentally disagree with.
Obama didn't hold back about criticizing the severe economic policies Ryan was known for, but his attack was laser-focused on the policy disagreements.
That wasn't that tack Trump took with Harris. He immediately tweeted a video calling her "phony," painting her as a radical leftist, and shortly took to the White House briefing room, where he attacked her personally.
With no sense of irony, the record-setting of liar of a president said: "She said things that were untrue. She's a person that has told many, many stories that aren't true."
He continued: "She was my number one draft pick, and we'll see how she works out. She did very, very poorly in the primaries, as you know. … So I was a little surprised that he picked her. I've been watching her for a long time. She was extraordinarily nasty to Kavanaugh, Judge Kavanaugh then, now Justice Kavanaugh. She was nasty to a level that was just a horrible thing, the way she was, the way she treated now-Justice Kavanaugh. And I won't forget that soon."
President Trump on Kamala Harris: "She was my number one pick...I was a little surprised that he picked her...She w… https://t.co/tP6GLpehhT

— CSPAN (@CSPAN) 1597183771.0
"I thought she was the meanest, the most horrible, most disrespectful of anybody in the U.S .Senate," he added.

He also said she was "nasty" to Biden during the primary.
"She said things during the Democratic primary debates that were horrible," he said.
At one point, he even mispronounced her name:
Trump mispronounces Kamala Harris's name https://t.co/NRctUvwEmW

— Aaron Rupar (@Aaron Rupar) 1597183504.0
It appeared to be a pretty clear preview of what the rest of the campaign will be like.
Biden seems to have much thicker skin than Trump, given that he picked someone who sharply sparred with him during the primary. And this isn't just opportunism now that he views her as a running mate. After Harris dropped out of the race, Biden was full of praise for his former opponent.
"She is a first-rate intellect. A first-rate candidate. A real competitor," he said in December. "She's a really solid, solid person. Loaded with talent."