Republican Reaction To Kamala Reveals Same Old Pathologies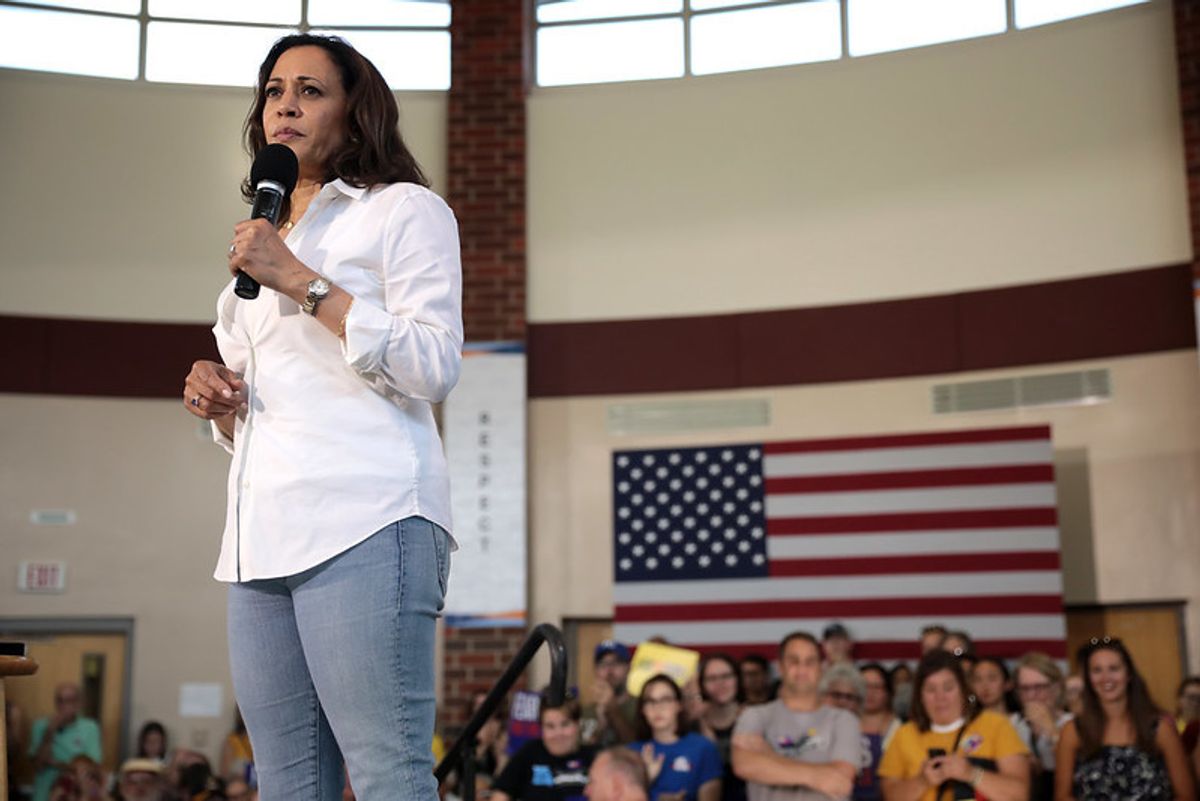 Photo by Gage Skidmore/ CC BY-SA 2.0
What was for most Americans a moment of inspiration — the ascent of Sen. Kamala Harris, a woman of African and Indian descent, to a national party ticket — has instead provoked paranoia and rage on the Republican right. Along with the usual petty insults spat by President Donald Trump, his minions in the media are returning to their habitual obsessions of nativism, racism and misogyny.
It is a repellent and buffoonish spectacle, but it is unlikely to make any impression on voters who don't already share Trump's narrow, delusional worldview.
In the barrage of confused attacks on Harris, there is much to be learned about the psychopathology of the far right. So-called conservatives have little interest in the senator's actual record in public office or views on substantive issues, only in assaults on her background and character. Somehow, they miss the irony of calling her "nasty" while they launch hundreds of these vicious broadsides.
From Rush Limbaugh and Joe Pagliarulo, we hear the insinuation that Harris somehow used her sexuality to rise to the political pinnacle she now occupies. They're just "putting it out there," as Pagliarulo smarmily intoned, but why bother? Only someone very stupid would believe that a romantic relationship that concluded decades ago elevated Harris from the district attorney's office to statewide office in California, a seat in the United States Senate, and then her party's vice presidential nomination. Life and politics obviously don't work that way.
The only reason to "put it out there" is to detract from Harris' impressive achievements, with the kind of innuendo that is never inflicted on men. These Trump toadies dismiss the Access Hollywood tape, the Jeffrey Epstein photos, the Stormy Daniels affair, and the multiple credible rape and assault allegations against their idol -- yet they're troubled by those dates that Kamala Harris once had with the mayor of San Francisco. (Let's not even delve into Limbaugh's own problematic personal life, which is colorful in all the wrong ways.)
From former George W. Bush administration flack Ari Fleischer, and sundry other self-styled white experts on African American affairs, comes the suggestion that Harris is somehow not truly Black (or at least not Black enough). Those old racial dog whistles were blown when Barack Obama first ran for president, too, because his mother was white and he grew up in the home of his white grandparents. Does anyone believe that Fleischer — a ludicrous figure on his best days — knows what will "excite" Black female voters, as he put it?
African Americans supposedly won't embrace Harris because her father was from Jamaica and her mother from India. Indeed, according to the pardoned felon and provocateur Dinesh D'Souza, Harris is really white because one of her ancestors was a white slaveholder.
Again, this is a profoundly idiotic jape. Where would Kamala Harris' paternal forebears have originated other than Africa? She is an American of African descent. And how many other Black Americans, like Harris, have a white slaveholder somewhere in their ancestry? Many millions, surely, and like them, that fraction of her lineage is tiny.
The plain truth is that like so many Americans, Harris is proud of the ethnic variety in her background. And like many Black Americans of mixed heritage, she has chosen to identify strongly with the Black community throughout her life. It isn't a contradiction but represents what David Dinkins, the first Black mayor of New York City, likes to call "the gorgeous mosaic."
The unappetizing tableau of Republican race baiting wouldn't be complete without a reversion to "birtherism" — in this case, fake concern over Harris' eligibility for the presidency based on her parents' immigration status at the time of her birth. Desperate for clicks, Newsweek dredged up a right-wing law professor to claim that she just might not pass constitutional muster. It's a feeble argument, fully consistent with the professor's unimpressive, highly ideological resume. But is anybody surprised that the falsehoods flung at Obama for years are now aimed at the next person of color nominated for national office?
I'm not.
To find out more about Joe Conason and read features by other Creators Syndicate writers and cartoonists, visit the Creators Syndicate website at www.creators.com.