Harrowing Journey Turns Into U.S. Deportation Nightmare
@AFP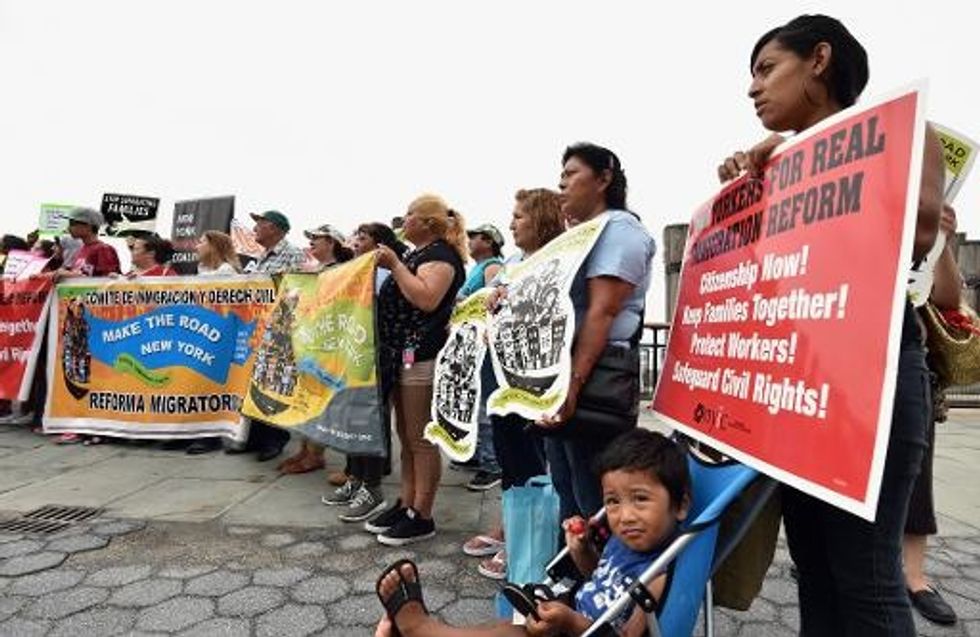 New York (AFP) – Evelin's two daughters — who just arrived in the United States illegally from Central America — are facing deportation and so the concerned mother recently trekked across New York City to seek free legal advice.
Evelin, who is 35 and undocumented herself, joined 200 others, including 100 unaccompanied minors, at an event hosted by the New York Immigration Coalition last weekend.
"I have two girls, 15 and 18, who just got here with their kids. One was sent home to me with a hearing date for August 4. But the other one is still in Texas," said the young Honduran grandmother, declining to give her full name due to her own illegal status.
The "Immigrant Youth Fair," which took place in Manhattan July 26 and 27, provided free legal help, as well as information about jobs, schools, health insurance and English-language classes, to children and adults of all ages.
"This is really what we need," said Evelin, who left Central America well over a decade ago, shortly after her youngest daughter was born.
Camille Mackler, the coalition's director of legal initiatives, noted that most of the workshops' attendees came from Honduras.
"The majority were 13 to 18 years old, but we saw five to 10 kids who were 12 and under," Mackler said.
Honduras has the world's highest murder rate, with the United Nations recording more than 90 homicides per 100,000 people in 2012.
Evelin's daughters are two of more than 57,000 unaccompanied minors — most from El Salvador, Guatemala and Honduras — who have been detained crossing the U.S.-Mexico border since October, the majority fleeing gangs, violence and poverty.
U.S. President Barack Obama — who has called the situation a humanitarian crisis — met with his counterparts from those three Central American countries last month, warning against false hope that unaccompanied children will be allowed to stay in the United States.
But the problem remains unresolved and with political wrangling over how to handle the crisis showing little signs of abating, the focus is on what to do with the thousands of minors in the meantime.
In New York, authorities and community groups said they would work together to help welcome about 3,000 of the children to the state in the near future, and another 7,000 in the coming months.
Legal experts say that many could seek asylum or some other type of protection from the US government.
Yet others find that hard to believe, and hard to act on.
"It's a mixture of surprise and skepticism, because people are very unsure about their position and they are all afraid that it will not work out for them," said Samuel Palmer-Simon, staff attorney with the Immigrant Protection Unit of New York Legal Assistance Group.
His boss, Irina Matiychenko, said the group had just taken on the case of a Honduran boy who had to leave home because he witnessed his uncle being killed.
Matiychenko, herself once an asylum recipient, said Washington needed to act quickly to resolve the crisis.
"There has not been a constructive response from the federal government," she said.
"It's not the American way if these kids are sent back. They will be victims of violence — or killed."
In the case of Evelin's daughters, the reasons why they left their homeland are grim: the youngest got pregnant after being raped, and both sisters were victims of violent crime.
"So many terrible things have happened down there," Evelin said.
"They traveled together, and that's all I know about their trip," she added in reference to how her girls made it into the United States.
"When they got here, they separated them. And I have not been able to talk to the one who is in Texas."
AFP Photo/Stan Honda