Harry Reid Applauds Man Who Hoaxed The Right Wing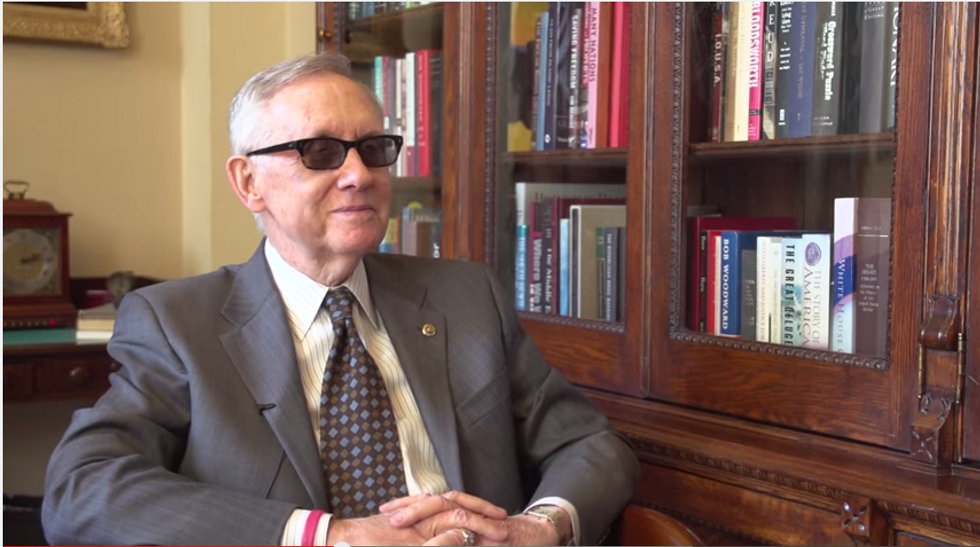 Senate Minority Leader Harry Reid (D-NV) is having some fun with the recent massive public failure of his detractors in the media: when right-wing blogs fell for a complete hoax about his recent injuries.
"What this guy proved to me is that journalism doesn't exist," Reid told reporters late Tuesday, the Las Vegas Review-Journal reports. "I wish I'd meet this guy and pat him on the back."
So what is it that's got Reid gloating?
Right-wing media have been been circulating various conspiracy theories about Reid's injuries — the most common one being that Reid was beaten up by the Las Vegas mafia — instead of Reid's publicly accepted explanation that he had an accident involving home exercise equipment.
Larry Pfeifer, a Las Vegas resident, admitted on Sunday that he had cooked up a story that Reid had been assaulted by his brother, Larry Reid — by claiming to have met an agitated Larry Reid at an Alcoholics Anonymous meeting. Pfeifer also reused elements of Larry Reid's actual recent DUI arrest, in order to lend the story an aura of verisimilitude.
Pfeifer's stated goal: To discredit the media sources that picked up his story. Or, as he explained it to the Las Vegas Sun: "Can I set off a domino effect where people say, 'We're sick of this,' and start turning away from this kind of media or maybe boycott their sponsors?"
Pfeifer contacted John Hinderaker of Powerline Blog, using the pseudonym "Easton Elliott," though Hinderaker writes that Pfeifer also eventually gave his real name. (In an email exchange with The National Memo, Pfeifer claimed that his alias was "not at all" based on Elliot Easton, lead guitarist of The Cars. This reporter was not convinced.)
The story got Pfeifer exposure on Hinderaker's site and a guest spot on talk radio, when Hinderaker guest-hosted for Laura Ingraham. The rumor was also repeated by the king of right-wing radio himself, Rush Limbaugh, which led Pfeifer to come clean publicly after his unsuccessful efforts to actually get on Limbaugh's show and admit it all there.
As for Hinderaker, although he told The Huffington Post, "I'm not critical of anything I did," he also said, "But if you look at it in hindsight, obviously, you know the guy turns out to be some kind of a fraud…So, in hindsight would I do it differently? Heck yes. I wouldn't have even spoken to the guy."
Screenshot via YouTube