Health Authorities Repeatedly Closed Swimming Pools At Trump Resorts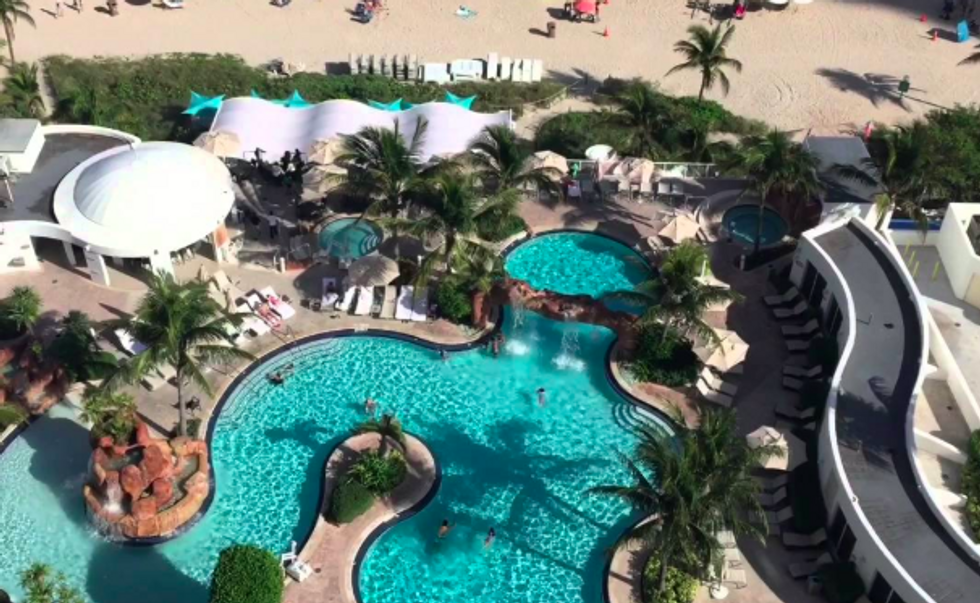 The swimming pools at Trump's Florida properties have been shut down 10 times in the past 12 months after failing inspections by the state department of health.
Inspectors found a variety of problems with Trump's pools, including improper pH levels, issues with "disinfection feeders" that regulate chlorine levels, as well as faulty safety features like handrails and ladders.
The wrong levels of pH and chlorine can lead to dangerous conditions that cause the spread of skin, ear, eye and gastrointestinal diseases.
"Swimming pools at Trump resort properties in Florida are cited for poor water quality and other health and safety violations far more frequently by the state's Department of Health than pools at comparable luxury properties," Quartz reported on Monday.
The cold hard facts are in stark contrast to the sunny picture of his real estate holdings that Trump has often touted over the years.
Mar-a-Lago, Trump's crown jewel that he has described as "the Southern White House" leads the parade of filth, with 5 pool closings and 6 "unsatisfactory" ratings.
It is closely followed by Trump International Beach Resort, which had 2 pool closings and 6 ratings of "unsatisfactory." Trump National Golf Club in Jupiter, Florida, rounds out the top of the dirty list, with 4 violations.
Because Trump refuses to divest from his private holdings, he continues to personally earn money from patrons who swim in his sub-par pools.
Despite his use of the presidency to advertise these properties and the resulting money that comes in (raising considerable ethics issues), Trump's properties can't seem to stay clean.
Last year, state health inspectors in Florida found multiple violations of the health code in Mar-a-Lago's kitchens.
The violations reflect the corporate culture Trump cultivated for years that cuts corners and presents a phony image of opulence and quality to personally enrich him.
It is much like the culture of his presidency.
Published with permission of The American Independent.
IMAGE: Aerial view of swimming pools at Trump International Beach Resort in Miami, Florida.