Health Officials Try To Track 100 People Who May Have Been In Contact With Ebola Patient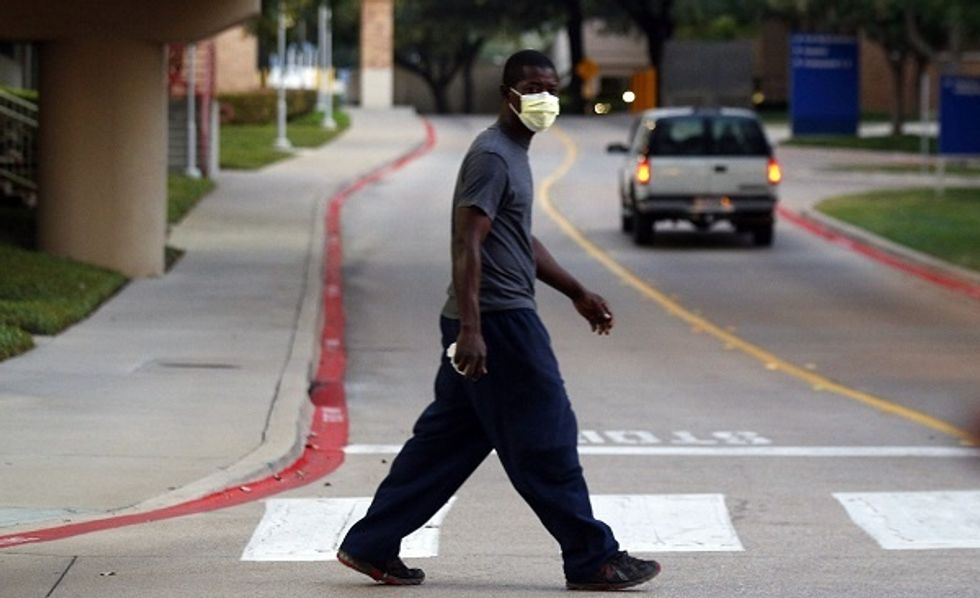 By Sherry Jacobson, The Dallas Morning News
DALLAS — Government health officials said Thursday they were tracking down as many as 100 people who may have had contact with a contagious Ebola patient and were forcing four adults to be isolated at home.
State and county officials executed a communicable disease control order to force four unidentified people, believed to be adults, to remain inside the Dallas apartment where Thomas Eric Duncan developed Ebola symptoms. The order allows health workers to monitor the apartment's occupants daily. Five children and an unknown number of adults share the apartment at The Ivy in Vickery Meadow in northeast Dallas.
The apartment, where Duncan had been staying since Sept. 20, still contained potentially contaminated material Thursday, health officials acknowledged. Duncan's clothing and bedding were in plastic bags that were still in the apartment. Ebola is transmitted by contact with an infected patient's bodily fluids.
Dallas County Health and Human Services Director Zachary Thompson, asked why no agency had removed the contaminated goods, said that was not his department's responsibility. Members of his staff went into the apartment only to administer tests and not to help the family clean up, he said.
County Judge Clay Jenkins said Duncan's personal items will be "appropriately disposed of."
"They have a bag of household trash and they have mattresses pushed against the wall," Jenkins said. "We are going to, as quickly as possible, improve the hygiene there."
Earlier this week, the county had asked the apartment's occupants to stay home and be available for testing. Each occupant was to have his or her temperature taken twice a day.
But when Dr. Christopher Perkins, the county's medical director, showed up Wednesday to check temperatures, not everyone was home.
"There was noncompliance with the request to stay home," said Thompson.
One of the children attended school Wednesday, despite a stay-at-home order issued earlier that day by Dallas school officials. Students at four Dallas schools are believed to have had close contact with Duncan.
The 42-year-old Liberian remained in serious condition at Texas Health Presbyterian Hospital. His is the nation's first known case of Ebola, which has ravaged parts of West Africa. The Associated Press reported Thursday that Binyah Kesselly, chairman of the Liberia Airport Authority board of directors, said Duncan would be prosecuted if he returns to the country for lying on a health form before he departed.
He was taken to Presbyterian on Sept. 25 but was sent home by emergency room personnel, even though he told a nurse he had recently arrived from Liberia. Hospital officials on Thursday said a flaw with the electronic records system kept the information from being communicated to physicians.
Duncan's travel history was on the nursing workflow portion of the electronic record, which is separate from the physician workflow. The hospital said in a prepared statement Thursday that the flaw has been corrected so that the travel history would automatically appear in a physician's workflow. It also said it was modifying the records system to include a specific reference in a patient's travel history about Ebola-endemic regions in Africa.
The hospital said it had thoroughly reviewed the chain of events and had Duncan's permission to release the information. The hospital also said it wanted other hospitals to learn from its experience.
Duncan returned to Presbyterian on Sunday and was diagnosed Tuesday as having contracted the Ebola virus. More than 3,400 people have died in Africa in the current Ebola outbreak.
Dozens of people in Dallas have been identified as having had contact with Duncan.
"At this point, teams on the ground are assessing about 100 (individuals) to determine whether or not they have had contact," Dr. Tom Frieden, director of the Centers for Disease Control and Prevention, said in Atlanta. A 10-member team from the CDC, working with state and local health officials, is tracking those people down.
The list of North Texas schools affected by the Ebola inquiry grew Thursday to include one in Richardson ISD. Tim Clark, a spokesman for the district, said it was notified Thursday by Dallas County health officials that three siblings who attend Wallace Elementary School in Lake Highlands "potentially had contact with the Ebola patient."
And the Plano ISD said late Thursday that a person it did not identify has reported being on the CDC's monitoring list for development of Ebola symptoms.
Dallas County health officials asked Richardson ISD to pull the three children from class and check them for symptoms. They had none. "They are healthy," Clark said.
Nevertheless, they were held until they could be interviewed by Dallas County, which asked them to "be excluded from school so they could be monitored."
In a letter, the Richardson district told parents that the custodial staff will do extra cleaning at the school.
So far, only Duncan's family members and some health care workers who treated him are believed to have had enough contact to be exposed to the disease. They will require twice-daily monitoring of their body temperatures for three weeks. A fever of 100.5 degrees is considered the first sign of the disease.
"Our approach is to cast a wide net to reach out to as many people who may have had contact," Frieden said.
Dr. David Lakey, head of the Texas Department of State Health Services, echoed the assessment of county officials about hygiene inside the Vickery Meadow apartment.
"The housing conditions need to be improved," he said in a teleconference. "We have worked to identify an entity for doing the cleaning."
Various cleaning companies were contacted but only one agreed to go into the apartment, he said. The company was not identified.
The communicable disease order prohibits the four people from leaving the unit without the approval of state and local health authorities. It is one step below placing the family under a court-ordered quarantine. Visitors are not allowed inside the apartment.
The action was "reasonable and necessary to prevent the introduction, transmission and spread of this disease in this state," said the order, which was signed by Lakey and Perkins.
Thompson said the order was read late Wednesday to the four people, and "we didn't meet any resistance. They said they would comply."
Food, cleaning products and other necessities will be delivered regularly to the apartment, Lakey said.
A family member told the Reuters news agency that Duncan was vomiting on the ground outside the complex while he was being placed in an ambulance Sunday.
Thompson, the county health director, said his understanding is that the owner of the apartments power-washed the vomit away.
Thompson said he has walked in the area where the vomiting occurred, and Abbigail Tumpey, a CDC spokeswoman, said there wasn't much risk of infection unless the vomit hit someone directly.
"This is a very wimpy virus," she said. "It doesn't live in the environment for an extended period of time."
Tumpey said the agency will probably need a few more days to identify everyone who might have been exposed to the virus directly or indirectly through Duncan.
Several Dallas police officers were stationed at the apartment complex Thursday.
Maj. Max Geron, a police spokesman, said the officers were put there primarily to keep the media at bay.
Mayor Mike Rawlings chided reporters at a news conference, suggesting that some had risked the public's safety by trying to enter apartments.
"We have some chaos out there and we have some reporters who believe it is their obligation to pay people to move into their apartments," the mayor said. "It creates a little bit of a difficult situation for the CDC and for the county to do their job."
Photo: Morning scenes at Texas Health Presbyterian Hospital in Dallas on Thursday, Oct. 2, 2014. The hospital is where Ebola patient Thomas Eric Duncan sought treatment. (Nathan Hunsinger/Dallas Morning News/MCT)