Her Tea Party: What Margaret Thatcher Really Meant To England And The World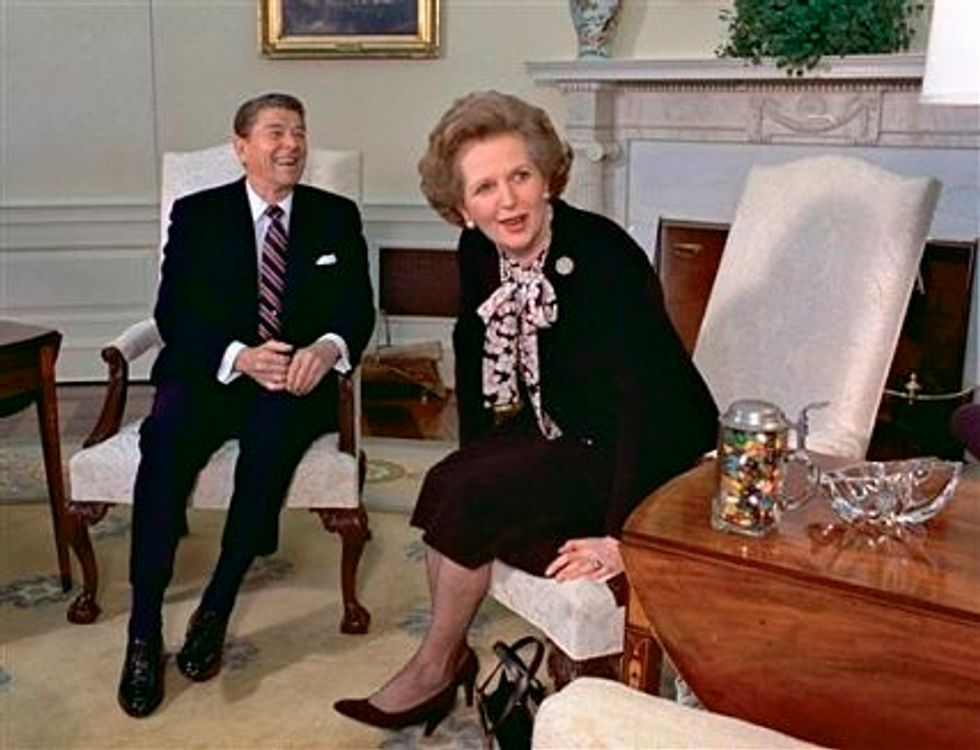 Amid all the suffocating claptrap celebrating Margaret Thatcher in the media, only the British themselves seem able to provide a refreshing hit of brisk reality. Over here, she is the paragon of principle known as the "Iron Lady,"  devoted to freedom, democracy, and traditional values who bolstered the West against encroaching darkness. Over there, she is seen clearly as a class warrior, whose chief accomplishments involved busting unions and breaking the post-war social contract.
Promoting the economic doctrines of the far right – whose eager acolytes in the Tea Party today revere her – Thatcher helped to hasten the decline of the venerable English village whose values she claimed to represent. "There is no better course for understanding free-market economics than life in a corner shop," she once wrote, recalling her upbringing in the little grocery store that her father operated in the town of Grantham. But as a left-leaning British writer observed acidly, her "free-market" policies "led to the domination of small-town life by supermarkets and other powerful corporations."
In the hometown she left behind, factories were shuttered and coal mines closed, owing to her policies – which may be why not so long ago, the vast majority of the town's residents expressed opposition to erecting a bronze statue of her.
Indeed, much as she emphasized her humble roots – a theme echoed constantly in the American media – the less romantic fact is that Thatcher's path to 10 Downing Street was paved with the fortune of her husband Denis, a millionaire businessman. It was not an image that matched her self-portrait as a hardworking grocer's daughter, but it turned out to be the template for the policies she pursued as prime minister – cracking down hard on unruly workers; cutting aid to the poor, even milk for children; and privatizing public services for better or worse, but always to the benefit of the financial class.
At the same time that she and her ideological companion Ronald Reagan were smashing labor on both sides of the Atlantic, with lasting consequences for equality and democracy, they voiced support for workers in Eastern Europe, where unions rose up against Stalinism and Soviet domination. Workers' rights were to be defended in the East, and abrogated in the West.
Three decades later, her ideological heirs continue to prosecute class warfare against public and private sector workers, seeking to deprive them of the same rights that she and Reagan supposedly held sacrosanct in communist Poland. To fulfill the Thatcherite crusade against organized labor, America's Tea Party governors are now undermining and virtually abolishing the right to unionize in their states.
The justification for this sustained assault on working families, then and now, was to prevent inflation and promote economic growth. Yet the result of Thatcher's policies was unemployment that hovered around 10 percent during most of her rule, and inflation that remained around 5 percent. Hardly a roaring success, even when measured against the current weak recovery.
In a statement released by the White House, President Obama said that her death meant the loss of  "one of the world's great champions of freedom and liberty" – a peculiar tribute from the first black U.S. president, considering that Thatcher, like Reagan, defended the apartheid regime in South Africa from its Western critics.
She opposed the release from prison of Nelson Mandela, the leader of the African National Congress who later became South Africa's first democratically elected president, referring to him as a "terrorist." In 1984, she reversed longstanding British foreign policy by hosting a state visit by white South African president P.W. Botha.  And although she defeated Argentina's military junta in the Falklands war, Thatcher befriended the Chilean dictator Augusto Pinochet – even inviting him to her home in England when he was under investigation for human rights atrocities.
Here in America, at least, the pap mythology surrounding Thatcherism – its putative successes and purity of purpose – contrasts with the reality of a cruel and contradictory ideology whose malignant impact lives on without its namesake.
AP Photo/J. Scott Applewhite, File