High Bar For U.S. Report On Syria Chemical Attack
@AFP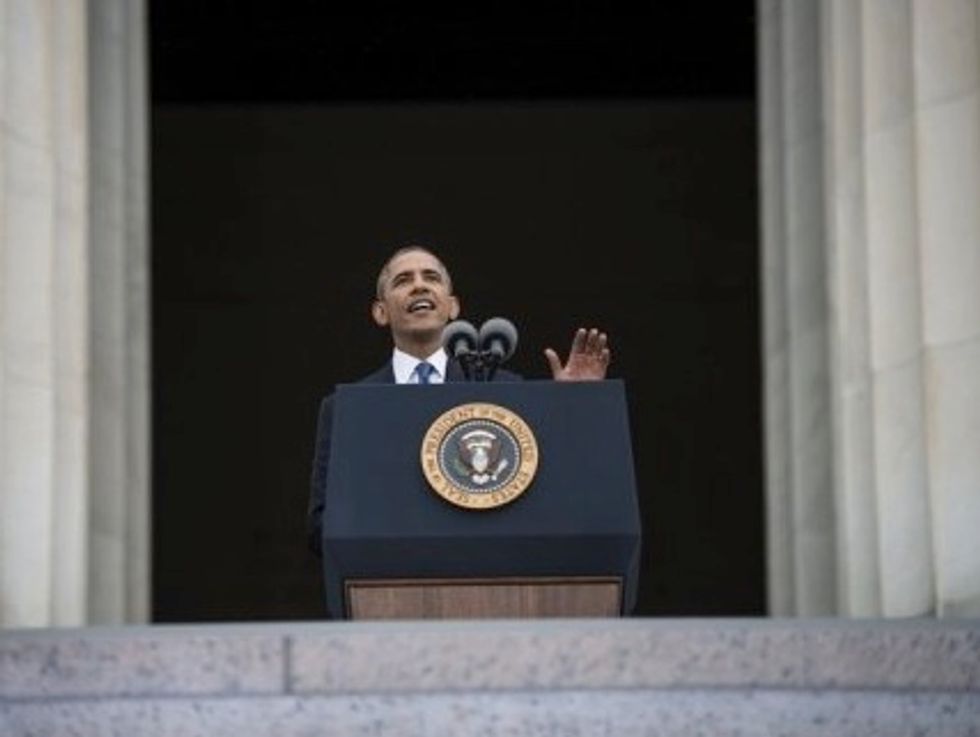 WASHINGTON (AFP) – The White House prepared Thursday to issue a report accusing Syria's government of waging chemical warfare, but faces a high burden of proof due to the hangover from botched Iraq war intelligence and disquiet in Congress.
The report is meant to bolster the case for a probable U.S. military intervention in response to a horrific gas attack in a Damascus suburb last week which killed hundreds of people.
The White House has promised the analysis this week, but though there were expectations it could be released Thursday, sources said it was not yet complete.
The release of the document will lack fanfare. Officials are expected to brief reporters in a conference call with alongside the release of the hard copy of the report.
That is a far cry from the dramatic presentation by then secretary of state Colin Powell in 2003 at the United Nations, when Washington made the case for war with Iraq.
President Barack Obama's aides stress they envisage only a "limited" punitive action in Syria and dismiss comparisons with the U.S. invasion of Iraq, which the president built his political career on opposing.
But the failure to find weapons of mass destruction in Iraq and the discrediting of what was once deemed a "slam dunk" intelligence case for war are imposing a high burden of proof for the current administration.
Veteran national security analyst Anthony Cordesman termed the coming report the "most important single document in a decade" for the U.S. government.
He said that the administration "faces the dilemma that it must limit what it says to protect U.S. intelligence sources and methods.
"It also, however, faces the reality that the U.S. lost the credibility to argue from authority and on the basis of its reputation more than ten years ago," Cordesman said a Center for Strategic and International Studies briefing paper.
Some reports this week suggested that the U.S. assessment would include communications intercepts and other data from inside Syria.
But administration sources are downplaying expectations, saying the public analysis will mirror the case already made by Washington, which they consider strong.
More detailed evidence may be included in the classified briefing to top U.S. lawmakers due to take place later Thursday.
The White House says there is no doubt that an attack took place — citing appalling footage of dead and wounded victims on television and social media and witness and medical reports.
It says only Syrian government forces have access to chemical weapons stocks and the rockets needed to deliver them.
"We have concluded that the Syrian government in fact carried these (attacks) out," Obama told PBS television Wednesday.
But officials refuse to publicly address the notion that a rogue military officer, or another actor, could have ordered the attack outwith the official Syrian chain of command.
"The commander-in-chief of any military is ultimately responsible for decisions made under their leadership … even if he's not the one that pushes the button or said, 'Go,' on this," said Marie Harf, a State Department spokeswoman.
"(Assad) is responsible for the actions of his regime."
Signs that the U.S. report will not be able to directly link Assad to the attack with anything other than circumstantial evidence were bolstered by a British intelligence report released on Thursday.
The assessment said there was no credible intelligence to suggest opposition forces fired the chemical arms and that there was no "plausible alternative" to the idea that the regime was to blame.
It said that permission to use chemical arms had been delegated to a senior commander but presidential authority would be needed to authorize a large-scale change of use.
But, possibly due to the need to safeguard sensitive intelligence sources, there was no detailed evidence in the Joint Intelligence Committee assessment directly implicating Assad.
While British Prime Minister David Cameron recalled parliament for an uncomfortable debate on Syria, there were no plans for the U.S. Congress, which is in recess, to do likewise.
The White House will likely argue that since its proposed action in Syria will be "limited" it does not require Congress to wield its constitutionally granted power to authorize a declaration of war.
But the more time that passes before U.S. military action, the more restive the domestic political scene becomes.
Republican House Speaker John Boehner has called on Obama to provide "meaningful consultation" with Congress though fell short of calling for authorization from Capitol Hill.
A growing number of lawmakers though have concerns and polls show Americans wary of another foreign entanglement.
"Since there is no imminent threat to the United States, there is no legal justification for bypassing the Constitutionally-required Congressional authorization," said Jerrold Nadler, a Democratic congressman from New York.
Democratic Senator Chris Murphy meanwhile said on MSNBC that cruise missile attacks may make people "feel better, but it may not actually make the Syrian people safer or advance U.S. national security interests."
Photo Credit: AFP/Brendan Smialowski