Hispanic Leaders Announce Mobilization Efforts Against Trump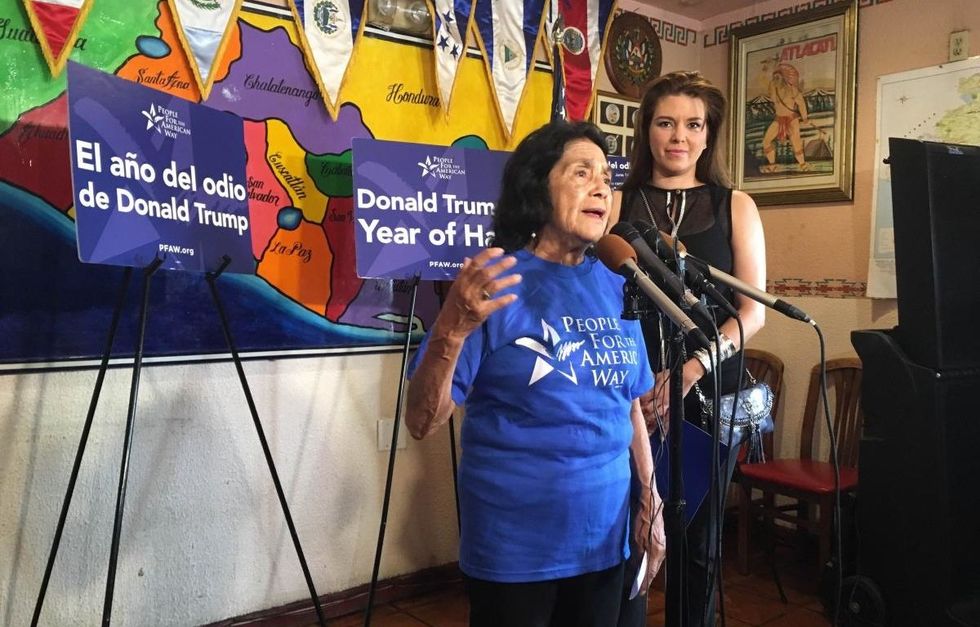 As Donald Trump steps up his attacks against the largest minority in the country, Hispanic leaders are gearing up to unite and fight back.
Last Wednesday, civil rights icon Dolores Huerta joined forces with People for the American Way (PFAW) and former Miss Universe Alicia Machado for the "Donald Trump's Year of Hate" campaign.
Launched on the one-year anniversary of Trump's campaign announcement, the anti-Trump effort aims at making sure Latinos are aware of Trump's rhetoric against Hispanics, and encourages them to register to vote and get politically involved in the upcoming presidential elections.
Huerta, an 86-years-old activist who gained notoriety as an American labor leader, emphasized the gravity of Trump's anti-immigrant rhetoric, and her belief that his words represent the ideals of the Republican Party as a whole. "We will get out to vote against him, we will talk with our friends and our families and make sure they go out to vote against him as well," she announced at a press conference in Virginia.
"Since the day he announced his candidacy, he's talked about immigrants as 'rapists,' 'killers,' 'criminals' and 'drug leaders.' Whether it was out of ignorance, insensitivity, or he did it on purpose, he hosted a campaign rally where a Latino man was killed in a hate crime," Huerta continued, referring to Trump's rally in the Long Island village of Patchogue, just steps away from the site of the murder of Marcelo Lucero, an Ecuadorean immigrant
Lucero's murder was the culmination of a number of attacks committed by a group of Patchogue teens, who called themselves the "Caucasian Crew," and had a history of harassing and attacking immigrants in the village.
As part of the outreach effort, PFAW, a progressive policy group, has released Spanish language ads in eight states warning Latinos of the danger Trump poses. One of the ads states that the GOP nominee will take the country "down, down, down to a dark place where intolerance, racism, and hate rule."
In a statement, PFAW outlined the campaign's goals. "Our campaign highlights just some of the ways Donald Trump's divisive rhetoric and policies hurt Latino communities and all Americans, and it urges people to stop Donald Trump's hate by registering to vote and casting their ballots against him in November."
Machado, who won the Miss Universe pageant in 1996 — the year Trump took over the business —  shared how the billionaire businessman would mock her weight and force her to work out in front of the media when she was 19 years old. When she gained weight after earning the crown, Trump told Howard Stern she was "an eating machine."
"She weighed 118 pounds or 117 pounds and she went up to 160 or 170. So this is somebody that likes to eat." Trump told Inside Edition back then.
Machado says Trump humiliated her constantly, making fun not only of her weight, but also of her ethnicity. "He would call me 'Miss Housekeeping,' that was the nickname he liked to use to make fun of me in front of his friends, and he would laugh."
Now an actress, Machado said it took years of therapy to get over Trump's mistreatment, which she says led to depression and an eating disorder. She decided to get involved in anti-Trump activism after Trump's attacks on Judge Curiel inspired her to become a U.S. citizen so she could vote.
"Is he saying that if my daughter wanted to be a judge when she grew up, she couldn't do it fairly because her mom is Venezuelan and her dad is Mexican?" she asked. "Would he not see her as American, even though she was born here? It's absurd."
Presumptive Democratic nominee Hillary Clinton tweeted Machado to congratulate her on her new citizenship
All Star Boxing Inc, a prominent U.S. promoter of Latino boxing, is also working towards Trump's defeat. According to Reuters, the Florida-based company will announce on Tuesday that it will provide free television ad space to Mi Familia Vota, a Hispanic civic group working to increase Latino voter participation.
The group's name and website will be featured on signs in boxing ring corners as well as on T-shirts worn by the athletes. They will appear Telemundo's Boxeo Telemundo show starting on June 24.
Ruben De Jesus, the director of operations at All Star Boxing, told Reuters that "desperate times call for desperate measures," and that he contacted Mi Familia Vota after hearing alarming rhetoric against the Hispanic community in the presidential election.
According to De Jesus, the free ads could reach as many as 5 million people. Fighters will also hold voter engagement events in Florida, a key swing state.
Already, Hispanic naturalization and voter registrations have spiked, possibly as a response to Trump.
Hispanic leaders aren't the only ones to realize the impact Hispanic votes will have in November: Tom Steyer, a billionaire environmentalist, bought a Spanish-language ad for the California primary through his NextGen Climate Action Committee super PAC.
The ad showed Trump calling Mexicans "rapists" and announcing his idea of a "deportation force," and concluded with Speyer encouraging Californians to vote, in Spanish.