History Professor Who Predicted Trump's Election Victory Says He'll Be Impeached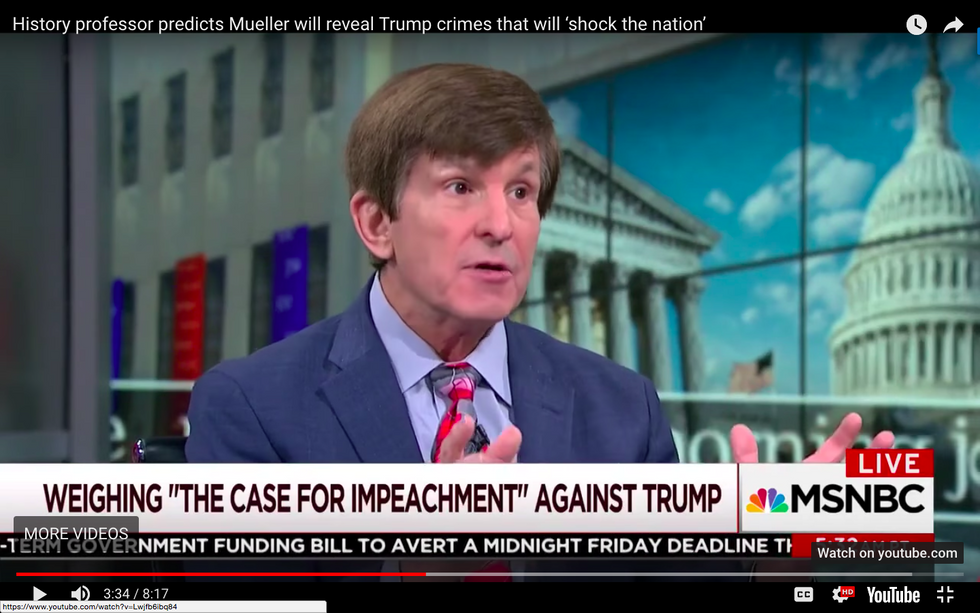 Allan Lichtman, an American University history professor, has correctly predicted the outcome of every presidential election since President Ronald Reagan was elected in 1984. Yes, he even predicted President Donald Trump's win in 2016.
Now, he's doubling down on another prediction: Trump will be impeached following the results of special counsel Robert Mueller's investigation.
"I think Mueller — and this is my prediction — is going to come up with findings that are going to shock the country, not only involve conspiracy with Russia but could involve serious financial crimes," Lichtman said on MSNBC's MorningJoe.
Lichtman also believes the Russia investigation could turn out to be worse than many expect for the president.
"[T]aking things of value from foreign nationals is a crime, aiding and abetting illegal computer hacking is a crime, negotiating as a private citizen with a hostile foreign power with which there is disputes is a crime. If this is serious enough—and I've taken a lot of flak for that—I think there even could be charges of treason," Lichtman said. "After all, Russia was waging war against us—not a war with bombs and bullets, but a cyber attack, an online attack designed to destroy democracy."
This is to say nothing of possible obstruction of justice charges that could also result in Trump being impeached. "There's as strong a case of obstruction of justice as there was against Bill Clinton on a vastly more important matter than a blue dress," Lichtman observed.
The historian expects that Republicans will be forced to act by a furious public after Mueller's findings are released.
Watch the segment below.