Homeland Security Secretary Nielsen Sees White Supremacist Terror Threat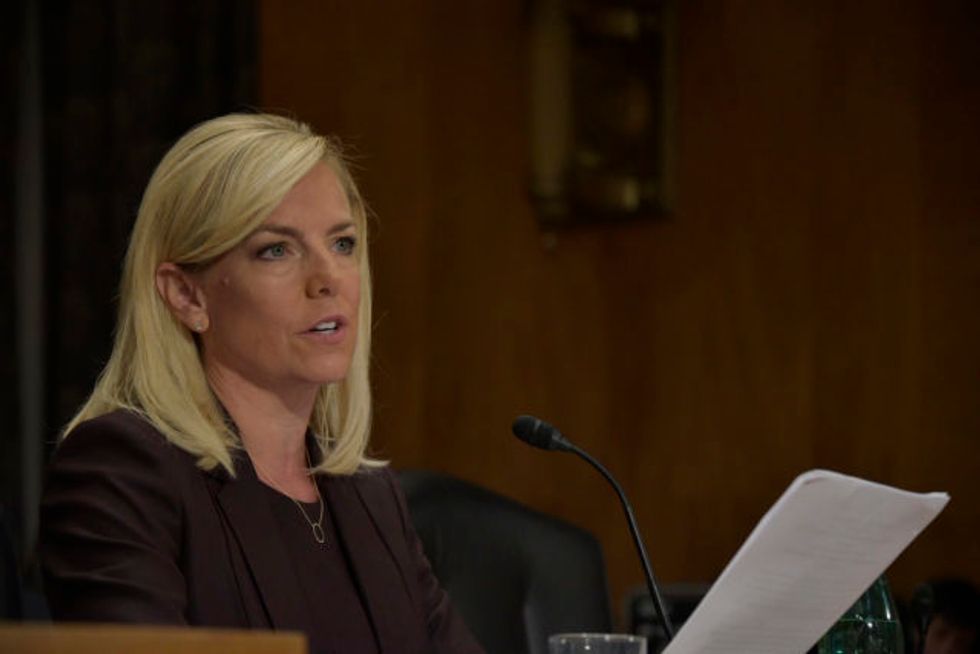 The Department of Homeland Security is admitting that white supremacists are a real and growing problem, rejecting the claim Trump made after the Christchurch mass shooting.
In a speech at George Washington University on Monday, Homeland Security Secretary Kirstjen Nielsen was forced to acknowledge that hate-driven acts of violence are part of a growing problem within the United States.
The would-be terrorists "are using the same do-it-yourself, mass-murder tactics as we saw with the horrible assault last week in New Zealand against Muslim worshipers," Nielsen said, even though Trump has refused to acknowledge the Islamic faith of those who were targeted in the mosque shootings.
Just Friday, when Trump was asked, following the New Zealand attacks, about the growing threat of white supremacists, he dismissed it as merely "a small group of people that have very, very serious problems."
Reporter: Do you see white nationalism as a rising threat around the world?

President Trump: "I don't really. I think it's a small group of people that have very, very serious problems. I guess, if you look at what happened in New Zealand, perhaps that's a case." pic.twitter.com/Ae8xYLjQcZ

— NBC News (@NBCNews) March 15, 2019
The comments from Trump echoed his administration's policy thus far of de-emphasizing homegrown terrorism — they have even cut funding behind programs put in place to investigate such crimes.
But now even his handpicked Cabinet official Nielsen can't hide from the evidence. She called attacks like the one in New Zealand "domestic terrorism," a phrase Trump himself declined to use in his official statements.
Trump has a considerable history of anti-Islam statements and actions, most notably his attempts to impose a travel ban on Muslims coming to the United States.
In the wake of an attack by an individual who shares much of Trump's anti-immigrant, pro-supremacist views, even his own team is acknowledging that Trump's position is far afield from what is normal.
White supremacists are a threat, and no matter how much Trump covers for them, American lives are in danger.
Published with permission of The American Independent.