Honoring The Word Police
@DavidCayJ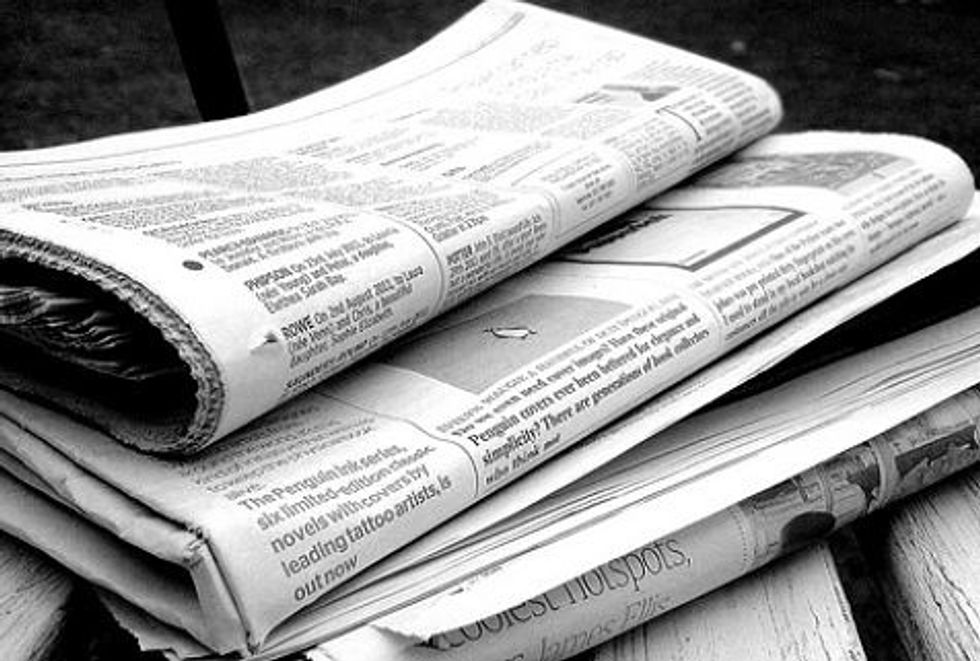 Let us praise copy editors — and mourn their dwindling numbers.
Copy editors are to writers as nets are to trapeze artists, saving us from typos, careless mistakes and metaphors so slippery that no reader can grasp their meaning.
Today's Internet is rich with snarky observations highlighting mistakes that, until the last decade, copy editors were paid to catch and block. Expect this to become a growth industry.
As the ranks of copy editors shrivel, the frequency of linguistic crimes will increase, eroding the structure of language and our ability to communicate with one another.
I think of copy editors as the word police, the plainclothes enforcers of the rules of grammar, syntax and publication style, as well as the checkers of dubious or unattributed fact.
Most of these offenses are unintentional. Still, without copy editors to catch and correct written infractions and felonies alike, our English language will be the victim.
Unpoliced, languages deteriorate. Linguistic anarchy just makes for misunderstanding.
As time passes language should become simpler and easier, elaborate linguistic rules worn smooth by time and usage.  Chaucer becomes Shakespeare becomes Austen becomes Hemingway becomes Roth.
Without the word police to enforce those rules—and allow them to be ignored now and then to advance the language—English can become strewn with sharp edges and broken concepts that impede the flow of ideas.
Languages are dynamic. And just as street cops can stand in the way of perfectly appropriate behavior, so too can copy editors rigidly enforce rules and kill improvements, creativity and playfulness with the English language. But you have to have enough cops, street or word, to do the work.
American newspapers employed 32,470 editors of all kinds in 2000. By 2012 a third of them had been let go.
Of the 21,760 editors remaining, another 6,100 editors will be cut by 2022, the Bureau of Labor Statistics estimates, leaving America with fewer than half the newspaper editors it benefited from at the turn of the millennium.
To the many journalists like me, more reporter than writer, copy editors are loyal friends. Indeed, for the self-taught writer they are the very best of friends, defined as those who tell you what you need to hear, not what you wish to hear.
How I long for the 1970s and '80s, when the Los Angeles Times national desk was rich with wordsmiths.
For pieces running in the paper's most prestigious real estate, the first column at the top of Page 1 (known as the "non-dupe" for non-duplicated story), a copy editor would routinely devote a half-day to polishing. My byline made that space often, at times requiring a full day to make the words and concepts sparkle.
Breaking news got plenty of copy desk attention, too. The speed and skill with which some editors could take a story written in such haste that the first word might be typed an hour before deadline testified to the high level of skill on the copy desk.
Sitting in a distant hotel room or flying to a new story, I always compared line for line what I had banged out on my zipper-cased Olivetti portable typewriter with what appeared in print. These reviews were always instructive, sometimes painful and rarely annoying.
The best copy editors, all writers know, make them look better than they deserve. And at the L.A. Times in those days, subscribers were treated not to just dry news reports, but often-lyrical essays in what was in many ways a very well-staffed magazine posing as a newspaper.
L.A. Times copy editors whose names have faded from memory polished away burrs, focused insights and corrected verb tenses, always with reverence for the writer's storytelling.
Only twice in 12 years did I encounter copy-editing mistakes of consequence.
Once, in the days of scissors and paste pots, an editor handling a story on the Northern California drought slapped a mention of one woman's pregnancy on the name of another, prompting a furious pre-dawn call from her husband.
Then there was the tape-recorded quote I smuggled out of a closed-door meeting between anxious copper miners being thrown out of their homes and a big boss. He said he cared not a wit for the workers, being so much a company man that "I've got Kennecott Inc. stamped on my shorts."
Unfortunately, "Inc." appeared meaninglessly as "ink."
That was an early lesson in the foibles of today's dictation systems. Reporters in the field back then often called their stories in to a dictation room, where clerks typed their words and sometimes produced anomalous results that copy editors were supposed to catch. Today's computerized dictation systems produce similar glitches.
In contrast, copy editors at The New York Times, who ranged from extraordinary to gawd-awful, seemed to be paid by the preposition added. NYTimes editors had, and have, little to no regard for the writer's voice. Rather, groused the reporting staff, the editors acted on subtle and perhaps unspoken orders to drain the life from copy whenever possible.
That disregard is counterproductive, since reporters learn that investing time in polishing their own words will almost surely come to naught.
Still, I love and appreciate what most of the NYTimes copy desk did for me in my 13 years there.
When it comes time in newsrooms to praise those who have won the big awards or, more importantly, righted terrible wrongs, the copy desk rarely gets its due – or even a mention. Yet without the unseen work of copy editors saving the talent from itself, those awards and righted wrongs might not happen.
Columbia University honored me with a Pulitzer in 2001. When it was my turn to say a few words to my colleagues, I thanked my immediate boss and then praised the Business Day copy desk, calling out individuals who had caught this or that nit, bollixed phrase or excess verbiage.
Afterward a masthead editor pulled me aside and asked, bluntly, why I did that. A copy desk editor later told me he was thankful, but thought I was crazy because it was the top editors standing around who expected to be praised first, most and nearly exclusively.
Without copy editors, the frequency of grammatical, syntactical and spelling errors will grow—and ever more dubious facts will make their way into the news, unchallenged by the word police.
That is welcome news for Internet snarks, who often hide behind noms d'Internet. But our language, our culture and our nation are all impoverished by the loss of far too many of these protectors of civilized communication.
(Thanks to my CEO wife for copyediting.)
Photo: NS Newsflash via Flickr