House Drops Food Stamps To Narrowly Pass Farm Bill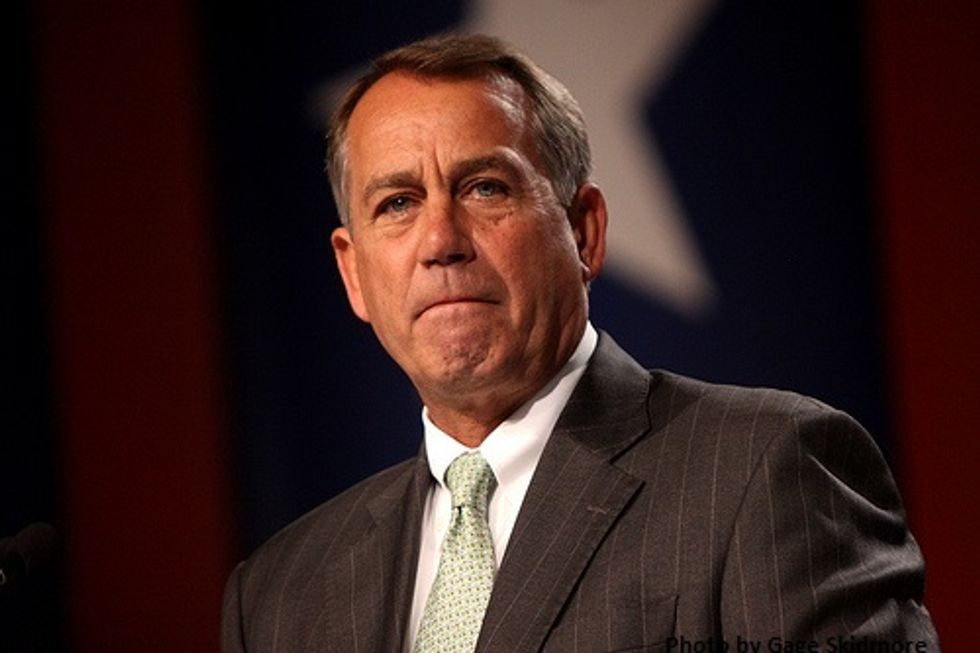 Two weeks after Speaker John Boehner's (R-OH) humiliating failure to pass a farm bill through the House of Representatives, the Republican majority narrowly passed a bill on Thursday that continues agricultural programs for five years, but completely drops the question of funding food stamp and nutrition programs.
The vote — which was originally scheduled for 1:00 pm but was delayed for over four hours as Democrats forced procedural votes and Republican leadership whipped support — yielded a razor-thin 216-208 margin. Twelve Republicans voted against the measure, as well as every Democrat.
Generally, farm bills contain billions of dollars in spending on both agricultural programs and food aid, making it easy to attract bipartisan support. In June, however, the House was thrown into chaos when Republican leadership was blindsided by the farm bill's failure. The bill, which included steep cuts to food aid programs, received just 24 Democratic votes — fewer than Speaker Boehner had expected, and too few to make up for the 62 Republicans who voted against the bill out of a belief that it didn't cut enough. Republicans immediately attempted to blame Democrats for the bill's defeat — although their decision to return from the floor with a bill containing no food aid at all exposes the emptiness of that excuse.
The GOP splitting agricultural subsidies from food aid is a non-starter for Democrats. The Democratic majority in the Senate is almost certain to kill any bill that does not include authorization for food stamps; even if they don't, President Barack Obama has stated his intention to veto the GOP plan. In a statement, the White House said that the bill "fails to reauthorize nutrition programs, which benefit millions of Americans — in rural, suburban and urban areas alike," adding that "the Supplemental Nutrition Assistance Program is a cornerstone of our nation's food assistance safety net, and should not be left behind as the rest of the Farm Bill advances."
For her part, House Minority Leader Nancy Pelosi (D-CA) seems exasperated with Speaker Boehner's continued failure to move a farm bill with any chance of passing. "I would say this is the worst thing they've done," Pelosi said,"but there's such stiff competition."
Similarly, Rep. Corrine Brown (D-FL) caused a stir on the House floor, when she declared, "Mitt Romney was right: You all do not care about the 47 percent…Shame on you."
Opposition to the split bill was not limited to Democrats; in addition to the 12 Republicans who voted against the bill, several high-profile conservative groups such as the Heritage Foundation denounced the bill, complaining that it still did not cut enough from the budget.