House GOP Floats Multipronged Approach To Avert Government Shutdown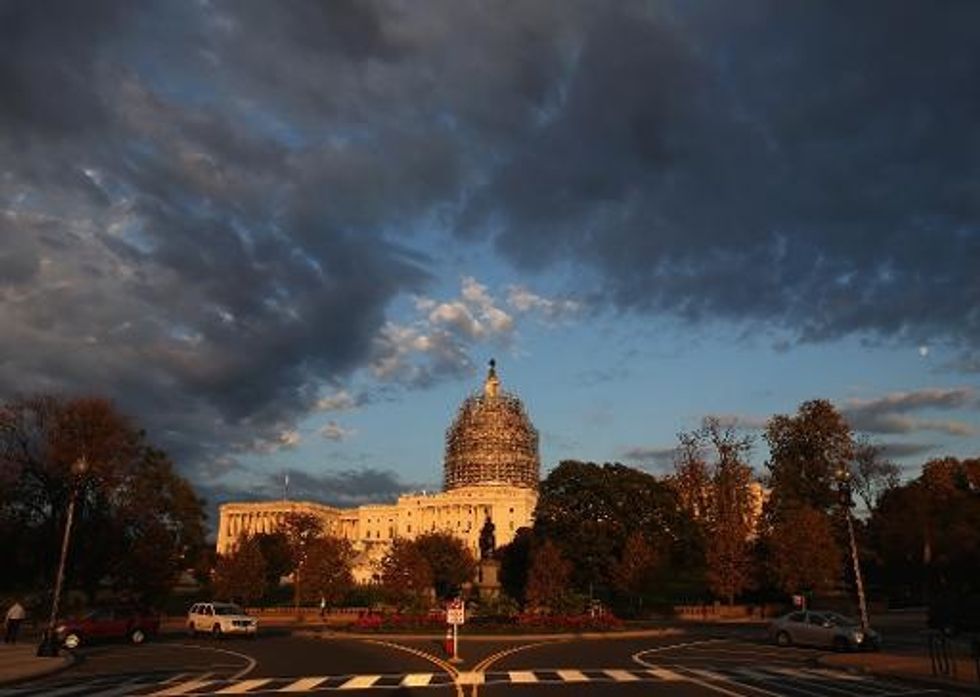 By Emma Dumain and Matt Fuller, CQ Roll Call (TNS)
WASHINGTON — House Republican leaders took members' temperatures Tuesday morning on a multipart plan to avert a government shutdown and hold President Barack Obama accountable for his recent unilateral changes to immigration law.
GOP lawmakers are still processing the proposals and plan to whip votes later in the day. Democrats, meanwhile, were unwilling to say explicitly whether they would be willing to vote for anything other than a "clean" spending bill.
To prevent a lapse in funding when the current stopgap government spending bill expires Dec. 11, Republicans intend to put forward a package of 11 of the 12 annual appropriations bills to float federal agencies and operations through the remainder of the fiscal year.
The outstanding appropriations bill, which funds the Department of Homeland Security, would only be funded through early next year.
The DHS houses the offices that would do the bulk of the implementation of Obama's immigration action; isolating the agency's funding in such a way would signal that House Republicans are serious about continuing to fight, in a piece of must-pass legislation, the president's executive orders.
That plan would remove the immigration fight from the debate on the current must-pass legislation facing Congress: an overall spending bill needed to avoid a government shutdown before Christmas.
In exchange for supporting the "cromnibus," House Republican leaders will allow members to vote on legislation "disapproving" of Obama's breach of power in regard to his unilateral actions on immigration.
Sponsored by Rep. Ted Yoho (R-FL), the measure would "make it clear that the Executive Branch does not have the authority" to defer deportations for certain undocumented immigrants living in the United States. It could come to the floor as early as Thursday.
Rep. John L. Mica (R-FL) suggested a third tack that could ultimately be taken — one that would have a litigation component, potentially on top of the existing lawsuit pending against the president for his changes to the health care law.
Emerging from the closed-door meeting Tuesday morning, some of the most hard-line conservatives in the conference suggested the framework laid out by leadership wasn't going to be enough to compel them to vote for the government funding component.
"The Yoho bill is OK, but (Senate Majority Leader) Harry Reid's gonna put it in his desk drawer," said Rep. Steve King (R-IA) who is one of the most vocal opponents of the executive action.
"I did not hear anything in the GOP conference that persuaded me that there is a sincere effort to stop the president's illegal granting of amnesty to roughly 10 million illegal immigrants," said Rep. Mo Brooks (R-AL), a King ally.
At a news conference following the meeting, Speaker John A. Boehner (R-OH) said Republicans would continue to discuss their options in the months ahead — in January, all of Capitol Hill will be controlled by the GOP — and he said no final decisions have been made about a short-term strategy.
"This is a serious breach of our Constitution," Boehner said of the executive orders. "It's a serious threat to our system of government, and frankly, we have limited options and limited abilities to deal with it directly. But that's why we're continuing to talk to our members."
House Democrats appeared to be keeping their powder dry on Tuesday morning. Democratic Caucus Chairman Xavier Becerra of California told reporters that rumblings across the aisle felt reminiscent of the lead-up to the government shutdown last year. "It sounds like the seeds of the same B movie we saw last year are being planted again," he said. Adding, that Republicans should not play a "social agenda game" when it comes to funding the government.
Democratic Caucus Vice Chairman Joseph Crowley of New York said Democrats would not support a "partial" shutdown of the government, and Rep. Kathy Castor (D-FL) said targeting the DHS "was risky business." None of them would say whether they were prepared to vote "no."
At a pen-and-pad briefing with reporters, Rep. Steny H. Hoyer (D-MD) said he would wait to determine what he would do until he saw specific language: "I'm not a hard 'no' or 'yes,' " he said, though he said the cromnibus was, generally speaking, "a game" and "not good policy."
Ultimately, how Democrats respond to the cromnibus depends on whether House Republicans can deliver the votes on their own. If King, Brooks and others decide to withhold their support — and enough others hold out as well — GOP leaders could be unable to get to 218 votes in their own conference, meaning they would turn to Democrats for help. Those Democrats would be largely disinclined to assist in that effort, using their voting cards as leverage to get a better deal for their party.
Democrats could swallow the bitter pill in the event the Senate takes the deal, or should the White House decline to issue a veto threat. On Monday, White House press secretary Josh Earnest wouldn't preclude the possibility of Obama agreeing to a short-term extension of DHS funding, telling reporters the administration would wait and see what House Republicans actually brought to the floor.
___
(Clark Mindock, Emily Ethridge and Tamar Hallerman contributed to this report.)
AFP Photo/Paul J. Richards