House Speaker Ryan: Trump Comments On Hispanic Judge Are 'Textbook' Racism
@reuters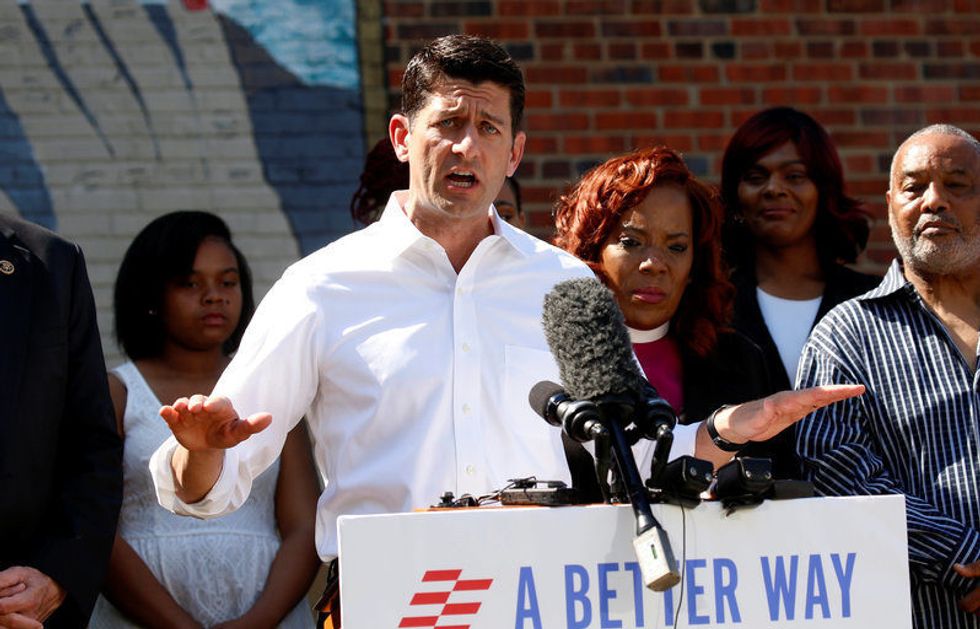 By David Morgan and Richard Cowan
U.S. House Speaker Paul Ryan strongly disavowed Donald Trump's allegations of bias against a Hispanic judge, calling such remarks the "textbook definition of a racist comment," even as he reiterated his support for Trump's White House bid.
Ryan, speaking at an event to unveil U.S. House Republicans' policy proposals, said the comments by the Republican Party's presumptive presidential nominee were unacceptable and indefensible.
"I regret those comments that he made. Claiming a person can't do their job because of their race is sort of like the textbook definition of a racist comment. I think that should be absolutely disavowed," Ryan told reporters.
Nonetheless, Ryan said that a Trump presidency would be preferable to a White House occupied by Democrat Hillary Clinton, the likely Democratic nominee.
Ryan, the country's highest-ranking elected Republican, just last week endorsed Trump's presidential bid after withholding support for weeks in part because of Trump's past controversial statements about Mexicans and Muslims.
Since then, Trump has become embroiled in a new controversy – over his comments last week about Mexican-American U.S. District Judge Gonzalo Curiel.
The real estate developer refused on Monday to back down on his comments suggesting that Curiel, who is overseeing fraud lawsuits against Trump University, is biased against him because of his heritage and Trump's campaign statements on preventing illegal immigration from Mexico.
On Sunday, in response to questions, Trump said it was possible a Muslim judge might be similarly biased against him based on his campaign call for a temporary ban on Muslims entering the country.
The controversy has taken center stage in the presidential campaigns. It overshadowed Ryan's attempt to showcase on Tuesday a new welfare reform plan that Republicans hope to run on through the Nov. 8 election and turn into legislation next year if they maintain control of the Senate and House of Representatives.
UNIFYING THE PARTY
Other Republican lawmakers also piled on pressure on Trump to stop making incendiary remarks and to focus more on issues that can attract a broader electorate in the general election.
Ryan's counterpart in the Senate, Mitch McConnell, said on Tuesday that Trump should avoid such comments, saying, "The less said about all that the better."
On Sunday, McConnell, interviewed on NBC's "Meet the Press," attacked Trump's remarks about Curiel but stopped short of calling them racist.
"We are trying to get in line, but he keeps taking the subject away from unifying the party, which he needs to be doing right now by reaching out and bringing people with whom he competed, and talking about the issues the American people care about," the Senate majority leader told Fox Business Network in an interview on Tuesday.
Senate Foreign Relations Committee Chairman Bob Corker, who has been supportive of Trump and has been mentioned as a possible vice presidential candidate, took to MSNBC on Tuesday to plead for Trump to switch gears and focus on defeating Clinton in the five months until the election.
"It's up to him now to pivot. I want to encourage that," Corker said. "He has time … I will continue to encourage him until it's too late."
Clinton has secured enough delegates to win the Democratic presidential nomination, according to U.S. media outlets. But her campaign urged supporters to get to the polls on Tuesday in a swath of late primaries to avoid a loss to Bernie Sanders in California as she seeks to unite Democrats ahead of the November match-up with Trump.
(Reporting by David Morgan and Richard Cowan; Additional reporting by Susan Heavey; Editing by Frances Kerry)
Photo: Speaker of the House Paul Ryan talks  to reporters during an event to discuss the Republican Party's anti-poverty plan at House of Help City of Hope in the Anacostia neighborhood of Washington June 7, 2016. REUTERS/Kevin Lamarque