How Conspiracist Kook Alex Jones Went Mainstream
@alexvhenderson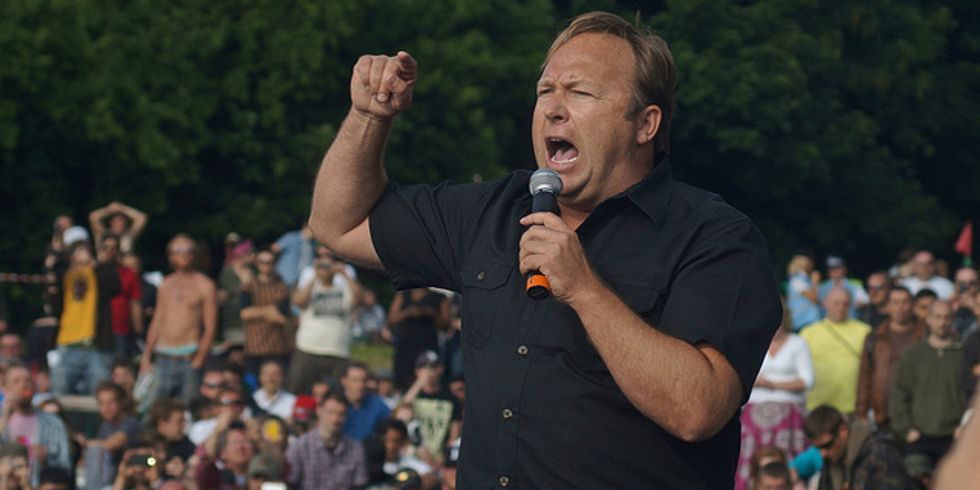 Reprinted with permission from AlterNet.
Back in the 1990s and 2000s, no one was using the word "insider" to describe Alex Jones. The right-wing libertarian/paleoconservative radio host thrived on his outsider status, attacking the Republican Party establishment and neocons as vehemently as he attacked Democrats—and his way-out conspiracy theories earned him a large and devoted cult following. Establishment Republicans generally steered clear of Jones during the Bill Clinton, George W. Bush and Barack Obama years. But with Donald Trump's presidency and the rise of the alt-right, Jones has gone from the fringe to the Republican Party mainstream. And instead of being persona non grata in the White House, the Infowars founder is now welcome with open arms.
Jones has occasionally been compared to Rollye James, another libertarian talk radio host and conspiracy theorist. But James (whose unusual show combined right-wing conspiracy theories with a lot of discussion of R&B oldies) isn't nearly as over-the-top as Jones, a 44-year-old Gen-Xer born in 1974. Jones rants and raves a lot more, and all that raving and raving helped him build a large media empire that includes not only his radio program, "The Alex Jones Show," but also, the high-traffic websites Infowars.com (founded in 1999) and PrisonPlanet.com.
Jones started to acquire a following in the mid-1990s, when he claimed that the federal government had a hand in the Oklahoma City bombing of 1995. Although Jones hated the Clinton Administration and Attorney General Janet Reno, he was no fan of President George W. Bush either. Jones claimed that the Bush Administration was behind the 9/11 terrorist attacks—which, he asserted, were designed to create a police state in the U.S.—and Jones' disdain for Bush and neocons made him very unpopular at Fox News, where Bill O'Reilly lambasted him more than once.
In 2003, Jones got into a heated argument with Ann Coulter (a major Bush supporter) on his radio program. Jones also had an ongoing feud with far-right talk radio host Glenn Beck. But the more O'Reilly, Coulter and Beck showed their disdain for Jones during the Bush years, the more his popularity with the alt-right grew—and after Barack Obama was elected president in 2008, Jones came up with one anti-Obama conspiracy theory after another. The rise of the Tea Party was great for Jones, a passionate Tea Party supporter.
The mainstreaming of Alex Jones started in 2015, when he became an early supporter of Trump's presidential campaign. Trump appeared on "The Alex Jones Show" in December 2015, telling Jones, "Your reputation is amazing." That wasn't the first time Jones had interviewed a GOP presidential candidate: he had interviewed Rep. Ron Paul long before that. But it was the first time he interviewed someone who actually went on to be elected president, and Jones has enjoyed a friendly relationship with Trump that he never had with Clinton, Bush or Obama.
When Jones covered the Republican National Convention in July 2016 and was seen next to Trump ally Roger Stone (who has asserted that Jones "may be the single most important voice in the conservative alternative media"), it was quite a contrast to the days when Jones was getting into shouting matches with Bush supporters. Jones was becoming an insider, speaking at Trump campaign rallies.
After Trump was elected president in November 2016, he called Jones to thank him. And when Trump was inaugurated in January 2017, the Texas-based Jones visited Washington, DC and covered the inauguration on Infowars—interviewing Trump supporters in the nation's capital and declaring that Trump's inauguration was a "supernova of enlightenment" that terrified "globalists" and "the new world order."
During Trump's presidency, Jones has painted opposition to Trump and Robert Mueller's Russia-related investigation as the work of the "deep state" and joined the president in denouncing CNN as enemies of liberty. Trump, Jones has often declared, was elected to save Washington, DC from "the new world order"—and Infowars has enjoyed a level of access to the White House it didn't have before Trump. On May 22, 2017, Jerome Corsi (Infowars' Washington, DC bureau chief) posted a photo of himself inside a White House briefing room and announced that Infowars had obtained temporary White House press credentials and was applying for permanent credentials.
The U.S. now has a president that treats CNN and theNew York Times with contempt but holds Infowars in high regard. And the days when "The Alex Jones Show" and Infowars were shunned by the White House now seem like a distant memory.
Alex Henderson is a news writer at AlterNet and veteran political journalist. His work has also appeared in Salon, Raw Story, Truthdig, National Memo, Philadelphia Weekly, Democratic Underground, L.A. Weekly, MintPress News and many other publications. Follow him on Twitter @alexvhenderson.