How Khashoggi Murder Probe Is Unfolding
@alexvhenderson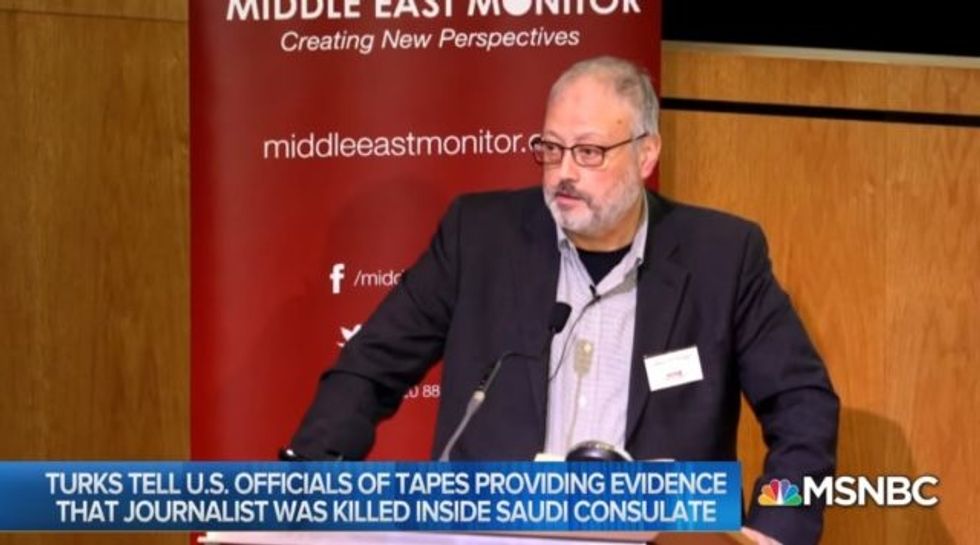 Reprinted with permission from AlterNet.
The government of Saudi Arabia, including King Salman bin Abdulaziz al Saud and Crown Prince Mohammed bin Salman, a.k.a. MBS, continues to deny allegations by Turkish government officials in connection with the disappearance of Saudi journalist and Washington Post columnist Jamal Khashoggi—who was last seen entering the Saudi Consulate in Istanbul on October 2. Turkish law enforcement officials are alleging that after Khashoggi entered the Consulate, he was tortured and murdered by members of a 15-person hit squad sent from Riyadh, Saudi Arabia—and that his body was dismembered with a bone saw after the killing.
The Saudi royal family has vehemently denied any involvement in Khashoggi's disappearance, and President Donald Trump has taken them at their word. But the New York Times has been conducting a thorough investigation of Turkish officials' allegations, verifying the identities of nine of the 15 Saudi suspects they allege comprised a hit squad. And a team of Times reporters (including David D. Kirkpatrick, Malachy Browne, Ben Hubbard and David Botti) has documented a strong link between the suspects and the royal family.
Here are four of the most damning things revealed by the New York Times' investigation of Turkish officials' allegations.
1. The Saudi Government Can't Keep Its Story Straight
After Khashoggi's disappearance, King Salman insisted that the veteran journalist freely left the Saudi Consulate in Istanbul on October 2—although they never had a shred of proof to back up that claim. And now, the Saudi government appears to have a different story: Khashoggi was killed by mistake inside the Consulate as part of an interrogation gone wrong, and no one in the royal family authorized that interrogation. However, the Saudi men named by Turkish officials and the New York Times were hardly recent graduates from the policy academy but rather, ranged from elite members of the Saudi Royal Guard to a leading forensics doctor. Times reporters wrote that they have "confirmed independently that at least nine of 15 suspects identified by Turkish authorities worked for the Saudi security services, military or other government ministries."
2. A Prominent Forensics Expert from Saudi Arabia Was Present in Istanbul on October 2
According to the New York Times and Turkish officials, one of the Saudi men present in Istanbul on October 2 was Dr. Salah al-Tubaig, a well-known forensics expert who specializes in autopsies—which, as Times reporters wrote, "suggests the operation may have had a lethal intent from the start."
Further, Times reporters wrote, the presence of a forensics expert as prominent and high-ranking as Dr. al-Tubaig probably wouldn't have been ordered by a low-level rogue agent acting independently of the royal family.
Dr. al-Tubaig heads the Saudi Scientific Council of Forensics. And as the Times noted, "Such a senior figure in the Saudi medical establishment was unlikely to join a rogue expedition organized by an underling."
3. Suspect Maher Abdulaziz Mutreb Had Close Ties to Crown Prince Mohammed
One of the 15 men who visited Istanbul from Saudi Arabia on October 2 was Maher Abdulaziz Mutreb, a Saudi diplomat who traveled extensively with Crown Prince Mohammed bin Salman. And the New York Times published, on October 16, a series of photos that showed the two of them together in Paris, Madrid and Boston earlier this year. The Times also published a photo of Mutreb that was taken at the Istanbul Airport on October 2 and supplied by Turkish officials.
4. Other Suspects Appear to Be Members of the Saudi Royal Guard
The New York Times has reported that the suspects identified by Turkish officials weren't minor players in the Saudi government. Suspect Abdulaziz Mohammed al-Hawsawi, according to the Times, is an elite member of Saudi security who travels with Crown Prince Mohammed. And suspects Thaar Ghaleb al-Harbi and Mohammed Saad Alzahrani, Times reporters wrote, appear to be members of the Saudi Royal Guard—with al-Harbi having been promoted to lieutenant.
Becoming a member of the Saudi Royal Guard isn't exactly something one achieves right after graduating from the police academy. It's a high-ranking, elite position, and according to the Times, al-Hawsawi, al-Harbi and Alzahrani aren't the sort of men who would be part of a low-level rogue operation.
Alex Henderson is a news writer at AlterNet and veteran political journalist. His work has also appeared in Salon, Raw Story, Truthdig, National Memo, Philadelphia Weekly, Democratic Underground, L.A. Weekly, MintPress News and many other publications. Follow him on Twitter @alexvhenderson.