How Republicans Responded To The Iran Nuclear Deal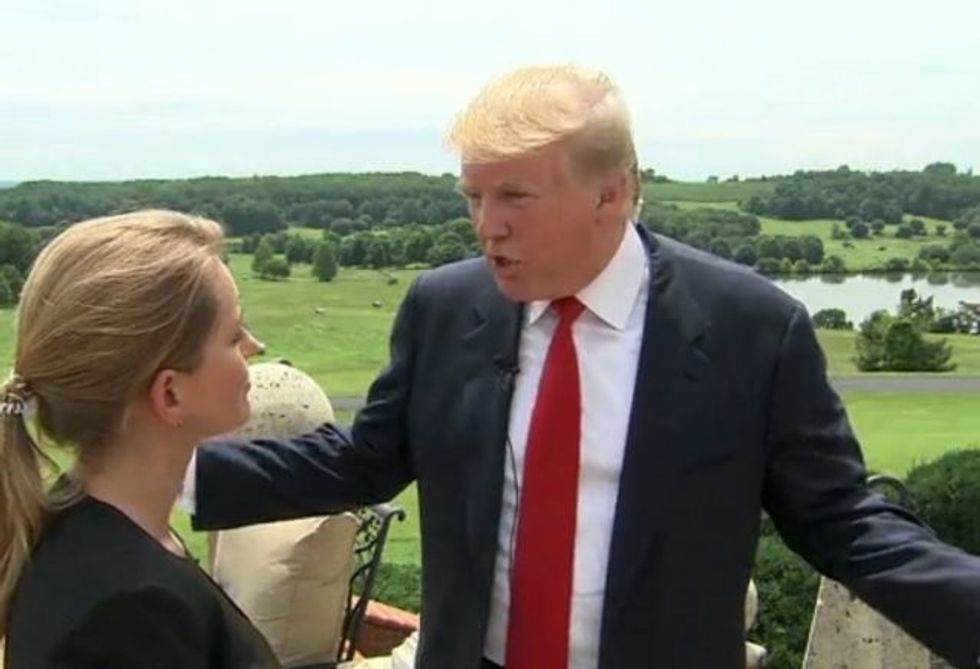 No sooner was a historic deal reached with Iran than the GOP lined up to tear it down. The specifics of the deal will now enter a 60-day congressional review, as well as the slightly more chaotic arena of the presidential race, where it's likely to become a major political football.
House Speaker John Boehner (R-OH) accused the president of abandoning all the stated goals of the diplomatic talks, and told reporters that he would do everything in his power to stop what he characterized as a "bad deal."
"It's not a partisan issue at all," he said.
Republican presidential candidates dutifully lined up to announce their dissatisfaction with the deal.
Senator Marco Rubio (R-FL) said: "Based on what we know thus far, I believe that this deal undermines our national security."
Former Arkansas governor Mike Huckabee released a statement in which he shamed the Obama administration "for agreeing to a deal that empowers an evil Iranian regime to carry out its threat to 'wipe Israel off the map' and bring 'death to America.'"
Senator Lindsey Graham (R-SC) called the agreement nothing less than "the most dangerous, irresponsible step" he had observed in America's history of dealings with the Middle East. He accused President Obama of being "dangerously naive" and described the deal as "akin to declaring war on Israel and the Sunni Arabs."
The retired neurosurgeon and GOP presidential candidate Ben Carson released a statement to Breitbart, expressing his belief that the deal was "almost certain to prove an historic mistake with potentially deadly consequences."
His statement continued:
A careful review of the 100-plus pages is in order to fully understand the lengths to which the negotiators were willing to stoop to secure a deal at any cost with the world's leading sponsor of terrorism and a regime dedicated in word and deed to bringing Death to America.
Wisconsin governor Scott Walker, who announced his candidacy Monday, sat down with conservative host Sean Hannity to discuss the deal — and to bring the conversation back, as he often does, to his idol, President Ronald Reagan.
"Iran is not a place we should do business with," he said. "Iran is not substantively different than the days when [the hostages from the U.S. Embassy in Tehran] were released on Ronald Reagan's first day. And as president — on my very first day going forward — I would pull back, I would terminate that bad deal with Iran completely. On day one. I would then put in place crippling economic sanctions against Iran, and I would convince our allies to do the same."
In an interview with CBS, Carly Fiorina, presidential candidate and former CEO of Hewlett-Packard, invoked her experience negotiating high-stakes business deals, and said that this is a "bad deal" since Iran did not negotiate in good faith. She expressed her belief that the U.S. should have just walked away.
Former Texas governor Rick Perry released a statement, calling the deal "one of the most destructive foreign policy decisions in my lifetime." Perry vowed to "do everything in [his] power to work with the Senate to oppose this deal," and promised that one of his first official acts as president would be to rescind it.
In his own statement, Senator Ted Cruz (R-TX) echoed Israeli prime minister Benjamin Netanyahu's assertion that the deal was a "bad mistake of historic proportion." Cruz accused President Obama of having "glossed over the truth about Iran's world-leading state-sponsorship of terrorism that is violently destabilizing the region, and would grow more deadly should the Iranians get a nuclear bomb."
Rand Paul was mum for most of the day, which is unsurprising since the senator from Kentucky had stood out from his more hawkish GOP colleagues by remaining generally in favor of continuing negotiations with Iran. Late in the afternoon on Tuesday, Sen. Paul said that the deal was "unacceptable" because it lifts sanctions before Iran demonstrates compliance and leaves Iran with "significant nuclear capacity." Paul said he would vote against the deal.
The proposed agreement with Iran is unacceptable and I will vote against the agreement. 1/2

— Dr. Rand Paul (@RandPaul) July 14, 2015
The deal is bad because 1) sanctions relief precedes evidence of compliance 2) Iran is left with significant nuclear capacity 2/2

— Dr. Rand Paul (@RandPaul) July 14, 2015
Donald Trump decried the deal. In an interview with NBC News, he returned to the theme of negotiation — a favorite of his. He said the Iranians were great negotiators, and so it followed that they were going to "cheat."
The Donald also took the opportunity to repost on Twitter a brief, cartoonish video he had posted on his Instagram account some three weeks ago, extolling his own negotiation savvy. Take a look:
Screenshot: NBC News