How Tommy Fisher Used Fox News To Wangle Big 'Border Wall' Contracts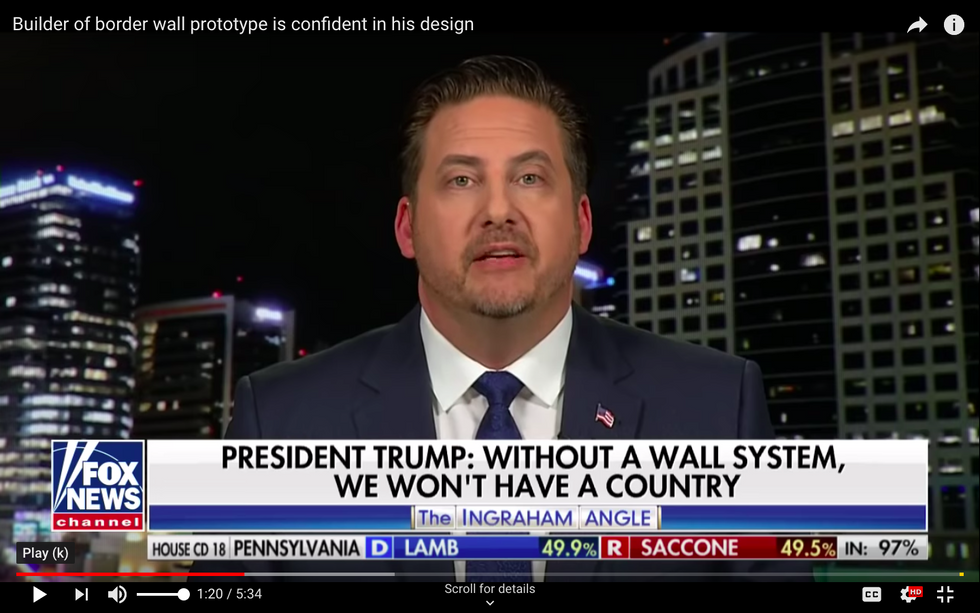 Fox News has unprecedented influence over President Donald Trump's decision-making. Trump's worldview is shaped by the hours of propagandistic and sycophantic programming he often watches in a day, as well as his private consultations with many of the network's stars on a wide variety of topics. As a result, Fox's commentators have at times dictated the president's policy agenda and political strategy, harnessed the news cycle by directing his attention to their particular obsessions, provided staffers for his administration, and hand-picked the recipients of his pardons.
And now, the network is emerging as a platform that can determine who could receive hefty federal contracts.
The Washington Post reported Thursday that Trump has "alarmed" military commanders and Department of Homeland Security officials by aggressively lobbying them to grant a border wall contract to Fisher Industries, a North Dakota-based construction company whose CEO, Tommy Fisher, has regularly appeared on Fox and other conservative outlets to promote his company's bid.
Fisher claims that his company can build a border wall both faster and cheaper than his competitors thanks to a patent-pending installation system, but the Army Corps of Engineers determined that Fisher's design "did not meet its requirements and lacked regulatory approvals" and that the firm's previous work on a barrier project "came in late and over budget," the Post reported. Rejected through the procurement process, Fisher is trying to go around it through the right-wing media, a method that has allowed him to reach the president. Trump is now trying to sidestep the contracting process because, as Sen. Kevin Cramer (R-ND) explained to the Post, he "had seen [Fisher] on television" — specifically on Fox — "advocating for his version of the barrier."
Fisher has used a Fox-centric PR strategy to directly pitch the president in hopes of obtaining a federal contract, making at least 10 appearances on Fox News and its sister network, Fox Business, since January 2018, according to a Media Matters review. Programs the president regularly watches, including Fox & Friends and The Ingraham Angle, have repeatedly granted Fisher an uncritical platform to shill for his company.
Fisher's strategy mimics that of K Street lobbyists who pay off TV pundits to promote their messages during on-air appearances and lawyers who put their clients and their relatives on Fox to ask the president for pardons.
The CEO has honed his pitch to appeal to the president in particular, as demonstrated by his March 5 appearance on Fox & Friends, during which co-host Ainsley Earhardt asked him to explain "why should the president, or why should his administration, choose your company?"
Fisher first appealed to the president as a businessman, saying Trump should know that his company would do the work for less money than other companies, get it completed faster, and throw in access roads and other additions.
He went on to describe his company as "the first responder" of the industry, appealing to Trump's well-known obsession with police officers and firefighters.
And he also tried to link the bid to one of Trump's notable construction successes, the renovation of the Wollman Rink in Central Park in the 1980s. "I think he'll understand," Fisher argued, "just like the Central Park deal with the ice skating rink, if you need it done now, nothing against government bureaucracy, but it takes time, so you need an expert to come in there and do it now and do it right."
Earhardt ended the interview by giving Trump another reason to prefer Fisher: "You might be able to build it just in time for that election, too."
And Fox's promotion of Fisher's bid has not been limited to the network's supposed "opinion" shows. On April 19, the network's flagship "news" broadcast, Special Report, ran a packaged report that essentially served as an infomercial for Fisher's proposal. Introduced by anchor Bret Baier and reported by national correspondent William La Jeunesse, the segment featured an interview with Fisher and credulously repeated his claims that he could construct the wall "faster, better, and cheaper."
All of this laudatory coverage has had Fisher's desired effect, with the president reportedly promoting the company's bid in meetings with senior military and DHS officials and forcing them to explain "that the president could not just pick a company" to get the contract in defiance of the federal procurement process.
Fisher harnessed the incredible power of Fox's hold on the president to get much closer than he should have to taxpayer dollars. He won't be the last to try to do so.